Thank you for your interest in supporting The University of Texas College of Pharmacy. Our students receive rigorous training so that they are positioned to assume significant responsibilities for health care services and delivery to diverse patient populations, as well as for drug therapy management and outcomes. Our graduates are not only trained to become effective clinicians, but also researchers, educators, policy-makers, drug developers, and entrepreneurs.
To make a gift to the College of Pharmacy, follow the Longhorn:

The UT College of Pharmacy can most effectively achieve its mission of providing an exemplary pharmacy education with your financial support. Gifts from alumni, friends, and business partners are necessary to create effective and impactful Pharm.D., masters, and graduate programs that produce healthcare leaders and visionaries.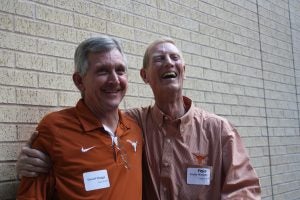 We thank you for your interest in and support of our program. There are many ways you may support the UT College of Pharmacy; please read about the different ways you may contribute below. If you have any questions, do not hesitate to contact the Development Office.
Outright gift or pledge 
You may give a one-time donation via cash, check, or credit card. You may also make a pledge of support, which are gifts that are paid over a period of time. You can make a pledge commitment and set up a payment schedule that works best for you.
Click here to view the many areas of support you may give to.
Giving Online?
You may donate online via credit card by visiting the giving page. The University of Texas Office of Annual Giving manages online gifts and will ensure that your donation supports the UT College of Pharmacy.
Giving by Check?
Checks may be written out to: "The University of Texas at Austin."
Mail to: The University of Texas at Austin College of Pharmacy
Development and Alumni Relations
2409 University Avenue, A1900
Austin, TX 78712
Please download a gift form (PDF) by clicking here.
Care to donate over the phone?
No problem. You may reach us at 512-232-2779.
Mutual Fund Gifts
For mutual fund shares held at a mutual fund company or for securities held at the company or other entity which requires that a new account be opened there in our name to complete the transfer, you should contact Charlotte Hambrick (512) 499-4346 at UT System for assistance as early as possible. It is recommended that such transfers be initiated no later than December 10, if possible, to ensure a timely transfer prior to year-end.
Planned Gifts
Office of Gift and Estate Planning should be contacted at (512) 475-9632 or giftplan@www.utexas.edu for questions regarding IRA gifts, estate language, gift annuities, charitable trusts, etc. They will provide stock transfer instructions for any UT Foundation gifts (i.e. stocks used to fund gift annuities). It is recommended that any gift annuities be initiated no later than December 15.
End of Year Giving Information
In order to aid our alumni and friends during this season of giving, we have put together the below information.
What Determines the Receipt Date?
The IRS bases its rules on the point of no return for a gift, therefore:
Mailed Checks – the postmark determines the date of the gift
Fed Ex, UPS or other carrier — when the package is signed and accepted
Credit cards — when the card is processed (We do not recommend donors sending in credit card information through the mail as they will not be processed until 2017) If you choose to use a credit card, please give through the online giving page.
Online Giving
Online giving should be completed no later than 12 p.m. CST on December 31, 2016, or call toll-free 1 (800) 687-4602 before 3 p.m. CST on December 30, 2016 with your credit card information.
Stock Gifts and Planned Giving 
The UT Austin Gift and Estate Planning office can be contacted at (512) 475-9632 or giftplan@www.utexas.edu.
The UT System Office of Development and Gift Planning Services is responsible for all securities transfers and can be reached by contacting their main number at (512) 499-4300.
Class of 2019 Pledge Drive
Click this link to download the Class of 2019 Pledge Form.
This year, the Class of 2019 Pledge Drive Committee hopes to create an endowment scholarship to support the pharmacists following in our steps at the University of Texas College of Pharmacy.
Our goal of $50,000 will provide enough funds to create and manage a College of Pharmacy scholarship for a future student, meaning that we'd only need every member of our class to pledge $500. We appreciate your consideration in setting up this legacy for the future of pharmacy and alleviating financial hardship for a future student pharmacist at our college.
Benefits of participating
You can honor a loved one, possibly someone who helped you get through pharmacy school. Honorees will be notified about your generosity in a letter from Dean Crismon.
Your donation will be acknowledged in the May 2019 graduation program (not the specific amount of the donation). If you choose to honor somebody with your pledge, an acknowledgment of this honor will be provided in a special section in the graduation program (unless you would prefer that this not be included).
All donations to this pledge drive are tax-deductible.
Students may pool their pledges to raise the minimum needed to establish an endowment: $50,000. Any established endowment would be commemorated with a plaque displayed in the pharmacy building and would continue to accrue money.
This pledge drive is extremely flexible: you can make an outright gift or pledge any amount of money you desire. Gifts do not have to be large to make an impact.
Pledge now with the understanding that you don't have to make an actual donation until later. In fact, you have up to 5 years to make your first gift to the pledge.
Why donate?
State support for higher education has decreased while tuition has increased, all while the rigorous curriculum precludes many from working outside of school. Subsequently, pledges are more critical than ever to help students (your future colleagues) to receive the best pharmacy education possible. Your pledge supports your alma mater and serves as an investment to ensure that the programs remain strong and the value of a UT College of Pharmacy degree remains unparalleled.
Click here to read why private support of the College of Pharmacy is so essential.
Click this link to download a Class of 2019 Pledge Form.