Cultural Climate Support
In our UT College of Pharmacy, our goal is to cultivate a culture of care for every individual within our college and the communities we serve. In doing so, we welcome inquiries for support regarding Diversity, Equity, Accessibility, & Inclusion (DEAI) in the UT College of Pharmacy or any UT Pharmacy affiliated experiential sites. In addition, please feel free to share any positive feedback about experiences you've had in the UTCOP or at your experiential site, as those will also help us to advance a culture of inclusive excellence.
Factors that do not support a culture of care in our college can include (but are not limited to) a behavior or organizational culture that is derogatory or hostile in nature, and targets an individual based on their actual or perceived race, ethnicity, color, religion, national origin, disability, veteran status, marital/familial status, possession of a General Education Development Certificate (GED) as compared to a high school diploma, sexual orientation, gender identity, gender expression, sex, age, or genetic information.
At the UT College of Pharmacy, we strive to educate our community members in an effort to eliminate disparities, grow awareness, and build empathic connections for better understanding and an intentionally inclusive community.  Please consider one of the following outlets if you would like support:
1. Present at a monthly standing DEAI Committee meeting.  Contact salinasj4@uthscsa.edu to request to add an agenda item.
2. Schedule a meeting with the Assistant Dean of DEAI via email at skyller.walkes@austin.utexas.edu.
3. Celebrate an exemplar of DEAI or share actions that advance this value for our college through a UTCOP Carolyn Brown DEAI Champion Award nomination when applications open.
Diversity Statement
The College of Pharmacy at UT Austin, ranked among the top pharmacy programs in the country, aims to be an exemplar of intersectionally inclusive excellence through a rigorous approach to the understanding of intercultural engagement in our ever-expanding global world and knowledge economy.

The College of Pharmacy further labors to uphold a vision that inspires and challenges, yet explicitly affirms the students, staff, and faculty of our diverse community with authentic appreciation for the differences that engineer our pluralistic ingenuity. Our commitment to be intentionally inclusive in the culture, curriculum, and practices of the College of Pharmacy is resolute.
Statement on Gender Equity and Underrepresented Minorities
Please visit our statements page to read additional statements surrounding recent events.
Learning Opportunities and Resources
Please visit our Learning Opportunities and Resources page for a collection of resources curated by Dr. Skyller Walkes, Assistant Dean for Diversity and Inclusion.
Equity & Diversity in the news
DiversiTEA Readers' Roundtable
March 24, 2021 - Guidance for Male Mentors to Support the Safety and Success of Female Mentees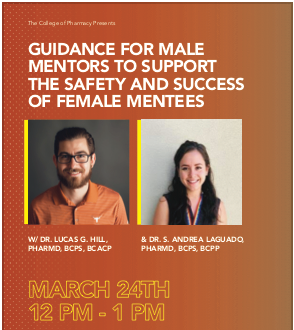 Event Details
The UTCOP community, with an emphasis on the participation of interested BOOT mentors, gathered virtually for a facilitated discussion by Drs. Lucas Hill and S. Andrea Lagaudo on March 24th from 12-1pm.  They discussed their paper and strategies surrounding, "Guidance for male mentors to support the safety and success of female mentees."
Additional Information
Please view the full paper written by Drs. Lucas Hill and S. Andrea Lagaudo titled, "Guidance for male mentors to support the safety and success of female mentees."
Also, please visit this resource for additional anti-bias information.
A recent article in Chemical & Engineering News also offers relevant information regarding harassment in a laboratory setting, including the experiences of those harassed, administration response, and lasting impacts.
January 27, 2021 - Moving Beyond Cultural Competency to Achieve Cultural Safety with Andrew Wash, PharmD, RPh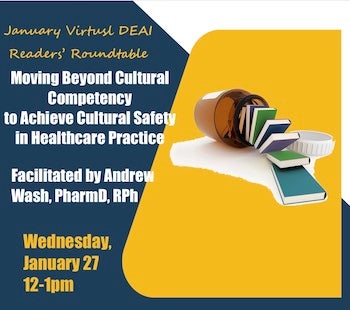 View Cloud Recording
If you would like to view the recording of the DiversiTEA Readers' Roundtable from January 27, 2021, please click the button below:
Names Are a Gateway to Our Identity: Let's honor both by pronouncing names correctly
The University of Texas at Austin has a Canvas integration for the NameCoach application.  NameCoach allows students, faculty, and others associated with a Canvas course to record audio pronunciations of their names. 
Please visit this link to learn more about NameCoach and how to record your own name pronunciation, as well as listen to the name recordings of others in your classes.
Course Spotlight
Students in the PharmD program at the University of Texas at Austin College of Pharmacy have the opportunity to take courses designed to enhance their understanding and awareness of global cultures and cultural diversity.  The courses highlighted below have been designated with special flags related to the enriching experiences that these courses provide.
Global Cultures Flag
PHM 380T Global Health (Dr. Joseph Brewster)
Cultural Diversity Flag
PHM 283L Health Behavior and Health Outcomes (Dr. Carolyn Brown)
College Strategic Plan
For additional information about diversity efforts, see Goal 4 (Recruitment, Retention, and Recognition of an Outstanding and Diverse Faculty and Staff).
Posters and Stickers
The College of Pharmacy has created posters and stickers in multiple languages in an effort to get its message out on creating a climate conducive to learning and creating knowledge for every person in the community. Feel free to download and print these items for your own use, display, and distribution.