Congratulations on your admission to The University of Texas at Austin College of Pharmacy!
New Student Orientation (NSO) will be your first thorough introduction to the curriculum, faculty, and other aspects of the college and profession. NSO events will begin on Wednesday, August 19 and conclude on Tuesday, August 25th. Be sure to check out the schedule!
Saturday, August 22 – WHITE COAT CEREMONY!
The White Coat Ceremony, is scheduled for 10 a.m. in LBJ Library Auditorium.  You are the featured attraction at this event where you will officially step into the profession of pharmacy as you "don your new white lab coat".  Prior to the ceremony, your class will take its official "class of 2024" photo with the Dean.  Please plan to arrive at 8:45am.
As incoming students prepare to participate in the White Coat Ceremony and orientation activities for them, family, and friends are invited to join in the celebration with the Family Orientation Program beginning at 8:45 a.m. This program provides family and friends an overview of the pharmacy curriculum and gives them a sense of your next four years.
Parking is available at the Thompson Conference Center parking lot or, the Manor Garage.
Required Paperwork & Compliance Modules
There are several documents that the college needs to receive from you prior to the start of the fall semester. Please review the content below and complete/submit these documents as instructed.
Incoming Student Credentialing and Compliance
Orientation Information
The college is delighted you are here, and we want to make your transition as smooth as possible.  We put together a full schedule of activities designed to acquaint you with college and university procedures as well as opportunities to get to know each other, the staff, and faculty.
Here is the full schedule for orientation that tells you where you need to be and when.
A PDF file of the 2019 Orientation Schedule can be downloaded here.  2020 Orientation Schedule coming soon!
Event Location Map
NSO events will take place in and around four sites on campus:
Pharmacy Building (PHR),
Texas Union Building (UNB).
Thompson Conference Center
LBJ Library and Auditorium
Each of these sites are highlighted or depicted on the adjoining maps. For more detailed maps, visit the University Maps Page and search by building name.
Pharmacy building and the Texas Union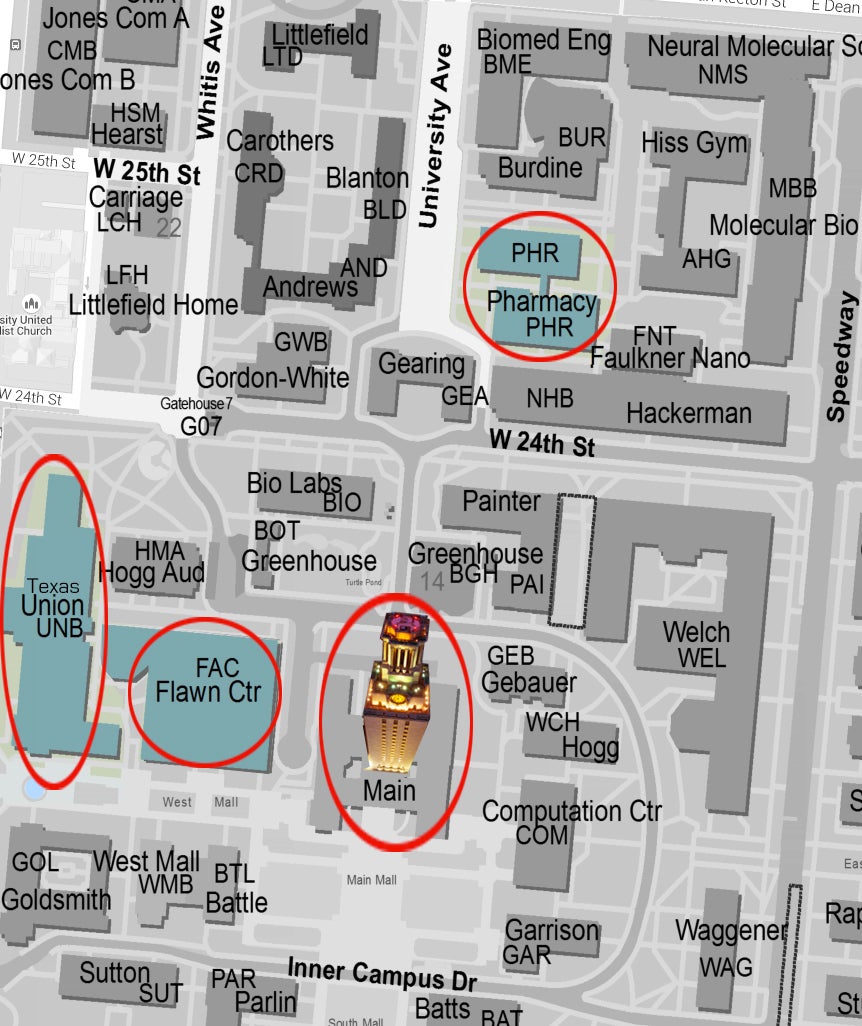 Thompson Conference Center and LBJ Library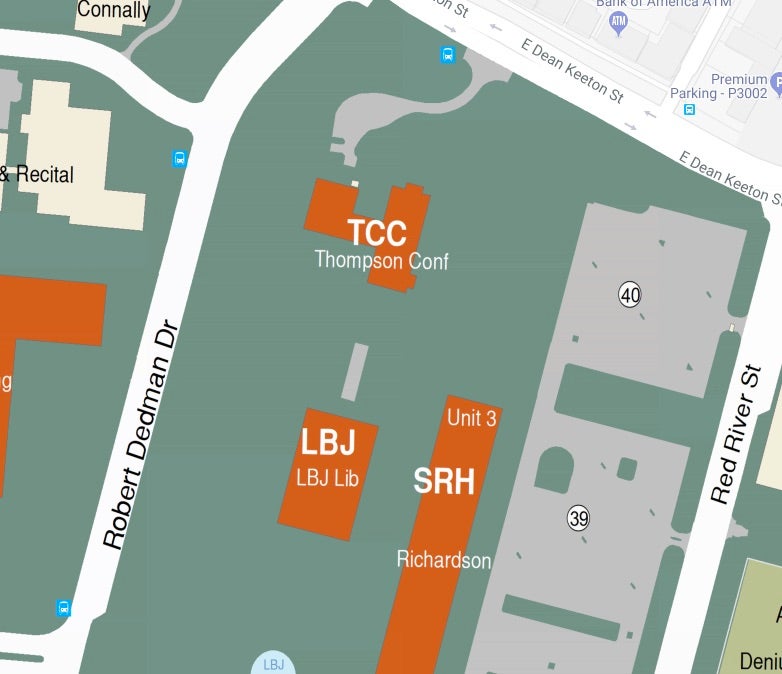 Welcome from NSO co-chairs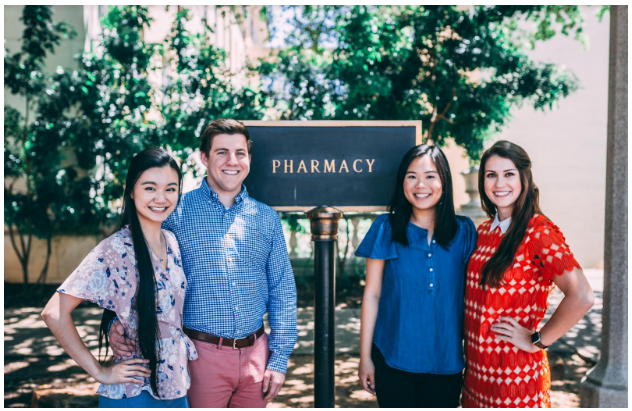 On behalf of The University of Texas at Austin College of Pharmacy, we want to welcome each and every one of you to the Forty Acres! 
We are committed to making New Student Orientation a memorable experience for all of the incoming students and are excited to meet you this fall.  If you ever have any questions, feel free to contact any of us.  We are all "phamily" here!
Congratulations again on being part of one of the best colleges of pharmacy in the nation!  Pharmacy is a dynamic profession and we look forward to your involvement in NSO and beyond!  Hook 'em!
Sarah Bandy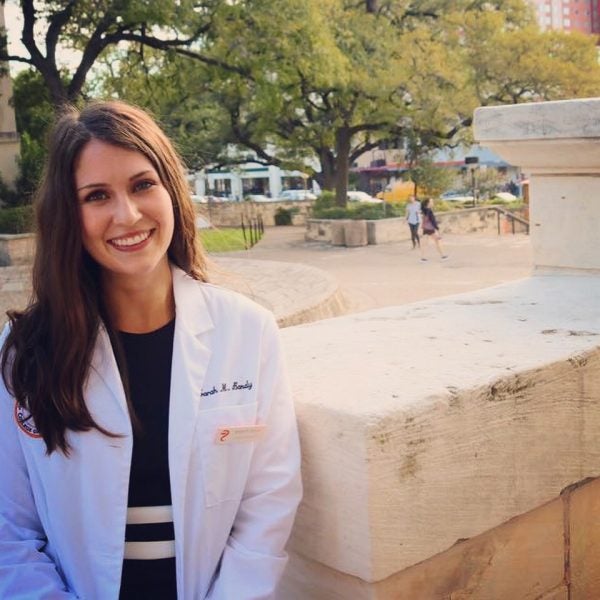 Hometown: San Antonio, TX
Undergrad: Texas A&M University (Whoop!)
Currently lives in: West Campus
Fun Fact: I believe I've watched Friends 8 times through and in 2014 I made a complete western bracket for March Madness.
Interests in pharmacy: TBD. Could be community, could be ambulatory care, could be infectious disease. Who knows
Dj Funderburk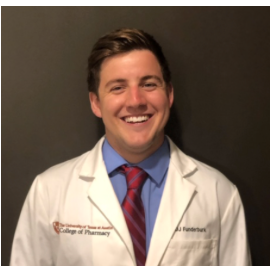 Hometown: Fort Worth, TX
Undergrad: Tarrant County College/ Emory University
Currently lives in: West Campus
Fun Fact: I was a competitive swimmer for 14 years and I am the youngest of five children.
Interests in Pharmacy: I plan on becoming a clinical pharmacist. At this point, I am unsure which specialty I would like to pursue.  
Samantha Pan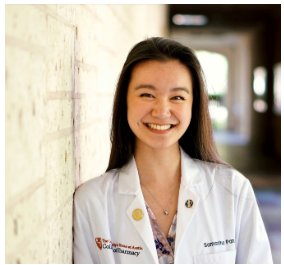 Hometown: Tyler, TX
Undergrad: University of Texas at Austin
Currently lives in: North Campus
Fun Fact: I am a Canadian-American dual citizen, and I have a prominent scar on the bridge of my nose from an accident involving a plastic banana when I was four. Feel free to ask me about it.
Interests in pharmacy: Right now, my interests are oncology and pediatrics, but everything is still up in the air.
Leslie Vo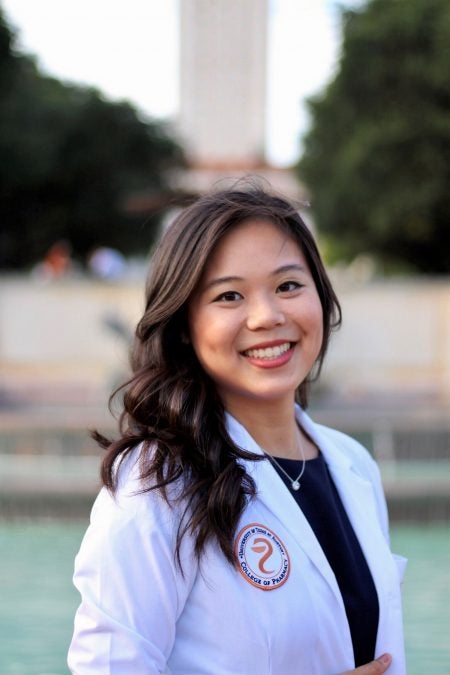 Hometown: Austin, TX
Undergrad: UT Hook Em'!
Currently lives in: West Campus woot woot
Fun Fact: I've been to the Full House house, and I shed a tear or two. If you don't know Full House, then start watching now before school starts.
Interests in Pharmacy: Independent retail, industry? Undecided, please help.
Welcome from the Dean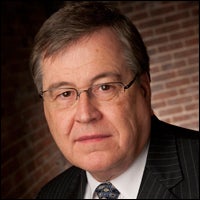 Dear New UT Student Pharmacists:
It is my pleasure to welcome you as new P1 student pharmacists and as members of our Longhorn pharmacy family.  You have proven that you can achieve academically, and you have excelled in a variety of nonacademic endeavors that are indicators of your future success.  We are both pleased and proud that you have chosen UT to pursue your pharmacy education.
You are entering as student pharmacists in one of the world's premier colleges of pharmacy. We are recognized for exemplary Pharm.D. and graduate education, for our outstanding faculty, for exceptional post-Pharm.D. residency programs, for cutting edge research, and for service to the profession and the community.  Our 2018 NAPLEX pass rate for first time examination was 97.3% compared with an average pass rate of 91.3% among other Texas pharmacy schools and a national average pass rate of 89.5%.  Our 2019 graduating Pharm.D. class had 47 individuals successfully match for PGY-1 residency positions, with an excellent 81% match success rate, high above the national PGY-1 match rate of 64.4%.
You will be challenged to master a rigorous academic program in which the Pharmacist Patient Care Process is integrated throughout the curriculum. Over the next four years, you will be expected to successfully complete demanding courses in the biomedical and pharmaceutical sciences, integrated pharmacotherapy modules, and the social, management, and economic sciences.  We continually redesign and improve our curriculum, including a new 4-semester pharmacotherapy module sequence that is being aligned with a new physiology/pathophysiology sequence implemented in fall 2016.  Beginning with the NSO "boot camp", you will experience a new approach to learning communication skills, which is being taught in collaboration with the Institute for Health Communications in the Moody College of Communications.  You will learn how to effectively communicate with patients and other health care professionals. You will be expected to solve patient care problems that address patients' medication management needs. You will develop fundamental patient care skills such as patient assessment, and you will complete certifications in CPR, immunizations, IV admixtures, and medication therapy management.  During your P3 year, you will work in teams to complete a service project identified by a community service organization.  You will complete more hours of practice based learning experiences than in the 126-year history of the college.  These experiences will culminate in a 42-week sequence of P4 rotations during which you will be expected to demonstrate your competence in performing pharmacist skills.
You will complete interprofessional education (IPE) experiences with UT students from medicine, nursing, and social work.  Your IPE is incorporated into an expanded and revised Foundations of Interprofessional Collaborative Practice (FICP) series.  Our goal is to produce leaders, innovators, and entrepreneurs for healthcare and the profession of pharmacy.  Becoming a professional and a leader does not occur automatically; it must be cultivated and nurtured.  You will learn what it means to be a professional, how your professional identity differs from your personal identity, and how your professional identity relates with that of other health professionals.  Positive leadership begins with learning and then practicing the virtues that underlie great leadership.  We will provide you with the opportunity to develop these attributes.
You are entering an exciting profession – one with a myriad of career opportunities.  Your Foundations of Professional Development (FPD) sequence will assist you in identifying and developing your strengths as well as evaluating the many available career opportunities within pharmacy.  Our goal is for you to develop a unique set of skills and experiences that will differentiate you from other pharmacy graduates.  While we will provide you with the opportunities, it is your responsibility to develop yourself professionally.  Your personal professional development is important regardless of the career path that you decide to pursue.  You begin that development today!
We are here to assist you in any manner that we can.  I wish you the best as you pursue your pharmacy education at The University of Texas College of Pharmacy.  Approach each day with vigor and a positive attitude. Work hard, become actively involved, and remember…
"What starts here changes the world!"
Dean
James T. Doluisio Regents Chair and Behrens Centennial Professor of Pharmacy
Welcome to the Student Affairs Office
We are the Student Affairs Office, and we welcome you to one of the best programs of pharmacy education in the country. We are delighted that you are here. Equally important, we want to bid you welcome as the newest members of the UT Austin College of Pharmacy family.
Our office is one of the busiest within the college. When forms are due to be turned in (and believe us there are many forms), we can help. If there are questions to be answered (and again, count on it), we are here. Having trouble with a course, an instructor, or a classmate? There is help available in the Student Affairs Office.
White Coat Speaker Information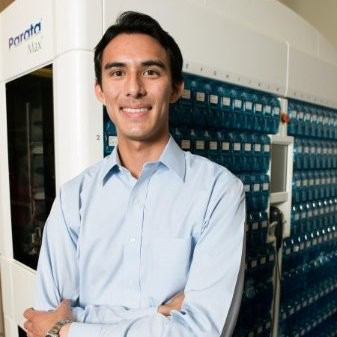 Dr. Ching is the Pharmacist-In-Charge at Tarrytown Pharmacy, an independent pharmacy that's been serving the community of Austin Texas since 1941. He was born in Honolulu Hawaii, living there until his family moved to Lake Travis in Austin, Texas in 2000.
Dr. Ching completed his undergraduate pre-requisites and his Doctor of Pharmacy degree at the University of Texas at Austin in 2014. He manages and operates Tarrytown Pharmacy and their numerous advanced clinical services; including their immunization and point-of-care testing program, PGY-1 community pharmacy residency, 3rdand 4thyear IPPE and APPE UT College of Pharmacy students, and health-care facility relations.
The Texas Pharmacy Association awarded him with the 2019 Excellence in Innovation award, which recognizes an individual who has demonstrated innovative pharmacy practice resulting in improved patient care and/or advancement of the profession of pharmacy.
He works closely with the University of Texas College of Pharmacy, and is involved with teaching third and fourth-year pharmacy students, developing research projects, and is a member of the college's Experiential and Admissions committee. In addition, he equips and encourages his pharmacy team to pursue new and innovative advanced clinical services for the pharmacy.
Registration Procedure
All incoming P1 students will be enrolled for 18-hours of Pharm.D. required courses during the fall 2019 semester.
Registration will occur during the following access period:
All incoming Pharm.D. students will register June 12th through July 24th.
Before you attempt to register for courses, you will need to check your RIS (Registration Information Sheet) for any financial or non-financial bars that could prevent enrollment into courses: RIS- http://registrar.utexas.edu/students/registration/before/ris
The Course Schedule has good information for you to read and review: http://registrar.utexas.edu/schedules/199
Your fall 2019 fee bill will be due Tuesday, September 3, 2019 by 5pm.  Please mark your calendar!  Visit the following site to view your various options on how to pay your fee bill: http://www.utexas.edu/business/accounting/sar/pay.html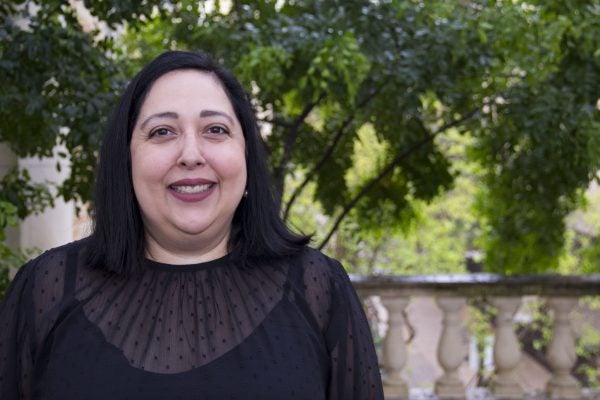 Please contact Patricia Gutierrez, Academic Advisor, at patricia.gutierrez@austin.utexas.edu if you have any questions or encounter any registration obstacles.
Helpful Registration Information
Lecture and Lab assignments will be emailed before registration opens June 12th.
PHM287DA (1-hr course) will be added later in the summer to give you a total of 18-hours for fall 2019.
You will also have the opportunity to select your optional fees (parking permit, Longhorn athletic package, etc..)
LECTURE courses and their unique numbers
PHM 480C Nrml Physio/Pathophysiology I-57415
PHM 180K Medicinal Chemistry Principles- 57420
PHM 381M Pharmaceutical Biochemistry I-57455
PHM 387M Physical & Chemical Principles of Drugs-58335
PHM 287N Biopharmaceutics-58340
LABS/Discussion Section/Convocation courses–Please reference your individualized email (date TBD) with your lab/discussion assig
PHM 187P Physical & Chemical Principles Drugs lab (with pre-lab)
PHM  181S Foundations of Professional Development 1 (section)
PHM 191U Foundations of Interprofessional Collaborative Practice 1
PHM 287DA Introduction to Patient Care A (discussion section and lecture)