Eligibility Requirements
You must be officially enrolled in the College of Pharmacy.
You must be registered for pharmacy courses during the semester in which the award is made.
You must be completing at least the second semester of the first professional year.
Required at the time of submitting an application.
See below for a complete list of scholarship endowments.
Application Process: You must complete two forms
Available online or at the University's Office of Student Financial Services located in the Student Services Building, 3rd floor.
Available beginning December of each year on the College of Pharmacy web site and must be submitted electronically.
The deadline for this application is April 1 for the following academic year.
Please note, the following scholarships have specific qualifying criteria
For questions on the application process, please contact the Student Affairs Office (512-471-1737, PHR 5.112).
Selection Process
College of Pharmacy Financial Aid Committee selects scholarship recipients and all decisions are final.
Selection may be based on financial need, academic achievement, extracurricular activities, and/or other criteria.
Several factors are taken into consideration including, but not limited to, the following: anticipated graduation date, academic achievement, the personal statement, involvement in student organizations within the college and/or university, employment, estimated income and expenses, and unmet need as determined by the Office of Student Financial Services.
Award Process
Recipients are notified of selection during the summer months.
Scholarships are awarded once a year, though actual disbursements may be divided equally between the fall and spring semester.
Disbursements are made after the 12th class day of the semester.
You will be required to write a thank you letter to the endowment representative, failure to do so will result in your funds being held.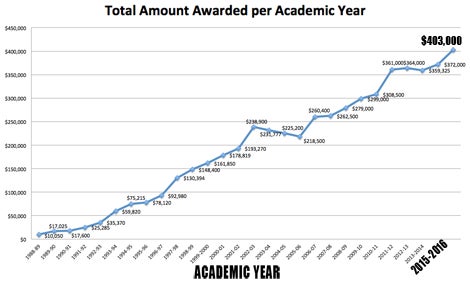 Emergency Financial Assistance: Klinck Family Loan Funds
These loan funds were established by the Klinck family of McAllen, Texas, to benefit students in need of financial assistance. Emergency loans, for a maximum of $500 are available and must be paid back the same semester the loan is taken out. Long-term loans of up to $2,500 are available to pharmacy students who demonstrate financial need. The interest rate for these loans is 6 percent and will not accumulate while the student is enrolled in the PharmD program.
Repayment begins three months after the student is not enrolled in the Pharm.D. program OR graduation from pharmacy school. Monthly payments of at least $100 are required, and the maximum payment period is twenty-four months. Students may apply for more than one loan, but except in unusual circumstances the loans will total no more than $5,000.
Additional information and an application are available from Greg Caldera or Cat Schlichting in the Office of Student Affairs, PHR 5.112.
Other loan funds. Other loan funds may be available to pharmacy students. Information about these loans is available from the Office of Student Affairs, Pharmacy Building 5.112.
Abbott Laboratories Endowed Presidential Scholarship in Pharmacy
Bergen Brunswig Corporation Endowed Presidential Scholarship in Pharmacy
Bill, Mildred and Chris Dismukes Endowed Presidential Scholarship in Pharmacy
James T. and Phyllis Doluisio Endowed Presidential Scholarship in Pharmacy
Eckerd Endowed Presidential Scholarship in Pharmacy No. 1
Eckerd Endowed Presidential Scholarship in Pharmacy No. II
Mr. Alfredo T. Garcia, Jr. Endowed Presidential Scholarship in Pharmacy
Tom and Beverly Gerding Endowed Presidential Scholarship in Pharmacy
Fernando F. Gonzalez Endowed Presidential Scholarship in Pharmacy
Alan and Nancy Hamm Endowed Presidential Scholarship in Pharmacy
Alan and Nancy Hamm Endowed Presidential Scholarship in Pharmacy No. 2
Hoechst-Roussel/Howard B. Lassman Endowed Presidential Scholarship
Glenn Smith Memorial Scholarship Endowment
Paul and Margaret Kehrer Endowed Presidential Scholarship in Pharmacy
Frederick D. Klein Endowed Presidential Scholarship in Pharmacy
Mr. & Mrs. C. L. Klinck, Jr. Endowed Presidential Scholarship in Pharmacy
Mr. & Mrs. Jan Klinck Endowed Presidential Scholarship in Pharmacy
Wm. Arlyn and Mary Carol Kloesel Endowed Presidential Scholarship in Pharmacy
The Wm. Arlyn and Mary Carol Kloesel Endowed Presidential Scholarship in Pharmacy No. 2
Jim Koeller Endowed Presidential Scholarship in Pharmacy
Peter John Layden and Professor Willet T. Conklin Endowed Presidential Scholarship in Pharmacy
Gilbert R. Satterwhite Memorial Scholarship Endowment
Legends of Pharmacy Golf Tournament Endowed Presidential Scholarship in Pharmacy
Legends of Pharmacy Golf Tournament Endowed Presidential Scholarship in Pharmacy No. 2
Medco Health Solutions, Inc. Endowed Presidential Scholarship in Pharmacy
NACDS Foundation Endowed Presidential Scholarship in Pharmacy
Randalls Endowed Presidential Scholarship in Pharmacy
Judith J. Saklad, Pharm.D. Endowed Presidential Scholarship in Pharmacy
San Antonio Pharmacists Endowed Presidential ScholarshipVan M. Smith Endowed Presidential Scholarship in Pharmacy
Baldomero Vela, Sr. Endowed Presidential Scholarship in Pharmacy
Neal Rayburn Ellis Endowed Scholarship
Oletta J. Klein Scholarship
S. Paul Mitchell and Toby Mitchell Scholarship in Pharmacy
Pete Allen Scholarship
Cardinal Health Pharmacy Scholarship Endowment
C. M. Armstrong Scholarship Fund
James Franklin Beran Endowment in Pharmacy
Renee Balas Bullard Endowed Scholarship in Pharmacy
Lorene Soape Endowed Scholarship in Pharmacy
Capital Area Pharmacy Association Endowed Scholarship in Pharmacy
Davila Family Endowed Scholarship in Pharmacy
Generations Club Scholarship Endowment
Good Neighbor Pharmacy Endowment
Bob and Mary Gude Endowed Scholarship in Pharmacy
Ron J. Gieser Endowed Scholarship in Pharmacy
Mr. & Mrs. Alonzo Z. Laurel Endowed Scholarship in Pharmacy
Lighthouse Drugstore of Port Isabel Endowed Scholarship
Mexican-American Association of Pharmacy Students Endowed Scholarship in Pharmacy
Mom's Pharmacy Scholarship honoring Elena, Veronica and Johnny Guerra
Pharmacy Alumni Association Endowed Scholarship
Pharmacy Class of 1992-93 Endowed Scholarship in Pharmacy
The Herbert and Darlyn Jung and Elroy and Gail Tschirhart Scholarship in Pharmacy
The Josefina Lesvia Falcon Undergraduate Scholarship Fund
Lee's Pharmacy and Medical Equipment Company Endowed Presidential Scholarship in Pharmacy
Roman Family Endowed Scholarship
Kappa Psi Pharmaceutical Fraternity Texas Graduate Chapter Endowed Presidential Scholarship
Donna M. Burkett, John P. Rogers, Jr., Jeanette Burkett, and Marjorie Joseph Scholarship
Texas Pharmacy Foundation Scholarship
Dr. Charles A. Walton Endowed Presidential Scholarship in Pharmacy
Marina P. Sifuentes Endowed Presidential Scholarship
Harold N. and Dorothy B. Walsdorf Endowed Presidential Scholarship
Eugene L. and Judy Vykukal Endowed Presidential Scholarship in Pharmacy
Neill and Beverly Walsdorf Endowed Presidential Scholarship in Pharmacy
Robert M. and Susan H. Campbell Endowed Scholarship in Pharmacy
Aaron and Bethany Gibson Scholarship
Lena and Marc Malacoff Scholarship in Pharmacy
Hazel M. Pipkin Scholarship in Pharmacy