The Learning Resource Center provides technology services and support for the College of Pharmacy, including teaching technology, virtual learning, and computer support.
Support Services from the Learning Resource Center (LRC)
Desktop computer support
Lecture capture
Video conference scheduling 
A/V reservations and assistance
Computer purchasing
Canvas
Networking
VoIP
IT Security
Webex Meetings

Our P3 classes connect to UT Health San Antonio via Webex video conferencing. We connect to many other sites in Texas, US and the world. Webex Meetings provide connections to desktop, room system and telephone participants. Our Pharmacy Webex site is: utpharmacy.webex.com
If you're Faculty, Staff or a Student you can request a full Pharmacy account via our LRC Help Ticket.
Meeting Scheduling: you can schedule the meeting yourself using your Pharmacy Webex account.
These rooms offer built-in Webex Meeting capability: PHR 2.108, PHR 2.208, PHR 2.214, PHR 3.106, PHR 3.114A, PHR 3.114B, PHR 3.114C, PHR 3.114D, and PHR 4.114. There is also one mobile Webex cart that can be used in these rooms: PHR 3.110 and PHR 5.108
Video Production

Video production services include camcorder video recording, Adobe Premiere editing, small green screen room with lights and microphones. For more information or to schedule a consultation contact the control room manager below:
Lecture Capture

The following rooms offer lecture capture via Mediasite recording. Core curriculum in these rooms are automatically scheduled and viewable via Canvas. You can request a new ad-hoc recording via our LRC Ticket system. PHR 3.106, PHR 4.114 and PHR 2.208
The following rooms offer lecture capture via Liberal Arts Extron recording. The Extron recordings for classes are viewable via Canvas, but special requests can be scheduled by contacting Liberal Arts Lecture Online. PHR 2.108 and PHR 2.110
Other rooms not listed are not equipped with Lecture Capture equipment, but may be able to use Webex for recording purposes. For more contact the Control Room manger below.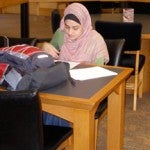 The Jaime N. Delgado Library is a unique service dedicated to serving Pharmacy students for convenience and educational benefit.
Fall/Spring Hours of Operation
Monday-Thursday: 8:00 a.m. – 9:00 p.m.
Friday: 8:00 a.m. – 5:00 p.m.
Summer Hours of Operation
Monday-Friday: 8:00 a.m. – 5:00 p.m.
Rules and Procedures
No food is allowed in the Delgado LRC. Drinks with secure lids are allowed in designated areas.
During the course of the day, most materials are available for checkouts for 3 hours at a time.
There are some exceptions to this rule due to specific requests by professors.
Students returning items late 3 times within the semester must talk to the Delgado LRC manager.
Students returning items late 5 times in a semester will not be allowed to use the Delgado LRC at all for the rest of the semester.
Damaged or lost materials will result in a replacement fee charged to the student.
If you have any suggestions or concerns please call 512-471-3857 or stop by the LRC office in PHR 4.123 and ask for Samantha Brenner or Jay Hamman.
Presentation Equipment
The LRC maintains an inventory of equipment that may be checked out by faculty, staff and students of the College.
Presentation equipment may be checked out by faculty, staff and students of the College
Students must have faculty or staff authorization
Submitted reservations via our LRC Help Ticket
Equipment reservations are only guaranteed if submitted one week in advance.
Equipment reservations are restricted for use in the PHR or BME
Setup support is only available for PHR
Security arrangements for equipment kept out after 5:00 PM must be made requester
Installed equipment may not be moved to any other room
Please submit an LRC Help Ticket for general maintenance issues with any equipment
For technical support during a class or event, please call the LRC support line at 512-471-1400
Make room reservations via the Classroom Reservation page
Room reservations must be confirmed before submitting an equipment request
In addition, faculty may choose to distribute exams to students via the LRC Delgado Library (PHR 3.114) checkout desk.
Instructors or TAs must submit exams to the LRC Office (PHR 4.123) with a completed Exam Distribution Form and in alphabetical order.
Priority Use for Seminar Rooms
Rooms in the back of the Delgado LRC may be used for meetings or group study.
Scheduled meetings (listed on the door of each room) have priority. If no meeting is scheduled, students may use these rooms to study.
Poster Production Services
Poster printing
We offer consulting services to faculty, staff and students who are preparing posters, or publications.
Poster printing services are limited to the College of Pharmacy for professional or business use only.  This includes professional conferences, College events, student organizations, etc.
You must be on the UT campus or connected to the UT VPN service to use the order system.
If this is your first time or you are having problems using the form continue reading below
Size and Cost
The LRC plotter prints on rolls of paper that are up to 44" wide.  Please ensure that one of your posters dimensions is 44" or less.
Cost is calculated by the amount of paper that comes off the roll in feet. Posters are oriented when printing to minimize the number of feet.
The printing charge is $15 per foot.  All printing charges require a UT account number for payment.
Examples:
A poster that is 44" x 24" will cost $30 (2 feet at $15/ft)
This poster is printed using 2 feet of the 44" paper roll.
A poster that is 48" x 24" will cost $60 (4 feet at $15/ft)
This poster is printed using 4 feet of a 36" paper roll
The IDL can also mount your poster to foam board for an additional $10 fee. Maximum foam board size is 24″ x 36″.
Preparing your Poster Files
Users can create their poster file in whatever program they feel comfortable (PowerPoint, Illustrator or Word, etc), and submit it directly if the poster is ready for printing.
Content for posters can also be submitted for assistance with poster layout and design.  We can either design the content arrangement for you, or mimic a layout you provide at no charge. (We have plenty of samples you can look at too!)
If you are preparing the poster with a group of people, or if your supervisor will be included as an author, you will need to have them review and approve the content before you submit it to us.
Poster design requirements:
The preferred branding for posters is the College of Pharmacy brand (the Longhorn logo, UT seal, and UT System seal are prohibited)
Files must have a white background color to avoid using a large amount of ink.
Submitting your Poster or Content
Print-ready poster files must be submitted a minimum of 3 business days before you need the poster. Any exceptions must be requested for approval by emailing the LRC.
Submit your poster order and upload your files using the Poster Printing Order Form linked above. Log in with your UT EID and password.
Be sure to include size and faculty sponsor and corresponding account number before submitting form.