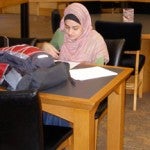 The

 

Jaime N. Delgado Library is a unique service dedicated to serving Pharmacy students for convenience and educational benefit.
Dr. Jaime Delgado was a well-known and long-standing UT College of Pharmacy faculty member.
Fall/Spring Hours of Operation
Monday-Thursday: 8:00 a.m. – 9:00 p.m.
Friday: 8:00 a.m. – 5:00 p.m.
Summer Hours of Operation
Monday-Friday: 8:00 a.m. – 5:00 p.m.
Rules and Procedures
No food is allowed in the Delgado LRC. Drinks with secure lids are allowed in designated areas.
During the course of the day, most materials are available for checkout for 3 hours at a time.
There are some exceptions to this rule due to specific requests by professors.
Students returning items late 3 times within the semester must talk to the Delgado LRC manager.
Students returning items late 5 times in a semester will not be allowed to use the Delgado LRC at all for the rest of the semester.
Damaged or lost materials will result in a replacement fee charged to the student.
If you have any suggestions or concerns please call 512-471-3857 or stop by the LRC office in PHR 4.123 and ask for Samantha Brenner or Jay Hamman.
Priority Use for Seminar Rooms
Rooms in the back of the Delgado LRC may be used for meetings or group study.
Scheduled meetings (listed on the door of each room) have priority. If no meeting is scheduled, students may use these rooms to study.