The Panopto video management system makes it easy to record videos and lectures.  Panopto provides a robust suite of features including auto-captioning and creating a table of contents with timestamps.
Getting Started with Panopto in Canvas
After logging in, click Panopto Video in any of your Canvas courses.
You should see "Panopto Video" in the course navigation.  If not, go to Settings > Navigation tab > Panopto Video > click to Enable > click Save.
PHR 2.208, PHR 3.106 and PHR 4.114 are Pharmacy-only classrooms and have dedicated Panopto lecture capture systems.
Lectures recorded in these rooms will appear under "Panopto Video" in your Canvas course. Recordings will appear in Canvas about 1 hour after class.
Rooms PHR 2.108 and PHR 2.110 are general purpose classrooms (open to all students), and their lecture recordings may appear in a location other than Panopto.
See link for details.
This instructional guide provides help with creating micro-lectures, enabling discussions, and adding quiz questions to videos.
Panopto Made Easy is an Open Educational Resource (OER) developed for the University of Texas community by the School of Information. It consists of three series' of Modules containing video and text tutorials, depending upon what your role is at UT.
Featured Help Video
Take a tour of the Panopto Video Library and learn about Panopto folders.  This video covers how to use your My Folder space to work with draft videos before sharing to others and creating new folders to better organize your course video content.
Additional Options for Using Panopto
You can request that any Zoom meetings you schedule through Canvas be added automatically to your Canvas Panopto Video folder.
 
This can save you a step if you are going to upload Zoom recordings to Panopto anyway. This will also free up recording space on your Zoom account since the Zoom recording will be deleted after it has uploaded to Panopto.
Working Directly in Panopto
You can stay in Canvas for most functions, or you can click the the box with the arrow in the upper right corner to leave Canvas and work directly in Panopto. This will provide more room to view your folders and more options to filter or sort your list.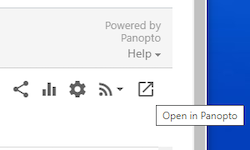 General Panopto Resources
This collection of videos from Panopto addresses common help topics ranging from basics (getting started with recording) to more specialized tasks (adding automatic captions).
Panopto has created a guide to the differences between Zoom and Panopto and how to best use them in combination for a variety of communications and video tasks.
College of Pharmacy Panopto FAQs
If you have additional questions about Panopto, check out our FAQ document.  The questions and answers have been curated specifically for College of Pharmacy audiences.
Visit our Captioning page for information on instructional continuity, captioning, and lecture recordings.