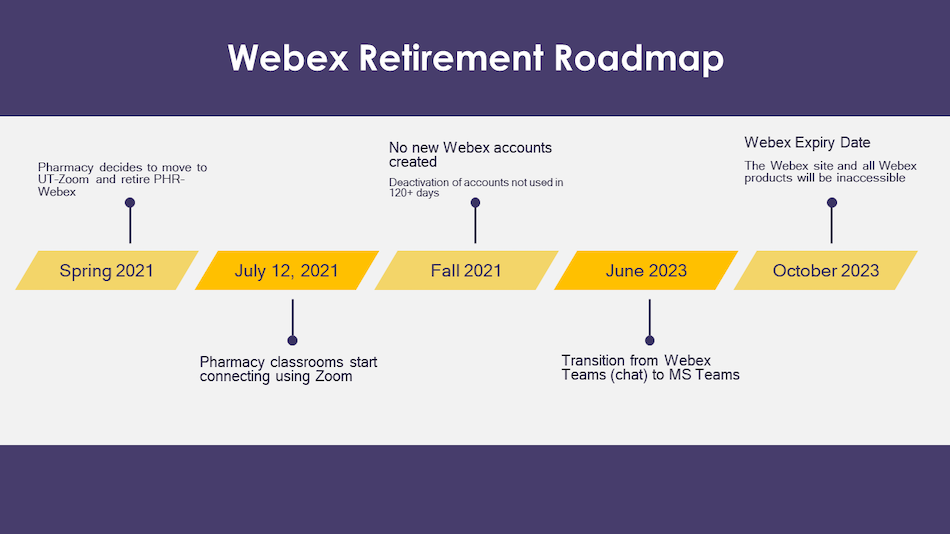 Next Steps for the Transition from Webex to Zoom
If you have been using one of the Webex technologies that will be retiring, you can refer to the chart below to identify which new technology to begin using and the time frame for making the switch.
For questions regarding this transition, reach out to the LRC via an LRC Help Ticket.
Previous Webex Technology
New Technology (Zoom or Microsoft)
You can continue to use Webex Teams until June 2023.  Alternatively, you can start using Microsoft Teams now, or use both simultaneously
Anytime through June 2023
If you were scheduling Webex meetings/seminars in PHR classrooms by submitting an LRC ticket
You can schedule Zoom meetings/seminars in PHR classrooms by submitting an LRC ticket
The Evolution of Videoconferencing at the College of Pharmacy
Webex (Legacy) Documentation
Schedule a Webex Meeting
Start/Join and Meeting Options
Webex Breakout Rooms
Record a Webex Meeting
Webex Spaces and Teams (Messaging)
The Basics
Troubleshooting

To properly sign in above, you'll need to start by entering your UT email address of record (i.e. your primary work or student email address as shown in the UT Directory, Workday etc.).
You will then be redirected to the UT EID login system. If you are not, please contact the LRC.
Virtual Learning with Webex for Those with a Legacy Account

Our Pharmacy Webex site is: utpharmacy.webex.com
Meeting Scheduling: you can schedule the meeting yourself using your Pharmacy Webex account.
Webex (Legacy) Help Links
Frequently Asked Questions - Webex (Legacy)
How do I invite guests to my Webex Meeting?
If the meeting has already started, see: Invite People to an Ongoing Webex Meeting

If the meeting hasn't started yet, add guests, PHR users, and alternate hosts by adding them to the "Who is invited?" section of the meeting invite on your online account: 
Go to: utpharmacy.webex.com 
Sign-In
Go to Meetings
Find Meeting and click on the name of the meeting
On the right hand side find the "Who is invited?" section and add the email address of the person to add as an attendee.
Your guest(s) will receive an email invitation. For information to share with them on how to join the meeting see "Join a Webex Meeting" links on the Virtual Learning Home page. If it is their first time, you might invite them to your Webex personal room a few days before the meeting so they can see how to join and get any software installed.
How do I get a Pharmacy Webex account?
What is Webex Meetings?
A Webex meeting is an online meeting that allows you to virtually meet with other people, without leaving your home or office. Webex Meeting participants join online meetings using devices with built-in cameras and microphones, or they call in via a telephone.
Are breakout rooms available in Webex Meetings?
Yes. Breakout sessions are smaller groups that are split off from the main Webex meeting. They allow a subset of meeting participants to collaborate and share ideas over audio and video. Use breakout sessions for workshops, classrooms, or for when you need a moment to talk privately with a few participants, outside of the main meeting.
Webex Meetings | Breakout Sessions
https://help.webex.com/en-us/nroo6fs/Webex-Meetings-Breakout-Sessions