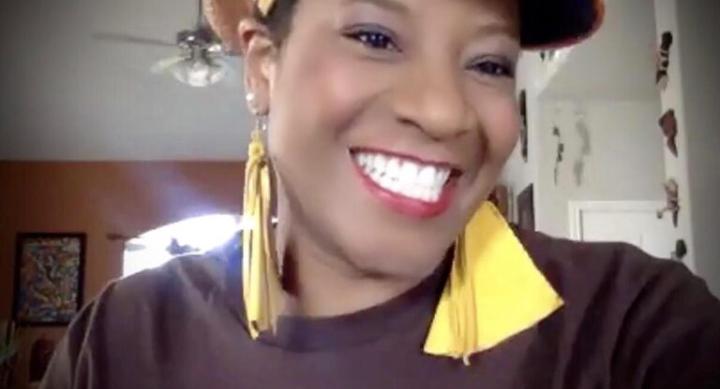 Assistant Dean of Diversity and Inclusion Skyller Walkes, Ph.D. leads a virtual discussion on June 16, 2020 about the issues facing the country regarding racism during the COVID-19 pandemic.
In the resurgence of the Black Lives Matter movement and in the middle of the omnipresent and worsening COVID-19 pandemic, The University of Texas at Austin College of Pharmacy has made efforts to express our sorrow, concern, and solidarity for the multifront causes of instability in the campus community and across the globe.
In addition to numerous statements, resources, and ways to support, UT College of Pharmacy Assistant Dean of Diversity and Inclusion Skyller Walkes, Ph.D. hosted a long overdue virtual forum discussion synthesizing these many feelings and concerns. "The Assault of 2 Pandemics – COVID and Racism: Grappling with Hurt, Rage, and Healing" took place on June 16 and featured more than a hundred participants across the university and college community. Dr. Walkes knew that it was important to preface the forum with a clear recognition that this discussion would confront topics, social norms, and complex histories that might challenge firmly held beliefs and ideologies.
"We're going to be getting into some really deep issues that some folks may deem controversial," Walkes says in the opening minutes of the discussion. "I personally think they are necessary, and if not now, when?"
The forum was structured as an honest dialogue and uncensored discussion around the amplification of the message "Black Lives Matter" in the face of COVID-19 and systemic racism. Participants were invited to talk, listen, and learn, and the only requirement was openness and a willingness to engage and hopefully instill a desire to activate as an ally.
Though participants grappled with a number of complex, difficult, and far-reaching topics, the discussion also extended to the role of educators in the face of these systemic issues. Those who joined were asked to consider a quote from Lerone Bennett, Jr., an African-American scholar, author, and social historian, known for his analysis of race relations in the United States: "An educator in a system of oppression is either a revolutionary or an oppressor."
"I want you to actively think about which of these roles you are choosing to identify with," Walkes adds. "Are you a revolutionary educator or an oppressive educator?"
As the university and the college march forward into a mixed learning environment—combining remote learning with socially distant classes and labs—it is as important as ever for the pharmacy community to acknowledge its vital role in maintaining public health, and how the perceptions, inequalities, and oppressions of certain communities, especially people of color, affect the ability of a pharmacist to maintain the solemn oath to "consider the welfare of humanity and relief of suffering." That oath goes beyond corporeal health and wellness, but a mandate to serve all of our community in a way that best addresses need, severity, and racial disparity.
Discussions such as "2 Pandemics" serve a vital role in pharmacist education to foster an inclusive environment, and guide student pharmacists into a world armed with thoughtfulness and knowledge to best benefit humanity.