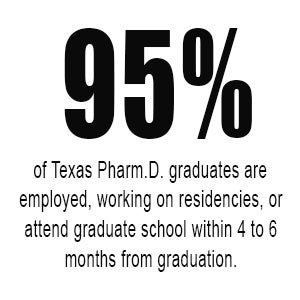 Mission
Pharm.D. Career Services provides a full range of services and resources to support students as they realize their full potential of their education and experiences.
Job Placement
The College of Pharmacy conducts several events during the year to assist students with finding practice opportunities upon graduation. Through the college's Foundations of Professional Development (FPD) course sequence, students are exposed to a variety of different career options including post-graduate education and training opportunities including graduate degree options, residencies, and fellowships. Working collaboratively with the college's student professional organizations, career events are hosted throughout the year including residency showcases, mock interview and CV writing workshops, career fairs, and onsite interviews.
The College conducts a P4 Senior Interview Day during the fall semester for the benefit of graduating seniors seeking professional practice positions. Prior to this event, students are provided with information regarding available positions with local, state, and national pharmacist employers and given the opportunity to sign up for interviews with these companies. At least sixty percent of graduating seniors participate in Senior Interview Day and many are successful in gaining employment as a result of their interviews. Students that do not participate in this event utilize other mechanisms for attaining employment following graduation. Students who are pursuing residency and/or graduate programs, apply to these programs directly outside of the P4 Senior Interview Day. The College makes no promise to secure employment for each graduate.
Additionally, the College in conjunction with the UT College of Pharmacy Chapter of the American Pharmacists Association Academy of Student Pharmacists (UT-APhA-ASP) and UT Chapter of the American Society of Health-System Pharmacists (UTSSHP) conducts Career Day each fall prior to P4 Senior Interview Day. College of Pharmacy students are invited to visit with major pharmacist employers, residency program directors, and graduate program representatives to learn more about career opportunities in the profession.
Pharmacy Career Services Staff
Administrative Program Coordinator

Assistant Dean for Student Affairs

Assistant Professor of Practice
Contact Us: In-person, Email, or Phone
Mailing Address
The University of Texas at Austin
College of Pharmacy
2409 University Ave A1900, PHR 5.112
Austin, TX 78712-1113
Currently enrolled Pharm.D. students and graduates can access HireUTexas Powered by Handshake.
Log in to Handshake system with your UT EID and password
If you have any questions please email pharmdcareers@austin.utexas.edu or call (512) 471-1737
Past Career Event Employers
Albertsons - Randalls - Tom Thumb
Avella Pharmacy
Baylor Scott & White
Brookshire Brothers
Cardinal Health
CVS Health
Healix
H-E-B
Kmart Pharmacy
Kroger
Methodist Health System
Paragon Healthcare Inc.
PharMerica
Rite Aid Pharmacy
Seton
Shopko
Texas Oncology
Walgreens
Walmart
Past Mini Residency Showcase Participants
H-E-B Pharmacy/UT Community Pharmacy Residency Program
Rutgers Institute for Pharmaceutical Fellowship
Seton Healthcare
St. David's South Austin Medical Center
St. David's North Austin Medical Center
Tarrytown Pharmacy
The University of Texas at Austin College of Pharmacy Affiliated Residency Programs