The University of Texas Continuing Pharmacy Education Office (UT CPE) thanks you for your participation as a presenter for our upcoming program. The following guidelines and recommendations have been developed by our educational staff, in reference to specific guidelines and standards set forth by the Accreditation Council for Pharmacy Education (ACPE).  
The Speaker Invitation Packet that you received provides details about your participation in a specific seminar, while this Speaker Resources page provides much more general information about your agreement with UT CPE to deliver an evidence-based presentation as a speaker in one of their events.  Please contact us if you need any further clarification or assistance in developing your CPE presentation.
Presentation Topic Selection
Topics and content are chosen by each conference's Planning Committee, which consists of members who have extensive domain expertise and who are representative of the typical target audience for that conference. Committees conduct a planning meeting to chose topics based on evaluations and suggestions made by the previous year's attendees along with current trends and research. Our conferences have a high rate of returning participants, averaging over 60% of participants are likely to have attended the conference multiple times before. Titles and learning objectives are often drafted by the Committee to provide the speaker an idea of what their target audience wishes to learn, and to communicate the gap analysis and general need for the topic. Speakers are always welcome to adjust and edit titles and objectives.
Learning Objectives
The learning objectives for your presentation may have already been drafted by the Planning Committee based on program needs analysis.  As long as you keep to the same theme that was established in the objectives you were provided, you are welcome to edit the learning objectives or even submit your own.  If you feel the need to change the focus of the objectives, please consult with your contact on the Planning Committee  (the committee member who extended your speaking invitation).  If editing or developing learning objectives, please note the following guidelines for CPE credit:
Writing Learning Objectives: Objectives in CPE are meant to describe "what the learner should know/ be able to do upon completion of the activity".  The written objective must begin with a measurable action verb, and should not contain abbreviations or acronyms.
For example:
Discuss latest trends in…
Identify current treatments for….
Describe new standards for treatment….
Suggested Action Verbs for our typical knowledge-based seminars:
Define, Identify, List, Recall, State, Discuss, Describe, Explain
Verbs to Avoid (not measurable by learning assessments):
Understand, Learn, Know, Appreciate, Believe, Value
Instructional Format 
UT CPE conferences are set up in a traditional lecture format, in a large classroom setting. The use of presentation slides are expected and highly recommended.  Please clearly state your learning objectives at the start of your presentation (see PowerPoint Slides below).  Approximately every 15 minutes try to summarize the new information you have just covered, to keep the learner engaged.  This type of summarizing will help the learners, and it will help us to convert the video recording of your session to an online session that will serve as a future online resource for participants.
Active Learning & Learning Assessment∗∗
Learners that actively engage with the content can greatly enhance their retention of content that may have otherwise been tuned out during a purely didactic activity that's just passively absorbed.  The goal is for participants to retain content in order to change practice behaviors, then to ultimately improve patient outcomes.  There are several methods of active learning including writing, demonstrating, discussing, and engaging in discussion or in problem solving.  Ideally, an active learning exercise pulls double-duty by also serving as the learning assessment exercise for participants to assess their achievement of the learned content. Completion of a learning assessment is required for CPE credit, in all types of programming.  ∗∗ UT CPE Speakers must incorporate the following Active Learning & Learning Assessment strategies into their presentations to meet ACPE Standards.  
Active Learning strategies for large audiences:
Case-assessment/recall questions in slides (multiple choice or T/F), for the audience to answer via their audience responses cards (color-coded cards).
Learning Assessment strategy for large audiences: 
Following each of the above Active Learning questions, speaker provides clear feedback to the audience about their answers indicated by the color-coded audience response cards.
Note:  Be sure that EACH learning objective is assessed by a learning assessment question. 
∗∗ When your presentation is peer-reviewed prior to the program, UT CPE will contact you if the reviewer cannot clearly determine your active learning/assessment exercises.
Question & Answer Session
∗∗ Reserve the final 10 minutes of your time block for the Question and Answer session with the audience.  
Written questions will be collected from the audience towards the end of your presentation, and then read aloud to you via the microphone by one of our committee members.
 
Our committee pre-filters the questions prior to reading, by selecting those that are most applicable for the entire audience.
 
Following the presentation, presenters may move out to the hallway for an additional 5-10 minutes to discuss remaining questions one-on-one with the few audience members who still have unanswered questions.
Pharmacists' Patient Care Process
Faculty are instructed to prepare pharmacist learners to provide patient-centered collaborative care as described in the Pharmacists' Patient Care Process (PPCP).
The Pharmacists' Patient Care Process is the pharmacy profession's systematic approach for pharmacist provision of care, regardless of the type of service or the pharmacy practice setting (developed by Joint Commission of Pharmacy Practitioners  www.jcpp.net).
Below is a graphic representation of the Pharmacists' Patient Care Process.  More guidance on the process may be obtained by visiting (www.jcpp.net).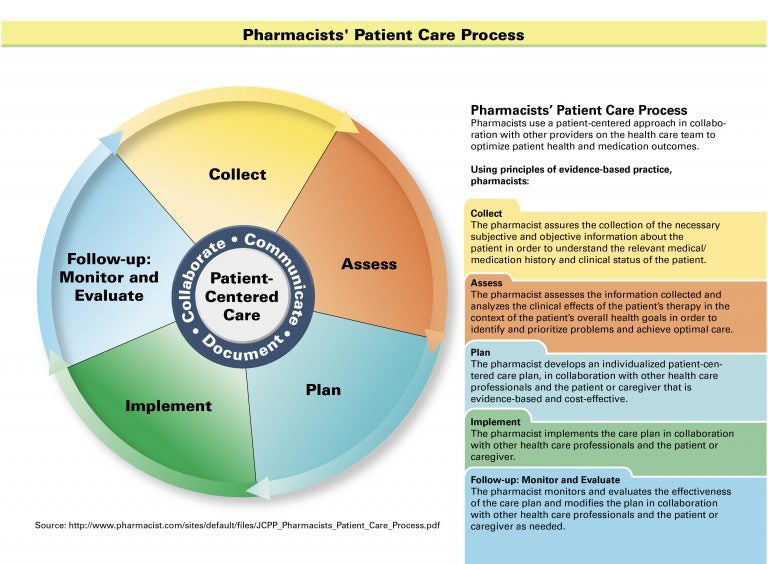 PowerPoint Slides/Educational Materials∗∗
Use of presentation slides are expected and highly recommended.  If you choose not to use slides as your educational material, you must provide some other type of educational material(s) for the participants to potentially consult at a later time (a one-page list of recommended resources, websites, a tangible tool to aid in patient care, etc.).  This is required so your session remains eligible for CPE credit.  The final version of your presentation must be submitted by the due date designated in your Speaker Invitation Packet, to allow enough time for the peer review process and printing and/or posting online of materials before the seminar. ∗∗ If UT CPE does not receive your presentation by the designated due date, UT CPE reserves the right to adjust your honorarium and/or the ACPE accreditation of your presentation.  Also, the majority of our programs are 'green', so you can expect the participants to have online access to your materials, starting a few days before the program begins.  Paper copies will not be provided by UT CPE.
∗∗ Formatting Slides: 
Slide 1:  List the Presentation Title exactly as it appears in your invitation letter, or on the agenda found online.
 
Slide 2:  List all relevant disclosures or  "nothing to disclose". One of these statements is required.
 
Slide 3:  List the learning objectives from the online agenda as the third slide, which  outlines what participants can expect to learn.
Equitable and Fair Balance
The University of Texas at Austin College of Pharmacy expects that faculty will provide an in-depth presentation with full disclosure, equitable balance and one that references only the best available evidence.
If UT CPE does not receive a speaker's Financial Disclosure before the due date designated in the Speaker Packet:
∗ Speaker's presentation may not be eligible for CE credit
∗ Speaker's honorarium may be affected
All presentations must meet the following standards for ACPE accreditation:
Financial Relationships & Resolution of Conflicts of Interest
Speakers must disclose financial relationships that are relevant to the content they will be developing/delivering, by completing the designated Financial Disclosure Form (form provided in Speaker Invitation Packet and also at the bottom of this webpage). Speakers are expected to list their disclosures on Slide 2 at the beginning of their presentation. If the speakers do not have any financial relationships to disclose, they must list 'no financial relationships to disclose' on Slide 2. If there is a potential conflict of interest based on disclosure, UT CPE will contact you for resolution steps.
Presentations must be non-commercial/non-biased
Speakers must develop content that is based on the best available evidence and that is unbiased. Speakers are required to use generic names of medications in their presentation slides and discussion. If the trade name of a medication must be used for the sake of educational purposes, the equivalent generic(s) must also be named alongside the trade name.
Presentations must be non-discriminatory
When preparing presentations and written materials, presenters are expected to be sensitive to the concerns of all members of the audience in their use of language, hypothetical examples and anecdotes. We encourage you to scrutinize both written materials and oral remarks carefully for stereotypes that might offend program participants.
Peer-reviewed
In an effort to produce CPE activities that are free of promotional bias and in abidance with ACPE Standards for Commercial Support, the UT CPE office will have presentations peer-reviewed for equitable balance, prior to the scheduled activity. If bias is perceived, the UT CPE Director or Assistant Director will then review the presentation to determine a resolution, which may include contacting the speaker to make changes to the presentation content.
Content Validation
Presentation content must be based on the most recently available evidence, that is accepted within the health care profession as adequate justification for the indications and contraindications in the care or treatment of patients. Scientific research referred to, reported or used in support or justification of a patient care recommendation must conform to the generally accepted standards of experimental design, data collection and analysis.