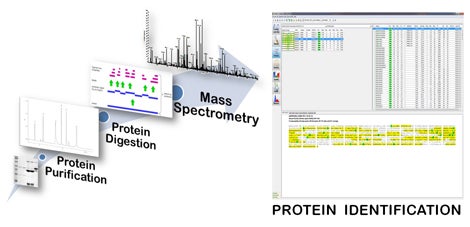 The Proteomics Facility provides services, self-service equipment, and collaborative research for the detection, characterization, and quantification of proteins and other biomolecules.
The facility labs are located in MBB 1.420 (College of Natural Sciences).
We are in the CNS Center for Biomedical Research Support and members of the UT System Proteomics Core Facility Network.
Learn more at the Proteomics Facility website.
News and Announcements
These include CyTOF, Reversed Phase Protein Arrays, top-down proteomics and UVPD fragmentation, glycoform analysis, and HDX exchange.
We are accepting online sample submissions!
If you do not have an account yet, please email us at pmaf@austin.utexas.edu and we will send you an invitation to create one.
Please email the Proteomics Facility staff before submission for a consultation on what type of analysis is best for your experiment.
Please visit the Proteomics Facility Wiki for protocols and FAQs.
Cite us in your publications
When using core services, remember to cite the Proteomics Facility in your publications, and funding source CPRIT RP110782 when work was billed at subsidized CPRIT rate, and send the citation to Maria Person. Continued support for the facility depends on documented outcomes.
If you are interested in collaborating on a protein modification or quantitation project, contact Maria Person.
For top-down and UVPD, contact Jennifer Brodbelt.
Core Services and Collaborative Projects
Mass spectrometry
Protein/peptide molecular weight determination
Targeted proteomics for quantitation of selected proteins
Specialized data acquisition for protein crosslinks or glycopeptides
Top-down and UVPD analysis of intact proteins
Top-down and UVPD analysis of intact proteins for cleavage characterization, ligand binding, and modification analysis through Jennifer Brodbelt's participation in UT System Proteomics Core Facility Network
Self-service instrumentation available