Baylor Scott & White McLane Children's Medical Center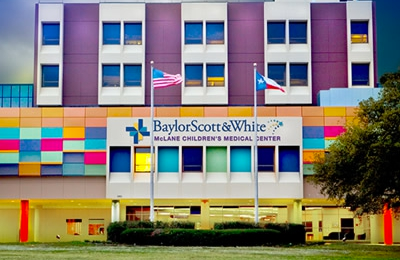 1901 SW H K Dodgen Loop, Temple, TX 76502
The residency is a 12-month, ASHP accredited program that builds upon the Doctor of Pharmacy (Pharm.D.) education and outcomes to contribute to the development of confident clinical pharmacists responsible for medication-related care of patients with a wide range of conditions, eligible for board certification, and eligible for PGY2 pharmacy residency training.
The clinical pharmacy staff invests in the next generation of pharmacists by working with the resident to increase professional development, clinical involvement, and develop pediatric-focused understanding of pharmacotherapy. The pharmacists at McLane's Children's Medical Center are an integral part of the patient care team.
Upon completion of the program, the pharmacy resident will be proficient in providing evidence-based and patient-specific medication therapy management for pediatric patients. In addition, the resident has the opportunity to complete a teaching certificate via the University of Texas at Austin College of Pharmacy and co-precept pharmacy students throughout the year.
Residency Program Director
Residency Program Coordinator
Facility Information
Baylor Scott & White McLane Children's Medical Center offers pharmacy residents a unique PGY1 pharmacy experience in a pediatric setting. McLane Children's Medical Center is the largest pediatric hospital in Central Texas, with 112 beds consisting of a 21-bed Emergency Department (level II trauma center), five operating rooms, a procedure suite, day surgery, 16-bed pediatric intensive care unit (PICU), 48-bed level IV neonatal intensive care unit (NICU) and a 48-bed medical/surgical unit.
The Medical Center also provides the convenience of outpatient follow up at the 5-story clinic and infusion center right next door. As a part of the Baylor Scott & White Health System, the Medical Center serves as the primary academic setting for the Department of Pediatrics at Texas A&M College of Medicine, as well as hosts pharmacy students from the University of Texas at Austin College of Pharmacy, Texas A&M University Irma Lerma Rangel College of Pharmacy, and more!
Program Requirements for Successful Completion
Achieve 90% of objectives by the end of the residency year
Completion of an Institutional Review Board (IRB) – approved research project, including:
Poster Presentation at ASHP Midyear Clinical Meeting
Platform Presentation at PPAG Annual Meeting
Manuscript Completion
ACPE-accredited continuing education presentation
Program Structure
Residents will complete 17 rotations from July 1st through June 30th of the residency year. Required rotations are 4 weeks in length with the exception of the yearlong longitudinal rotations. Elective rotations are most commonly 4 weeks in length but may be modified pending resident interests.
Required Rotations
Residency & Hospital Pharmacy Orientation
Longitudinal (12 months) Pharmacy Administration & Management
Longitudinal (12 months) Service & Education Commitment
Longitudinal (12 months) Cystic Fibrosis Clinic
Longitudinal (12 months) Research, Education, Administration
Medical/Surgical Unit I & II
Pediatric Intensive Care Unit I & II
Neonatal Intensive Care Unit I &II
Pediatric Hematology/Oncology
Clinical Research & Practice
Antimicrobial Stewardship
Elective rotations
Ambulatory Care
Emergency Medicine
Infectious Diseases
Administration
Others pending resident interest
Staffing requirement
Every third weekend
One major holiday (i.e. Thanksgiving, Christmas, New Year's Day) & one minor holiday (i.e. Memorial Day, July 4th, Labor Day)
Residency Details
Start Date
July 1 (orientation begins the last week of June)
Benefits
National Meeting Attendance
Pediatric Advanced Life Support (PALS) Certification
401K Contribution & Matching
Application Requirements
PhORCAS Application (ASHP Code: 74089)
Three PhORCAS recommendation forms
Curriculum vitae
Letter of intent
Pharmacy school transcript
Doctor of Pharmacy degree from an ACPE-accredited college of pharmacy
Texas licensure or eligibility to obtain licensure by September 1st
Strong interest in clinical practice in a pediatric facility
Application Deadline: January 15th
On-site interview required
Orientation starts late June
Previous Residents
Brandi Rodriguez, PharmD [2019-2020] – Pediatric Clinical Pharmacist at Baylor Scott & White McLane Children's Medical Center, Temple, TX
Anthony Nguyen, PharmD [2018-2019] – Pediatric Clinical & Informatics Pharmacist at Medical City Dallas Hospital, Dallas, TX
An Nguyen, PharmD [2017-2018] – PGY2 Pharmacy Resident at Children's National Health System, Washington, D.C.
Jennifer Brasher, PharmD [2016-2017] – Critical Care Pharmacist at the Texas Children's Hospital, Houston, TX
Nancy Johnson, PharmD [2015-2016] – Clinical Pharmacist at University of Texas Medical Branch, Galveston, TX
Jamie Maze, PharmD [2014-2015] – Clinical Pharmacist at the Baylor Scott& White McLane Children's Medical Center, Temple, TX