UT campus and tower at dusk
About the College of Pharmacy
The University of Texas at Austin College of Pharmacy is a leader in innovative pharmacy education and research. As the #7 ranked U.S. pharmacy school, the College has $20 million in research funding and the #1 residency match placement rate in Texas.
A Message from Dean Samuel Poloyac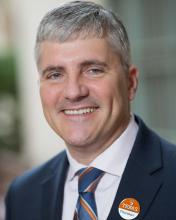 The University of Texas at Austin College of Pharmacy is one of the premier institutions of pharmaceutical education and research in the country. Pharmacists have significant responsibility for managing drug therapy, counseling on medication use, and monitoring drug therapy outcomes.
Our Doctor of Pharmacy program prepares future practitioners to meet these challenges as lifelong learners and leaders in drug therapy management.  We offer graduate programs leading to research-focused M.S. or Ph.D. degrees in pharmacy including the inter-institutional Ph.D. program in translational research. 
An exceptional faculty brings cutting edge research and clinical expertise to the classroom and supervises student-learning experiences in both patient care and research.
Our students are tomorrow's pharmacy leaders. What starts here truly changes the world.
Accreditation
The University of Texas at Austin College of Pharmacy is fully accredited by
Learn more about our Pharm.D. Program Quality Indicators, including:
Graduation rates
National Board exam scores
Residency match rates
First employment information
Outstanding student achievements
Facilities
Austin
Situated in the heart of The University of Texas at Austin campus, the college primarily makes its home in the two-building pharmacy complex (PHR).
The college's Divisions of Chemical Biology and Medicinal Chemistry and Pharmacology & Toxicology make their home in the Biomedical Engineering Building (BME), a short distance away from the original two building complex.
The Dell Pediatric Research Institute (DPI), located a few miles north of the central campus, is home to some of the college's faculty.
San Antonio
The McDermott Building at The University of Texas Health Science Center at San Antonio has provided facilities for the education and training of pharmacy students, residents and fellows since 1972.
The campus' McDermott Clinical Sciences Building houses faculty and staff in the college's Division of Pharmacotherapy.