What Starts Here Changes the World
In addition to research taking place in six divisions, the College of Pharmacy is home to centers, institutes, and core facilities undertaking groundbreaking research of their own. 
These units are involved in fostering interdisciplinary collaborations, working to cultivate ideas into discoveries, and efforts to improve the health of individual patients and communities at large.
Industry Engagement:
The UT College of Pharmacy (COP) creates partnerships with businesses to advance health care, support UT students and champion research excellence.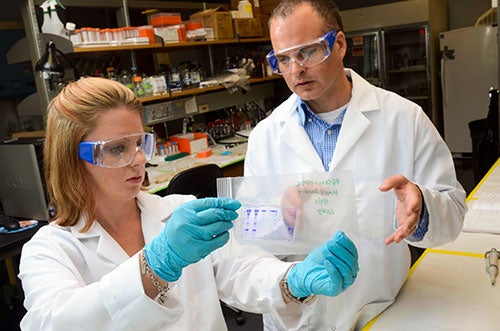 College of Pharmacy Centers, Institutes, and Core Facilities
Additional Collaborations
Associated Institutes and Centers with the College of Pharmacy
The Center for Health Interprofessional Practice and Education (IPE)

The Center for Health IPE serves as UT Austin's central body to promote innovative learning experiences, disseminate best practices, convene key health and education stakeholders, and champion impact-driven scholarship that advances collaborative, person-centered care. In partnership with the College of Pharmacy, Dell Medical School, School of Nursing, and Steve Hicks School of Social Work, the Center for Health IPE supports programs that advance interprofessional education among health professions learners on campus and in the community.
The Center for Infectious Disease

Established in 2013, the John Ring LaMontagne Center for Infectious Disease (CID) bridges the gap between basic and translational research into microbial and viral pathogenesis. These efforts also include characterizing and predicting the spread of infectious diseases through populations, and supporting programs to define the human and animal responses to challenge by infectious agents and how human genetics impact susceptibility to infection.
Waggoner Center for Alcohol and Addiction Research (WCAAR)

The Center (WCAAR) was established in 1999 as an organized research unit of UT's College of Natural Sciences. WCAAR's objective is to create the world's premier center for alcohol and addiction research, thereby developing solutions for the prevention and cure of alcoholism.
The Institute for Cellular and Molecular Biology

In 1993, The University established the Institute for Cellular and Molecular Biology to focus efforts on the revolutionary developments occurring in molecular biology, genetics, cell biology, and genomics.
The University of Texas Institute for Neuroscience

The Institute for Neuroscience is the intellectual and administrative center for neuroscience research at the University of Texas at Austin.
The Cancer Therapy & Research Center at University of Texas Health Science Center at San Antonio

The Cancer Therapy & Research Center (CTRC) is one of only four National Cancer Institute-designated Cancer Centers in Texas. CTRC specialists bring a multidisciplinary approach to cancer care through cancer prevention, diagnosis, patient care treatments, clinical trials and research. The CTRC offers integrated, multidisciplinary care by the world's leading experts in different types of cancer.
Core Facilities in Other Colleges at UT Austin
Center for Biomedical Research Support

The Center for Biomedical Research Support (CBRS) provides access to cutting-edge technology and expert advice to enhance research.
University Core Facility Listing

A research core facility is a shared research facility that houses specialized scientific instruments and provides expert consultation and services to investigators.
Additional Partnerships
Dell Medical School and the Dell Pediatric Research Institute (DPRI)

UT's College of Pharmacy (COP) collaborates with the Dell Medical School's Dell Pediatric Research Institute (DPRI) to translate research findings into practical health applications. DPRI is Dell Medical School's state-of-the-art medical research facility designed to advance understanding of childhood diseases and disorders.