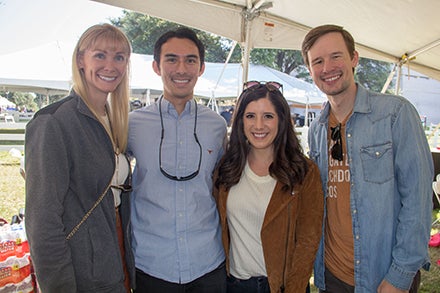 From attending events to being an Alumni Association member to working with students, there are lots of ways to stay involved with Texas Pharmacy. We love seeing our alumni and hearing about the great things they are doing!
How to get involved
Because of the dedicated leadership, service and financial support of our Dean's Advisory Council, the College continues to maintain its reputation as one of the preeminent schools of pharmacy in the nation.
The College of Pharmacy Alumni Association works uniquely for and on behalf of 11,300+ pharmacy graduates to strengthen the alumni network, provide engagement opportunities, promote and support the College of Pharmacy, and recognize achievements.
We encourage you to recognize those alumni and friends of the college who best represent us in their communities and share a commitment to quality pharmacy education and research.
Contact us
Interested in learning more? Contact the UT Austin College of Pharmacy Alumni and Development Office:
Senior Alumni Relations Program Coordinator, Travis Henry
Email: travis.henry@austin.utexas.edu
Office phone:  512-232-2779
Make a gift
All gifts to the College of Pharmacy are tax-deductible, and there are many ways that you can make a contribution.