Samuel M. Poloyac, Pharm.D., Ph.D., FCCM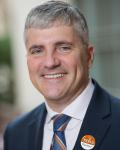 Dean
James T. Doluisio Regents Chair
The dean serves as chief executive officer of The University of Texas at Austin College of Pharmacy and reports to the university's executive vice president and provost. The dean oversees and supports all administrative aspects of the college—education, research, personnel and financial—and works to maintain a commitment to interprofessional collaboration, innovation and entrepreneurialism.
Leadership Team
The Dean's Leadership Team includes College of Pharmacy Associate Deans, Assistant Deans, Division Heads and the chair of the Executive Committee. The team advises the dean of selected college policy, budget and administrative issues. The Leadership Team makes recommendations to the dean regarding faculty members for appointments to standing committees, and to the college faculty regarding changes to membership on the standing committees.
The Executive Committee (EC) consists of two members elected by each division and one appointed by the dean. The EC makes recommendations regarding promotion and tenure, annual merit raises when appropriate, evaluation of faculty progress in third year review and recommendations for assignment to endowed positions. The chair of the Executive Committee participates in the Dean's Leadership Team.