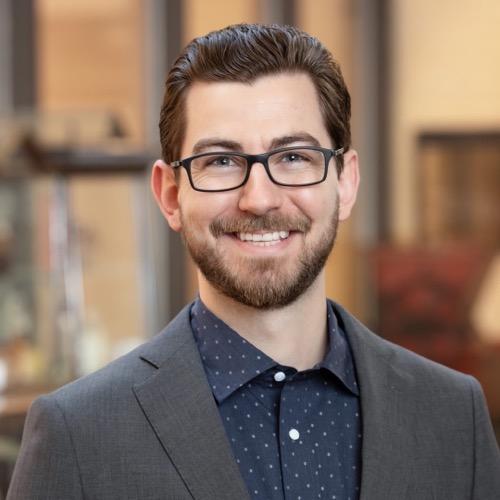 Clinical Associate Professor of Pharmacy Practice

Director of Pharmacy Addictions Research & Medicine Program

Bergen Brunswig Corporation Centennial Fellow
Lucas G. Hill graduated from the University of Missouri–Kansas City School of Pharmacy and completed a combined family medicine residency and faculty development fellowship at the University of Pittsburgh Medical Center. He is now a clinical associate professor at The University of Texas at Austin College of Pharmacy where he serves as director of the Pharmacy Addictions Research and Medicine (PhARM) Program and holds the Bergen Brunswig Corporation Centennial Fellowship. Since 2017, Dr. Hill has been the principal investigator for a Texas Targeted Opioid Response project which seeks to address the opioid crisis in Texas by educating health professionals and conducting pragmatic research. He currently serves on the Association for Multidisciplinary Education and Research in Substance Use and Addiction Board of Directors and the Journal of the American College of Clinical Pharmacy Editorial Board. Dr. Hill has been recognized with several prestigious national honors, including the American College of Clinical Pharmacy New Educator Award and the American Pharmacists Association Generation Rx Award of Excellence.
National
American College of Clinical Pharmacy: Fellow (2023)
American College of Clinical Pharmacy: New Educator Award (2021)
American College of Clinical Pharmacy Ambulatory Care PRN: Outstanding Paper of the Year (2021)
Journal of the American Pharmacists Association: Outstanding Peer Reviewer (2021)
American Pharmacists Association: Generation Rx Award of Excellence (2020)
American College of Clinical Pharmacy Ambulatory Care PRN: Outstanding Paper of the Year (2019)
Journal of the American Pharmacists Association: Outstanding Peer Reviewer (2019)
American Society of Health-System Pharmacists: CEO's Award for Courageous Service (2018)
Phi Lambda Sigma Pharmacy Leadership Society Inductee (2017)
Regional
Austin Under 40 Awards: Finalist in Medicine & Healthcare (2021)
Austin Under 40 Awards: Finalist in Medicine & Healthcare (2020)
Texas Pharmacy Association: Generation Rx Champion Award (2018)
Local
UT College of Pharmacy: 10 Most Impactful Faculty (2022)
UT College of Pharmacy: Outstanding Faculty Advisor (2019)
UT School of Undergraduate Studies: Distinguished University Lecturer (2018)
UT College of Pharmacy: 10 Most Impactful Faculty (2018)
UT College of Pharmacy: William Arlyn Kloesel Outstanding Preceptor (2017)
UT College of Pharmacy: ATW Regional Outstanding Preceptor (2017)
UT College of Pharmacy: IPPE Outstanding Preceptor (2017)
Fellowships
Bergen Brunswig Corporation Centennial Fellowship (2021–Present)
Alumni Centennial Endowed Fellowship Advisor (2019–2020)
Alumni Centennial Endowed Fellowship Preceptor (2017–2018)
Trainees
Claire Zagorski: UT WCAAR Bruce/Jones Fellowship in Addiction Biology (2023)
Amber Tran: AMERSA Growing a Diverse Workforce Award (2023)
Lindsey Loera: ACCP Research Fellowship Best Poster (2021)
Mandy Renfro: USPHS Public Health Excellence Award – Top Recipient (2020)
Lindsey Loera: USPHS Public Health Excellence Award (2019)
Lubna Mazin: USPHS Public Health Excellence Award (2018)
Andrea Laguado: USPHS Public Health Excellence Award (2017)
Andrea Laguado: TPA Generation Rx Champion Award (2017)
Principal Investigator (PI)
Empowering clinicians to prevent opioid-related harms and treat opioid use disorder: An academic detailing intervention for prescribers in Austin, Texas ($250,000)
Sponsor: U.S. Substance Abuse and Mental Health Services Administration / City of Austin

Funding Period: 09/30/2023–09/29/2024
Texas Targeted Opioid Response – PhARM Program special projects ($34,045,430)
Sponsor: U.S. Substance Abuse and Mental Health Services Administration / Texas Health & Human Services Commission

Funding Period: 5/1/2019–8/31/2024
SHIFTovation Award – Operation Naloxone ($44,000)
Sponsor: UT University Health Services / UT Counseling and Mental Health Center

Funding Period: 2/7/2020–08/31/2023
Center for Health Statistics – Drug dashboard enhancement ($102,500)
Sponsor: U.S. Substance Abuse and Mental Health Services Administration / Texas Department of State Health Services

Funding Period: 4/1/2021–8/31/2022
Texas Targeted Opioid Response – Operation Naloxone ($2,587,149)
Sponsor: U.S. Substance Abuse and Mental Health Services Administration / Texas Health & Human Services Commission

Funding Period: 7/1/2017–4/30/2019
Subaward PI
Creation of a multi-stakeholder practice guideline to improve access to medications for opioid use disorder in community pharmacies ($572,278)
PI: Tyler Varisco, University of Houston

Sponsor: Foundation for Opioid Response Efforts

Funding Period: 4/1/2023–3/31/2025

Subaward Amount: $28,872
A statewide needs assessment to identify opportunities to improve access to medications for opioid use disorder through mobile service provision ($162,579)
PI: Jennifer Sharpe Potter, UT Health San Antonio

Sponsor: U.S. Substance Abuse and Mental Health Services Administration via Texas Health & Human Services Commission

Funding Period: 6/1/2022–8/31/2022

Subaward Amount: $30,000
Co-Investigator
Preparing health professions learners for dual identity development using the interprofessional socialization framework ($4,000)
PI: Veronica Young, UT Center for Health Interprofessional Practice and Education

Sponsor: UT Center for Teaching and Learning Teaching Innovation Grants

Funding Period: Summer 2022
Evaluation of naloxone counseling provided by community pharmacists ($3,995)
PI: Kirk Evoy, UT College of Pharmacy

Sponsor: UT Health San Antonio Center for Community Service Learning

Funding Period: 2019­–2020
Operation Naloxone – Community overdose prevention training ($28,000)
PI: Kirk Evoy, UT College of Pharmacy

Sponsor: UT Health San Antonio Center for Community Service Learning

Funding Period: 2018–2019
Naloxone training for the student faculty collaborative practice at UT Health San Antonio ($1,225)
PI: Kirk Evoy, UT College of Pharmacy

Sponsor: UT Health San Antonio Center for Community Service Learning

Funding Period: 2018–2019
Operation Naloxone – Interprofessional overdose prevention service learning expansion ($3,344)
PI: Kirk Evoy, UT College of Pharmacy

Sponsor: UT Health San Antonio Center for Community Service Learning

Funding Period: 2018–2019
Operation Naloxone – Interprofessional overdose prevention service learning ($4,000)
PI: Kirk Evoy, UT College of Pharmacy

Sponsor: UT Health San Antonio Center for Community Service Learning

Funding Period: 2017–2018
Consultant
U.S. Department of Justice: Civil Rights Unit, 2023–Present

American Pharmacists Association: Buprenorphine Access Study, 2021–Present

Foundation for Opioid Response Efforts: Pharmacy Program Advisory Committee, 2022

UT Center for Health Communication: Texas Prescription Monitoring Program, 2017–2022

American Academy of Addiction Psychiatry: Opioid Response Network, 2019–2021

Hazelden Betty Ford Foundation: Innovation in Medical Education on Addiction, 2021

Hikma Specialty USA, Inc.: Opioid Antagonist Community Advisory Board, 2020

American Academy of Addiction Psychiatry: Clinical Skills for Healthcare Providers, 2019–2020

The University of Texas at El Paso: Opioid Overdose Prevention Program, 2019
Contact Information
Phone: