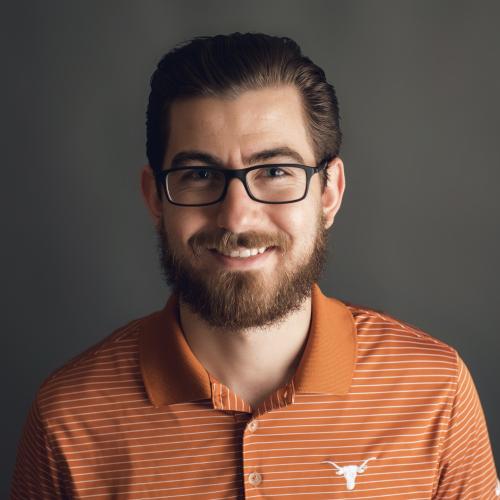 Clinical Assistant Professor of Pharmacy Practice

Director of Pharmacy Addictions Research & Medicine Program
Lucas G. Hill graduated from the University of Missouri-Kansas City School of Pharmacy and completed a combined family medicine residency and faculty development fellowship at the University of Pittsburgh Medical Center. He is now a clinical assistant professor at The University of Texas at Austin College of Pharmacy where he serves as director of the Pharmacy Addictions Research & Medicine (PhARM) Program. Dr. Hill is the principal investigator for a five-year, $25 million Texas Targeted Opioid Response (TTOR) grant which seeks to address the opioid crisis in Texas by educating health professionals and the public while conducting pragmatic research. He currently serves as chair of the American Association of Colleges of Pharmacy Substance Use Disorder Special Interest Group and is an editorial board member for the Journal of the American College of Clinical Pharmacy. In 2020, Dr. Hill was awarded the American Pharmacists Association Generation Rx Award of Excellence in recognition of his outstanding contributions to addiction-related education.
National Awards
American Pharmacists Association: Generation Rx Award of Excellence (2020)
American College of Clinical Pharmacy Ambulatory Care PRN: Paper of the Year [Second Author] (2019)
Journal of the American Pharmacists Association: Outstanding Peer Reviewer (2019)
American Society of Health-System Pharmacists: CEO's Award for Courageous Service (2018)
Regional Awards
Austin Under 40 Awards: Finalist in Medicine & Healthcare (2020)
Texas Pharmacy Association: Generation Rx Champion Award (2018)
Texas Society of Health-System Pharmacists: Best Poster Award (2018)
Local Awards – Teaching
UT College of Pharmacy: Outstanding Faculty Advisor (2019)
UT College of Pharmacy: 10 Most Impactful Faculty (2018)
UT College of Pharmacy: William Arlyn Kloesel Outstanding Preceptor (2017)
UT College of Pharmacy: ATW Regional Outstanding Preceptor (2017)
UT College of Pharmacy: IPPE Outstanding Preceptor (2017)
Local Awards – Research
UT College of Pharmacy Research Day: Best PharmD Program Poster Award (2019)
UT College of Pharmacy Research Day: Best PharmD Program Abstract Award (2019)
UT Health San Antonio Center for Service Learning Annual Conference: Best Poster Award (2019)
UT Health San Antonio Center for Service Learning Annual Conference: Blue Ribbon Award (2019)
UT Health San Antonio Center for Service Learning Annual Conference: Best Poster Award (2018)
Fellowships
UT College of Pharmacy: Alumni Centennial Endowed Fellowship Advisor Award ($1000) (2019–2020)
UT College of Pharmacy: Alumni Centennial Endowed Fellowship Preceptor Award ($1000) (2017–2018)
Honors
Journal of the American College of Clinical Pharmacy: #7 Most-Talked-About Paper (2021)
Twitter: Top 1000 Opioid Thought Leaders (2020)
UT School of Undergraduate Studies: Distinguished University Lecturer (2018)
Phi Lambda Sigma Pharmacy Leadership Society Inductee (2017)
   Evoy KE, Hill LG, Davis CS. (2021). Considering the potential benefits of over-the-counter naloxone. Integr Pharm Res Pract. 10:13-21. DOI: 10.2147/iprp.S244709
   
   Peckham AM, Ball J, Colvard MD, Dadiomov D, Hill LG, Nichols SD, Tallian K, Ventricelli DJ, Tran TH. (2021). Leveraging pharmacists to maintain and extend buprenorphine supply for opioid use disorder amid COVID-19. Am J Health Syst Pharm. Published online ahead of print. DOI: 10.1093/ajhp/zxab003
   
   Hill LG, Loera LJ, Evoy KE, Torrez SB, Renfro ML, Zagorski CM, Perez JC, Jones SM, Reveles KR. (2020). Availability of buprenorphine/naloxone films and naloxone nasal spray in community pharmacies in Texas, USA. Addiction. Published online ahead of print. DOI: 10.1111/ADD.15314
   
   Coon SA, Hill LG, Hutchison RW, Arnold LM, Jarrett JB, Ottney AR, Oung AB, Painter NA, Smith MA, Stranges PM, Tran TH, McFee Winans AR, Bratberg JP. (2020). Mobilizing pharmacists to address the opioid crisis, a joint opinion of the ambulatory care and adult medicine practice and research networks for the American College of Clinical Pharmacy. J Am Coll Clin Pharm. 3(8):1493-1513. DOI: 10.1002/jac5.1331
   
   Tran T, Ball J, Bratberg JP, DeSimone EM, Franko TS, Hill LG, Koh-Knox Sharp CP, Palombi L, Ventricelli D, Farrell D, Gandhi N, Moore T. (2020). Report of the 2020 special committee on substance use and pharmacy education. Am J Pharm Educ. 84(11):8421. DOI: 10.5688/ajpe8421
   
   Litten K, Hill LG, Garza A, Srinivasa M. (2020). Increasing naloxone knowledge and use through direct-to-patient education. J Pharm Technol. 36(6):237-242. DOI: 10.1177/8755122520954218
   
   Renfro ML, Moczygemba LR, Baumgartner J, Baumgart G, Hill LG. (2020). Type and extent of opioid-related education provided by U.S. college of pharmacy continuing education divisions. Am J Pharm Educ. 84(10):8001. DOI: 10.5688/ajpe8001
   
   Renfro ML, Loera LJ, Tirado CF, Hill LG. (2020). Lofexidine for acute opioid withdrawal: A clinical case series. Ment Health Clin. 10(5):259-263. DOI: 10.9740/mhc.2020.09.259
   
   Zagorski CM, Myslinski JM, Hill LG. (2020). Isotonitazene as a contaminant of concern in the illegal opioid supply: A practical synthesis and cost perspective. Int J Drug Policy. 86:102939. DOI: 10.1016/j.drugpo.2020.102939
   
   Hill LG, Evoy KE, Reveles KR. (2020). Reply to a letter regarding, "Pharmacists are missing an opportunity to save lives and advance the profession by embracing opioid harm reduction". J Am Pharm Assoc. 60(5):e22-23. DOI: 10.1016/j.japh.2020.02.019
   
   Mackert M, Pounders K, Brown L, Kirtz S, Hughes Wagner J, Ring D, Hill LG, Wilcox G, Murthy D, Tierney W, Innerarity S, McGlone M, Holleran Steiker LK, DeSalvo K, Bernhardt J, Pretorius K. (2020). Development of a health communication campaign to promote the Texas prescription monitoring program. Health Mark Q. 37(3):1-10. DOI: 10.1080/07359683.2020.1802967
   
   Peterson J, Barner J, Lai P, Garza A, Hinds A, Nguyen M, Hill LG, Gums T. (2020). Impact of physician-pharmacist covisits at a primary care clinic in patients with uncontrolled diabetes. J Pharm Pract. 33(3):321-325. DOI: 10.1177/0897190018807374
    
   Hill LG, Holleran Steiker LK, Mazin L, Kinzly ML. (2020). Implementation of a collaborative model for opioid overdose prevention on campus. J Am Coll Health. 68(3):223-226. DOI: 10.1080/07448481.2018.1549049
   
   Evoy KE, Groff L, Hill LG, Godinez W, Gandhi R, Reveles KR. (2020). Impact of student pharmacist-led naloxone academic detailing at community pharmacies in Texas. J Am Pharm Assoc. 60:81-86. DOI: 10.1016/j.japh.2019.09.007
   
   Hill LG, Laguado SA. (2019). Guidance for male mentors to support the safety and success of female mentees. Am J Pharm Educ. 83(10):7533. DOI: 10.5688/ajpe7533
   
   Hill LG, Evoy KE, Reveles KR. (2019). Pharmacists are missing an opportunity to save lives and advance the profession by embracing opioid harm reduction. J Am Pharm Assoc. 59(6):779-782. DOI: 10.1016/j.japh.2019.06.019
   
   Hill LG, Reveles KR, Evoy KE. (2019). State-level approaches to expanding pharmacists' authority to dispense naloxone may affect accessibility. JAMA Intern Med. 179(10):1442-1443. DOI: 10.1001/jamainternmed.2019.3653
   
   Evoy KE, Hill LG, Groff L, Mazin L, Carlson CC, Reveles KR. (2018). Naloxone accessibility without a prescriber encounter under standing orders at community pharmacy chains in Texas. JAMA. 320(18):1934-1937. DOI: 10.1001/jama.2018.15892
   
   Hill LG, Sanchez JP, Laguado SA, Lawson KA. (2018). Operation Naloxone: Overdose prevention service learning for student pharmacists. Curr Pharm Teach Learn. 10(10):1348-1353. DOI: 10.1016/j.cptl.2018.07.010
   
   Murphy JE, Liles AM, Bingham AL, Chamberlin K, Dang D, Hill LG, Lee M, Leonard A, Lodise N, Rogers E. (2018). Interprofessional education: Principles and application. An update from the American College of Clinical Pharmacy. J Am Coll Clin Pharm. 1:e17-28. DOI: 10.1002/jac5.1025
   
   Jordan RP, Bratberg J, Congdon HB, Cross LB, Hill LG, Marrs JC, McBane S, Lang WG, Ekoma JO. (2017). The report of the 2016-2017 advocacy standing committee. Am J Pharm Educ. 81(8):S10. DOI: 10.5688/ajpeS10
   
   Han JK, Hill LG, Koenig ME, Das N. (2017). Naloxone counseling for harm reduction and patient engagement. Fam Med. 49(9):730-733.
   
   Corbo JM, DeLellis TM, Hill LG, Rindfuss SL. (2016). ACE inhibitors or ARBs to prevent CKD in patients with microalbuminuria. Am Fam Physician. 94(8).652-653.
   
   Hill LG, Chee JS, Haugh AJ, Wilson SA. (2015). Effect of time of day on lipoprotein measurement. Evidence-Based Practice. 18(7):11. DOI: 10.1097/01.EBP.0000541014.38985.c7
   
   Hill LG, Dupuis KM. (2015). Compounded vancomycin solution for Clostridium difficile infection. Evidence-Based Practice. 18(7):2. DOI: 10.1097/01.EBP.0000541002.47570.d0
   
   Hill LG. Lorcaserin and phentermine/topiramate: Two leaps forward in weight loss pharmacotherapy. (2013). Ann Pharmacother. 47(12):1740. DOI: 10.1177/1060028013513557
Contact Information
Phone: