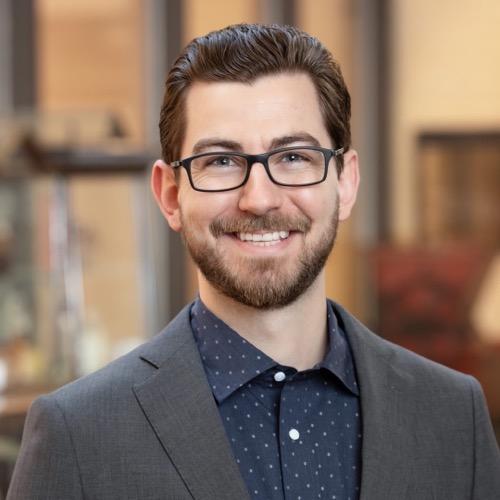 Clinical Associate Professor of Pharmacy Practice

Director of Pharmacy Addictions Research & Medicine Program

Bergen Brunswig Corporation Centennial Fellow
Lucas G. Hill graduated from the University of Missouri–Kansas City School of Pharmacy and completed a combined family medicine residency and faculty development fellowship at the University of Pittsburgh Medical Center. He is now a clinical associate professor at The University of Texas at Austin College of Pharmacy where he serves as director of the Pharmacy Addictions Research and Medicine (PhARM) Program and holds the Bergen Brunswig Corporation Centennial Fellowship. Dr. Hill is the principal investigator for a Texas Targeted Opioid Response project which seeks to address the opioid crisis in Texas by educating health professionals and conducting pragmatic research. He is an editorial board member for the Journal of the American College of Clinical Pharmacy and a past chair of the American Association of Colleges of Pharmacy Substance Use Disorder Special Interest Group. Dr. Hill has been recognized with several prestigious national awards, including the American College of Clinical Pharmacy New Educator Award and the American Pharmacists Association Generation Rx Award of Excellence.
National
American College of Clinical Pharmacy: New Educator Award (2021)
American College of Clinical Pharmacy Ambulatory Care PRN: Outstanding Paper of the Year (2021)
Journal of the American Pharmacists Association: Outstanding Peer Reviewer (2021)
American Pharmacists Association: Generation Rx Award of Excellence (2020)
American College of Clinical Pharmacy Ambulatory Care PRN: Outstanding Paper of the Year (2019)
Journal of the American Pharmacists Association: Outstanding Peer Reviewer (2019)
American Society of Health-System Pharmacists: CEO's Award for Courageous Service (2018)
Regional
Austin Under 40 Awards: Finalist in Medicine & Healthcare (2021)
Austin Under 40 Awards: Finalist in Medicine & Healthcare (2020)
Texas Pharmacy Association: Generation Rx Champion Award (2018)
Local
UT College of Pharmacy: 10 Most Impactful Faculty (2022)
UT College of Pharmacy: Outstanding Faculty Advisor (2019)
UT College of Pharmacy: 10 Most Impactful Faculty (2018)
UT College of Pharmacy: William Arlyn Kloesel Outstanding Preceptor (2017)
UT College of Pharmacy: ATW Regional Outstanding Preceptor (2017)
UT College of Pharmacy: IPPE Outstanding Preceptor (2017)
Fellowships
Bergen Brunswig Corporation Centennial Fellowship (2021–Present)
Alumni Centennial Endowed Fellowship Advisor Award (2019–2020)
Alumni Centennial Endowed Fellowship Preceptor Award (2017–2018)
Honors
Journal of the American College of Clinical Pharmacy: #7 Most-Talked-About Paper (2021)
Twitter: Top 1000 Opioid Thought Leaders (2020)
UT School of Undergraduate Studies: Distinguished University Lecturer (2018)
Phi Lambda Sigma Pharmacy Leadership Society Inductee (2017)
Contact Information
Phone: