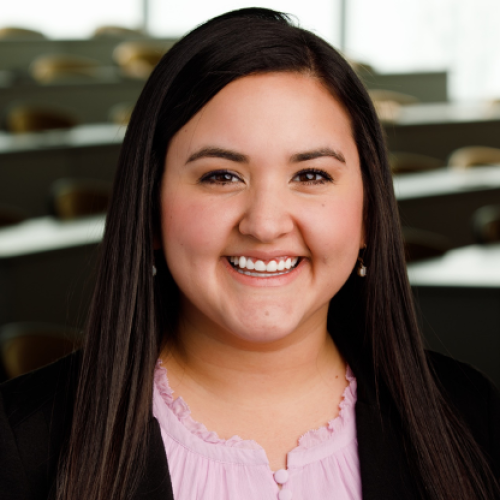 Clinical Assistant Professor of Pharmacy Practice
Morgan Stewart is a Clinical Assistant Professor in the Division of Pharmacy Practice at the University of Texas at Austin College of Pharmacy. Dr. Stewart received her Doctor of Pharmacy degree from the University of Houston College of Pharmacy. She completed a Postgraduate Year One (PGY1) Pharmacy Residency at The Ohio State University, followed by a PGY2 Ambulatory Care Residency at the University of Colorado. Dr. Stewart is a board-certified ambulatory care pharmacist (BCACP) and practices as a clinical pharmacist at CommUnityCare Federally Qualified Health Centers in Austin, Texas.
Her clinical pharmacy services include chronic disease state management via collaborative drug therapy management protocols, comprehensive medication reviews, medication and disease state education for patients, as well as pharmacotherapy education for health care providers and clinical staff.
Dr. Stewart coordinates and teaches in the Pharmacotherapy of the Endocrine System module as well as co-coordinates the Patient-Centered Diabetes Care elective. Additionally, she teaches in various pharmacotherapy modules on ambulatory care topics and precepts pharmacy students for both introductory and advanced pharmacy practice experiences at her clinic. She is involved in many professional organizations including APhA and AACP.
National Awards
Generation Rx National New Practitioner Award (2019)
Regional Awards
Colorado Pharmacists Society Distinguished Young Pharmacist of the Year (2019)
TSHP Special Recognition Award (2013)
Local Awards
University of Colorado SSPPS Excellence in Precepting - Emerging Leader in Precepting (2019)
University of Colorado SSPPS Speakers' Bureau Recognition Award (2019)
Wolters Kluwer Health Award of Excellence in Clinical Communication (2015)
Phi Lambda Sigma (PLS) Inductee (2014)
Honors
ACCP Ambulatory Care PRN Academy Sponsorship for the Teaching and Learning Academy (2020)
PHM 693C Ambulatory Care Pharmacy Practice APPE (P4)

PHM w282R Patient-Centered Diabetes Care (P3)

PHM 187 Pharmacotherapy of the Endocrine System (P3)

PHM 291 Pharmacotherapy of Pain and Addiction (P3)

PHM 193M Pharmacy Residency Preparation (P3)

PHM 291M Intro to Ambulatory Care Pharmacy (P3)

PHM 193 U & V Foundations of Interprofessional Collaborative Practice V & VI (P3)

PHM 191 U & V Foundations of Interprofessional Collaborative Practice I &II (P1)