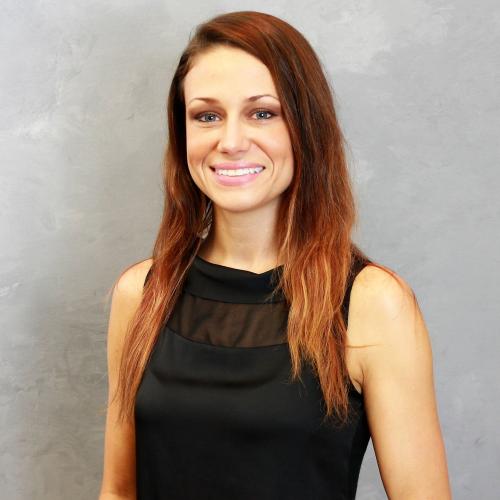 Research Assistant Professor of Pharmacology & Toxicology
"Target Validation Electrophysiology Core (TVEC)", U24AA016651
This is a research resource component of the Integrative Neuroscience Initiative on Alcoholism-Neuroimmune (INIA-N) consortium, funded from 2/1/2017 – 1/31/2022 by the National Institute on Alcohol Abuse and Alcoholism (NIAAA).
The guiding hypothesis of INIA-N is that genetic differences and neuroadaptations in immune-related pathways contribute to the vulnerability to excessive alcohol consumption – one hallmark of alcohol use disorder (AUD). In addition to validating neuroimmune signaling pathways identified during prior funding periods, this consortium uses genomic datasets and computational approaches to predict compounds and to identify alternative (non-pharmacological) strategies that may reduce excessive alcohol consumption. Given the novelty of the targets and approaches to target manipulation proposed by the INIA-N investigators, the biological mechanisms through which these manipulations affect ethanol consumption are mostly unknown. Nevertheless, it is very likely that the INIA-N identified compounds and approaches modulate electrophysiological activity and function of the mesocorticolimbic circuitry, a brain system that is heavily involved in alcohol/drug reward and dependence. Thus, the "TVEC" serves an essential function in the INIA-N consortium by providing electrophysiological services in a centralized laboratory with wide-ranging capabilities.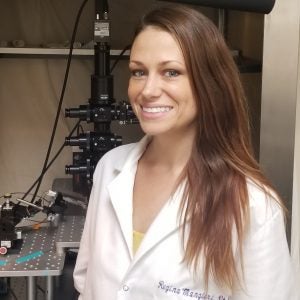 Dr. Regina Mangieri is Research Assistant Professor in the Division of Pharmacology and Toxicology in the College of Pharmacy at The University of Texas at Austin.
Dr. Mangieri graduated summa cum laude from Monmouth College, Monmouth, IL, with a B.A. in Psychology and minor in Mathematics in 2002. She obtained her Ph.D. in Pharmacology in 2008 from the University of California, Irvine.
She performed her postdoctoral training from 2008 – 2013 at The University of Texas at Austin, during which time she was awarded a Ruth L. Kirschstein National Research Service Award postdoctoral fellowship from the National Institute on Alcohol Abuse and Alcoholism (NIAAA).


She currently heads the Target Validation Electrophysiology Core of the NIAAA-sponsored Integrative Neuroscience Initiative on Alcoholism-Neuroimmune Consortium. Download Regina's full Curriculum Vitae.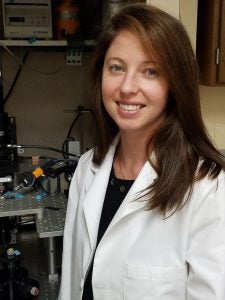 Heather received a B.S. in Animal Science from the University of Maryland at College Park in 2010. She received a M.S. in Laboratory Animal Science from Eastern Virginia Medical School in 2016. Additionally, she holds her LATG through the American Association for Laboratory Animal Science (AALAS). Prior to her time at the University of Texas, Heather managed the immunocompromised rodent breeding colony in the Cancer Center Isolation Facility at Duke University. Heather is currently investigating sex-differences in glutamatergic neurotransmission in the nucleus accumbens, as well as supporting the Integrative Neuroscience Initiative on Alcoholism (INIA)-Neuroimmune by collecting electrophysiology data for other members of the consortium. Heather's interests outside of lab include dinosaurs. Yes, really.
Research Gate profile: https://www.researchgate.net/profile/Heather_Aziz
Email: heather.radford@utexas.edu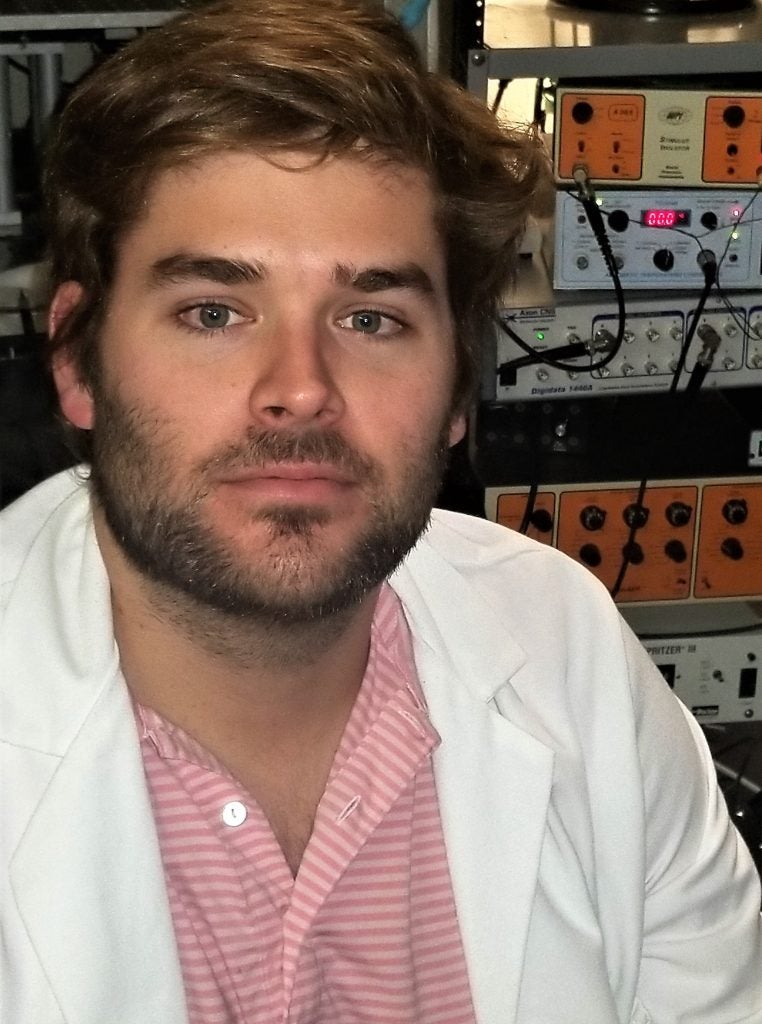 Joel Shillinglaw received his BA Psychology and minor in Biology at the University of North Carolina at Chapel Hill in 2010. As an undergraduate, and for the following two years as a lab technician, Joel was a member of Dr. Donita Robinson's lab investigating alcohol and behavior.
Joel is currently a doctoral candidate in the Pharmaceutical Sciences Graduate Program in the Division of Pharmacology & Toxicology.  His dissertation work investigates how glutamatergic and GABAergic transmission change in response to ethanol in the Insular Cortex, an underexplored brain region of much recent addiction interest. Broadly speaking, Joel is interested in how synaptic transmission in brain circuits of motivational significance change to underlie, at least in part, various disease states.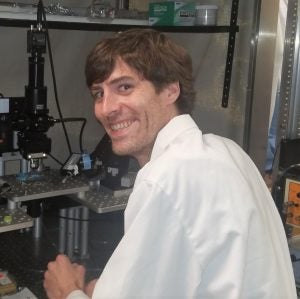 Philip Lambeth received his BA in Cognitive Science (with a focus on neuroscience) and French at the University of Virginia in 2012, where he worked as an undergraduate researcher. He worked for the next two years as a technician in the laboratory of Dr. Michael Scott at UVA before moving to Austin to begin his graduate studies.
I am currently a graduate student in the Institute for Neuroscience (INS) and work with both Dr. Mangieri and Dr. Rueben Gonzales. Broadly speaking, I am interested in the role of dopamine neurons in the VTA with respect to addiction and reward. Based on recent work, it is now accepted that the dopamine neuron population in the VTA is much more heterogeneous than originally described. However, few studies have begun to examine how this deepens our understanding of alcohol's actions in the VTA. Our techniques allow us to capture a representative population of dopamine neurons that we hope will enable us to more clearly describe the VTA and its subdivisions in relation to alcohol use and addiction.
Recently, the field in general and our lab in particular have been looking more closely at sex differences in electrophysiological and behavioral phenotypes of mice after alcohol exposure and during drinking. I am currently working on a project to determine the mechanism by which an endogenous estrogen, 17β-estradiol (E2), acts to facilitate ethanol-induced increases in VTA dopamine neuron firing. I am examining these properties primarily through electrophysiological recordings in acute brain slices. By interrogating the role of specific receptors in the expression of this effect, we hope to elucidate the signaling pathway that leads to increased excitation.
The processes underlying sex differences in addictive behaviors are a critical element in creating a more sophisticated description of human behavior and more targeted and appropriate treatments for addictive disorders.
One non-science thing I particularly enjoy in Austin is the film scene. Whether I want to see the new blockbuster, an Oscar-buzzed indie, or a decades-old obscure foreign movie, I can find it all at the Alamo Drafthouse theaters, the AFS cinema, and others. Email: philip.lambeth@utexas.edu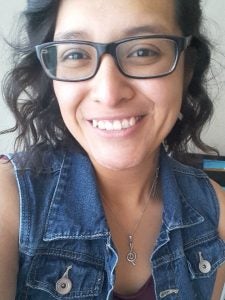 Daniela is a fifth year undergraduate student at the University of Texas at Austin.
Daniela's current research interests include neurodevelopmental disorders, mechanisms of addiction and alcohol dependence, as well as the effects of chronic stress.
Daniela plans to attend a doctoral graduate school program in the field of neuroscience, particularly in behavioral, cellular-molecular, or cognitive neuroscience.
Her interests outside of lab include kayaking, drawing photorealism, and attending live music shows.
LinkedIn: https://www.linkedin.com/in/dcarrizales
Selected Publications:
Hopf FW, Mangieri RA. Do alcohol-related AMPA-type glutamate receptor adaptations promote intake? In: Handbook of Experimental Pharmacology. Springer, Berlin, Heidelberg. April 2018.
Mangieri RA, Maier EY, Buske TR, Lasek AW, Morrisett RA. Anaplastic Lymphoma Kinase Is a Regulator of Alcohol Consumption and Excitatory Synaptic Plasticity in the Nucleus Accumbens Shell. Front Pharmacol. 2017 Aug 15;8:533.
Renteria R, Jeanes ZM, Mangieri RA, Maier EY, Kircher DM, Buske TR, Morrisett RA. Using In Vitro Electrophysiology to Screen Medications: Accumbal Plasticity as an Engram of Alcohol Dependence. Int Rev Neurobiol. 2016;126:441-65.
Maiya R, Mangieri RA, Morrisett RA, Heberlein U, Messing RO. A Selective Role for Lmo4 in Cue-Reward Learning. J Neurosci. 2015 Jul 1;35(26):9638-47.
Contact Information
Phone: