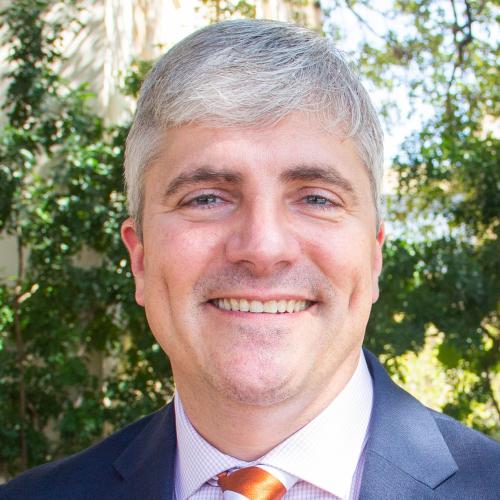 Dean and James T Doluisio Regents Chair
Content
Samuel M. Poloyac, PharmD, PhD formally began his tenure as Dean and James T Doluisio Regents Chair at The University of Texas at Austin College of Pharmacy on October 15, 2020.     
Dr. Poloyac received his Bachelor of Science degree in pharmacy from the University of Pittsburgh and then received his post-baccalaureate PharmD and PhD degrees from the University of Kentucky.  Upon completion of his training, he embarked on a career focused on pharmacy education, research, and service at the University of Pittsburgh, and served as the Associate Dean for Graduate and Postdoctoral Programs, prior to joining The University of Texas at Austin.   
Dr. Poloyac has led multiple research teams; making novel discoveries in the field of Critical Care Pharmacology.  The work of his research team led to the discovery of altered sedative and other drug dosing in patients receiving targeted temperature management after cardiac arrest.  More recently, the work of his research team uncovered that cytochrome P450 fatty acid metabolism is a novel drug target of new drug discovery.  The NIH and the American Heart Association have supported his research, leading to more than $9 million in NIH research funding including over $7 million as principal investigator.  He has published over 100 peer-reviewed papers.  Additionally, he has previously served as the Director of the Center for Clinical Pharmaceutical Sciences and Director of the Small Molecule and Biomarker Core, two entities that have been remarkably successful in fostering collaborations in research and education. 
Dr. Poloyac has served as a standing study section member for the National Institutes of Health and for numerous scientific journals.  He is also a Fellow of the Society of Critical Care Medicine and he was member of the AACP Academic Leadership Fellow Program.  He served a consecutive, two-year term as chair of the American Association of Colleges of Pharmacy Research and Graduate Affairs Committee, which produced the first core competency domains to advance pharmaceutical sciences graduate education.  
Creating novel student classroom experiences through the use of simulations, remote, and hybrid synchronous experiences is essential to advance students application of information and catalyze critical thinking.  This premise has been the foundation of his teaching innovations, which led to a record of teaching scholarship and his receipt of his prior institutions Chancellor's Distinguished Teaching Award, as well as numerous other teaching awards.    
Dr. Poloyac is enthusiastic about the future of pharmacy as the next generations of innovators are trained in pharmacy practice and research.  The future is looking to The University of Texas at Austin College of Pharmacy community for continued leadership within the profession; and the innovative students, faculty, and staff will lead the way.  Dr. Poloyac is proud to serve as the next Dean at The University of Texas at Austin College of Pharmacy, and to work with you all as we  advance the profession. 
Hook 'em horns.   
Contact Information
Phone: