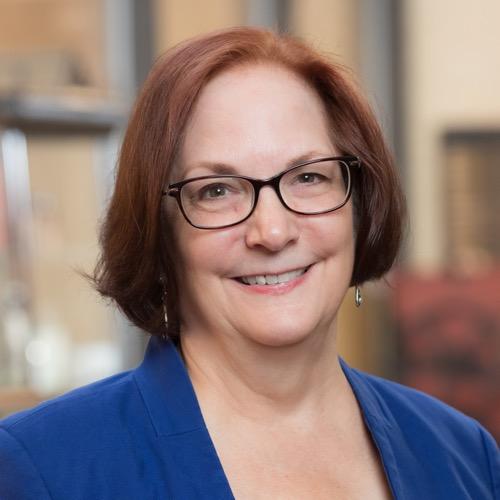 Clinical Associate Professor of Pharmacy Practice

Advanced Community Practice Coordinator
Sharon Rush, R.Ph., received her Bachelor of Science in Pharmacy degree in 1986.  She practiced as a staff pharmacist, pharmacy manager, Central Texas Immunization Coordinator and PGY1 residency preceptor during her 23 years with a large community pharmacy chain and continues to practice with the company on a reduced scale.  She has been involved with different patient care programs such as pharmacy-based immunizations, health screenings, Medication Therapy Management and Disease State Management.  She is a certified instructor for the APhA "Pharmacy-Based Immunization Delivery" certification program, the APhA "Delivering Medication Therapy Management Services in the Community" certificate program, the NACDS Point of Care certificate program and the American Heart Association Basic Life Support course.  She provides the annual 3-hour continuing education Immunization Update for the Texas Pharmacy Association and the University of Texas College of Pharmacy Pharmacy Practice Seminar.
Professor Rush joined the faculty of the Division of Health Outcomes and Pharmacy Practice in July 2010.  She is the Community Introductory Pharmacy Practice Experience coordinator for the Clinical Skills: Community Care course for the third year professional students and the Austin/Temple/Waco Community Advanced Pharmacy Practice Experience regional coordinator for the fourth year professional students.  She teaches the undergraduate course "Drugs in Our Society" and the signature course "The Savvy Healthcare Consumer" that helps the University's undergraduate students learn how to navigate our complex health care system. She is a faculty facilitator for Pharmacotherapy II / III labs and the  new Interprofessional Education program that includes students from the College of Pharmacy, Dell Medical School, School of Nursing and School of Social Work.
One of her biggest passions is serving as an advisor for two student community outreach initiatives:  Project Collaborate and Know Your Medicine.  These initiatives offer free health screenings and comprehensive medication reviews to the underserved populations in our four core campus areas throughout the state.  Along with dedicated student leaders and pharmacist preceptors, these initiatives work with community organizations to provide services that directly impact a patient's health outcome.
She is a member of several national, state and local organizations such as the American College of Clinical Pharmacy, the American Association of Colleges of Pharmacy, the American Pharmacists' Association, the Texas Pharmacy Association and the Capital Area Pharmacy Association.   She was elected to a three-year term on the Board of Directors of the Texas Pharmacy Association from 2012-15 and now serves on their Workforce Taskforce, Public Policy Council, Vaccination Registry Project Management team, Education Advisory group and others.  She serves as a Director on the local Capital Area Pharmacy Association board.
Professor Rush is a member of the Community-Wide Health Information Exchange Consensus Development Summit and the Travis/Williamson County Service Committee and Community-Based Organizations workgroup.  These groups are comprised of healthcare providers from different areas of practice and non-profit community organizations that work together to identify and promote best practices in the areas of health information exchange and public health for the Travis and Williamson County area.
Her areas of interest include the clinical and direct patient care aspects of community practice and their impact on improving the health outcomes of her patients.  These aspects include Medication Therapy Management, immunizations and health screenings.
Professor Rush's research mimics her passion for improving a patient's health outcome.  Projects revolve around Medication Therapy Management, improving best practices in different disease states and examining the impact of pharmacist-provided direct patient care services.
Education
Journal Articles
Shtaynberg J, Rivkin A, Shah B, Rush S. Evaluation of a quantitative professionalism policy in a Community Pharmacy Introductory Pharmacy Practice Experience.   American Journal of Pharmacy Education.  Volume 77, Issue 10, 2013: Article 216
Poster Presentations
Howell C, Dinh N, Pattyn N, Frei C, Knodel L.  Pharmacy Students'Attitudes and Confidence with Medication Therapy Management (MTM) Before and After a Two-Hour Training Session.   ASHP Midyear, Anaheim, CA  (December 2014).  Acknowledged as advisor
Young V, Rush S.  Impacting Communities through Outreach, Direct Patient Care and Capacity Building.  School poster:  American Association of Colleges of Pharmacy Annual Meeting, Grapevine, TX  (July 2014)
Immunizations
Poster Presentations
Steele K, Rush S, Barner JC, Pope N, Lawson K, Alshehri A.  Development and Assessment of a Pharmacy Technician Training Program to Incorporate Walk-in Immunizations into the Workflow of a Community Pharmacy.   ASHP Midyear, New Orleans, LA  (December 2015) and APhA Annual Meeting, Baltimore, MD (March 2016)
Rush S, Barner JC, Alshehri A.  Developing a Successful Community Pharmacy Technician Immunization Training Program to Incorporate Walk-in Immunizations into the Workflow of a Community Pharmacy.  AACP Annual Meeting, National Harbor, MD  (July 2015)
Medication Therapy Management and Health Outcomes
Journal Articles
Alshehri A, Barner JC, Brown CM, Rush S. Medication and health problems and recommendations from MTM services provided by third year pharmacy students in community pharmacies.  Currents in Pharmacy Teaching and Learning 7 (2015)  70-77
Poster Presentations
Dean T, Bamgbade B, Barner J, Rush S, Burdine K.  Impact of Depression Counseling Intervention on Student Pharmacists' Confidence and Comfortability:  A Pilot Study.  APhA Annual Meeting, San Francisco, CA (March 2017)
Makhinova T, Barner J, Brown C, Rascati K, Richards K, Nag A, Rush S, Pope N, Barnes N.  Improving Asthma Management:  Patient-Pharmacist Partnership Program in Enhancing Therapy Adherence and Asthma Control.  APhA Annual Meeting, San Francisco, CA (March 2017)
Makhinova R, Barner JC, Rush S, Wilson N.   Preparing Student Pharmacists for Patient-focused Counseling in Asthma:  Addressing Patient Barriers to Medication Adherence.   AACP Annual meeting Pharmacy Education, Anaheim, CA  (July 2016)
Kernodle A, Bailey K, Rush S, Pope N.  Implementation of Persuasive Messages to Increase Participation in Comprehensive Medication Reviews in a Community Pharmacy Setting.   ASHP Midyear,  New Orleans, LA  (December 2015) and APhA Annual Meeting, Baltimore, MD (March 2016)
Alshehri A, Barner JC, Rush S.  Perceived Abilities of Third-Year Pharmacy Students in Performing Medication Therapy Management.  AACP Annual meeting, National Harbor, MD  (July 2015)
Alshehri A, Barner JC, Rush S.  Perceived Abilities of Third-Year Pharmacy Students in Performing Medication Therapy Management.  AACP Annual meeting, Grapevine, TX  (July 2014)
Alshehri A, Rush S, Barner JC, Brown CM.  A Course to Teach Third-Year Pharmacy Students to Provide Medication Therapy Management in Community Pharmacies.  American Association of Colleges of Pharmacy Annual meeting, Chicago, IL  (July 2013)
Fassio V, Dinh N, Morales J, Pham C, Ford K, Rush S.  Findings of Medication Review Services Provided by a Student Pharmacist-Led Community Outreach Program.   Texas Society of Health-System Pharmacists annual meeting, Austin, TX  (April 2013).  Winner of TSHP Research and Education Foundation Poster Competition (Student Division)
 Alshehri A, Barner JC, Brown CM, Rush S.  The Impact of Third-Year Pharmacy Students Providing Medication Therapy Management in Community Pharmacies.   American Pharmacist Association annual meeting, Los Angeles, CA  (March 201
Contact Information
Phone:
US Mail Address:
UT College of Pharmacy – HOPP/Pharmacy Practice
2409 University Avenue, STOP A1910
Austin, TX 78712-1117
FEDEX Address:
107 W. Dean Keeton St.
PHR 2.222BC
The University of Texas at Austin
Austin, TX 78712