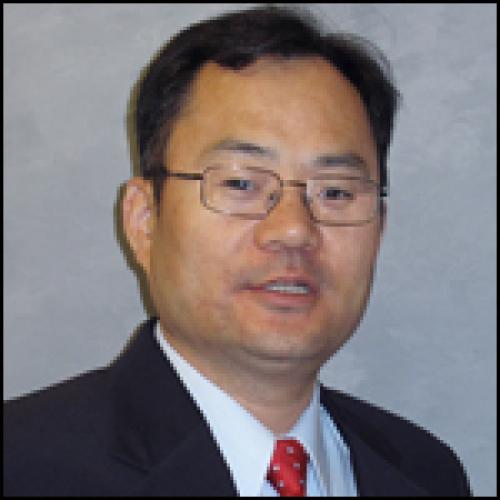 Professor of Molecular Pharmaceutics and Drug Delivery

Alfred and Dorothy Mannino Fellow in Pharmacy
Research Interests
Dr. Cui's research is focused on drug delivery and vaccine adjuvant discovery.
 Improving the efficacy of anticancer drugs and overcoming tumor chemoresistance 
An increasing amount of evidence points to the promise of nanotechnology in drug delivery and targeting. We are engineering nanoparticles, including microenvironment-responsive nanoparticles, to passively or actively target anticancer drugs into tumors to improve the resultant antitumor activity. Moreover, we are interested in utilizing nanotechnology to overcome tumor cell chemoresistance, including resistance caused by tumor-associated macrophages. Furthermore, we are also interested in modifying the pharmacokinetics and improving the efficacy of drugs using pharmaceutical chemistry.
 Vaccine delivery and adjuvant discovery
Novel vaccine delivery systems with potent adjuvant activity are needed to improve the immunogenicity of new generation vaccines. We are interested in engineering novel nanoparticles, including lipid nanoparticles and aluminum salt nanoparticles, to increase or modulate the immunogenicity of protein antigens. We are also studying the effect of the physical properties of aluminum salts on their adjuvant activity.
 Targeting of drugs to chronic inflammation sites
There is a critical need to target anti-inflammatory drugs in chronic inflammation sites such as arthritic joints. We are interested in exploiting the microenvironment in chronic inflammation sites to engineer novel nanoparticles. The overall goal is to increase the distribution and retention of drugs and imaging agents in chronic inflammation sites to improve efficacy and/or decrease adverse effects.
Education
University of Kentucky, Ph.D., Pharmaceutics, 2002
University of Pittsburgh, Postdoc, Pharmaceutical Sciences, 2004
Selected Publications
X Li, S Hufnagel, H Xu, SA Valdes, SG Thakkar, Z Cui, H Celio, Aluminum (oxy)hydroxide nanosticks synthesized in bicontinuous reverse microemulsion have potent vaccine adjuvant activity. ACS Applied Materials & Interfaces (2017), 9(27):22893-22901.
HL O'Mary, AM Aldayel, SA Valdes, YW Naguib, K Salvady, Z Cui, Acid-sensitive sheddable PEGylated, mannose-modified nanoparticles increase the delivery of betamethasone to chronic inflammation sites in a mouse model. Molecular Pharmaceutics (2017) 14(6):1929-1937.
X Li, YW Naguib, S Valdes, S Hufnagel, Z Cui, Reverse microemulsion-based synthesis of (bis)phosphonate-metal materials with controllable physical properties: An example using zoledronic acid-calcium complexes. ACS Applied Materials & Interfaces (2017) 9(16):14478-14489.
AM Aldayel, YW Naguib, HL O'Mary, X Li, M Niu, TB Ruwona, Z Cui, Acid-sensitive sheddable PEGylated PLGA nanoparticles increase the delivery of TNF-alpha siRNA in chronic inflammation sites. Molecular Therapy – Nucleic Acids (2016) 5(7):e340.
YW Naguib, D Lansakara-P., LM Lashinger, BL Rodriguez, S Valdes, M Niu, AM Aldayel, L Peng, SD Hursting, Z Cui, Synthesis, characterization, and in vitro and in vivo evaluations of 4-(N)-docosahexaenoyl 2'2'-difluorodeoxycytidine with potent and broad spectrum antitumor activity. Neoplasia, (2016), 18(1):33-38.
X Li, S Thakkar, TB Ruwona, RO Williams III, Z Cui, A method of lyophilizing vaccines containing aluminum salts into a dry powder without causing particle aggregation or decreasing the immunogenicity following reconstitution. Journal of Controlled Release (2015), 204:38-50.
X Li, AM Aldayel, Z Cui, Aluminum hydroxide nanoparticles show a stronger vaccine adjuvant activity than traditional aluminum hydroxide microparticles. Journal of Controlled Release (2014) 173: 148-57.
S Zhu, M Niu, HL O'Mary, Z Cui, Targeting of tumor-associated macrophages made possible by PEG-sheddable, mannose-modified nanoparticles. Molecular Pharmaceutics (2013) 10 (9): 3525-30.
BL Rodriguez JM Blando, DS Lansakara-P., Y Kiguchi, J DiGiovanni, Z Cui, Antitumor activity of tumor-targeting RNA replicase-based plasmid that express interleukin-2 in a murine melanoma model. Molecular Pharmaceutics (2013) 10 (6): 2404-15.
P Wongana, DS Lansakara-P., S Zhu, M Holzer, MA Sandoval, M Warthaka, Z Cui, Just getting into cells is not enough: Mechanisms underlying 4-(N)-stearoyl gemcitabine solid lipid nanoparticle's ability to overcome gemcitabine resistance caused by RRM1 overexpression. Journal of Controlled Release (2013) 169 (1-2): 17-27.
A Kumar, P Wonganan, MA Sandoval, X Li, S Zhu, and Z Cui, Microneedle-mediated transcutaneous immunization with plasmid DNA coated on cationic PLGA nanoparticles. Journal of Controlled Release (2012) 163 (2): 230-9.
WG Chung, MA Sandoval, BR Sloat, DSP Lansakara-P., Z Cui, Stearoyl gemcitabine nanoparticles overcome resistance related to the over-expression of ribonucleotide reductase M1. Journal of Controlled Release (2012) 157(1): 132-40.
For a complete list of publications, please search on www.pubmed.gov.
Contact Information
Phone:
US Mail Address:
The University of Texas at Austin
Pharmaceutics Division
2409 University Ave., A1900
Austin, TX 78712-1113
FEDEX Address:
107 W. Dean Keeton St.
BME 3.510C
The University of Texas at Austin
Austin, TX 78712