I'd like to announce the winners of the 2020 UT College of Pharmacy Alumni Awards. It's important for me to emphasize that these award recipients are not chosen by the faculty or the administration of the college. They're chosen by the members of our college Alumni Association board, under the leadership of Alma Gutierrez. Ordinarily, we would hold a reception this month to honor the award recipients, but because of the pandemic that will be postponed until next fall where we will hopefully recognize both the 2020 and 2021 award recipients at a reception here in Austin.
We have three award recipients to announce. The first is the Distinguished Young Alumnus Award, which goes to Dr. Bryson Duhon.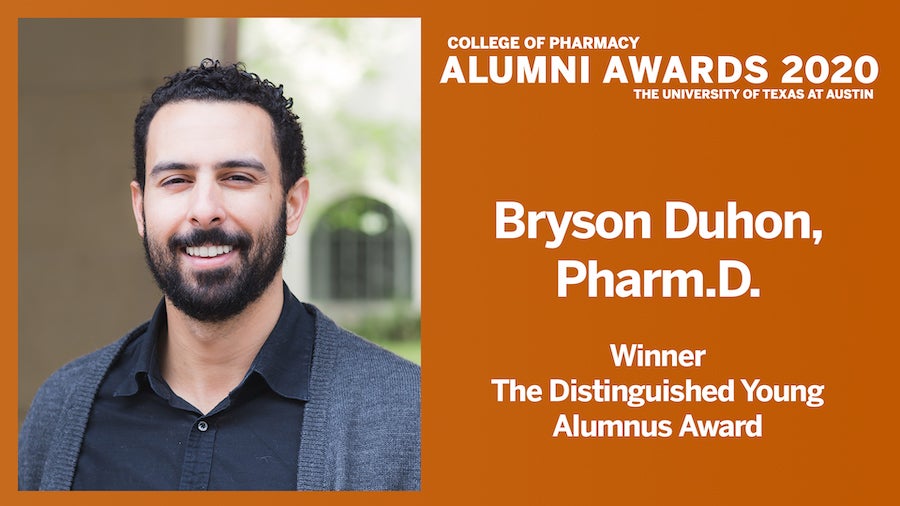 Dr. Duhon serves as the assistant dean for student success in the College of Pharmacy. In this position, he has been totally dedicated to developing student pharmacists; not only preparing them for practice as a pharmacist, but focusing on their wellbeing and making sure they're functioning as well as they can as human beings. He's also been involved in outreach programs in order to encourage underrepresented minority and first generation individuals to apply to the College of Pharmacy. Congratulations, Bryson!
Our second award is the Legend of Pharmacy Award. The recipient of the Legend of Pharmacy Award need not be a graduate of the college. It goes to a pharmacist who has demonstrated outstanding achievements throughout his or her career. This year's recipient is Dr. Jim McGinity.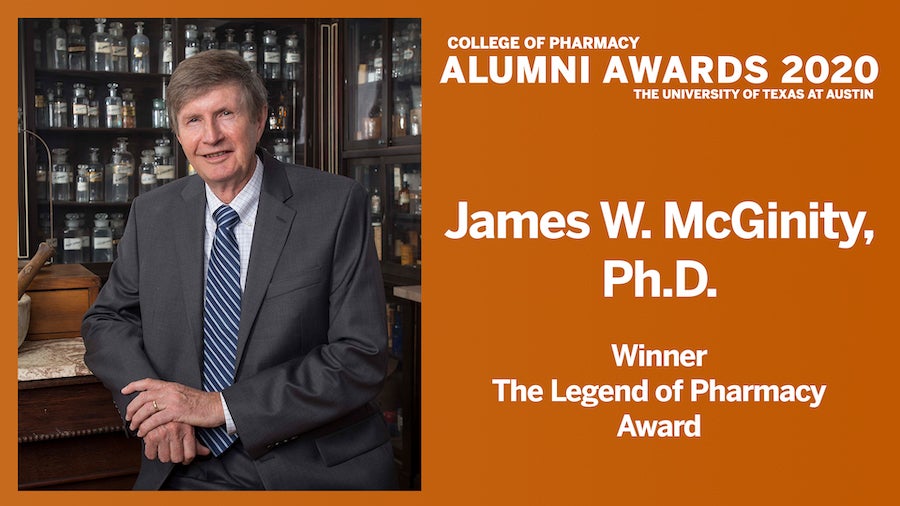 Dr. McGinity was a professor in our pharmaceutics division and was also head of that division. He was a devoted teacher. He loved to share his passion for research with students in the classroom. This was manifest by the number of students who did special projects with him in the pharmaceutics labs. A number of students that worked with him as both B.S. pharmacists or Pharm.D. students also went on to pursue research careers, if not in pharmaceutics, then in some other area related to pharmacy.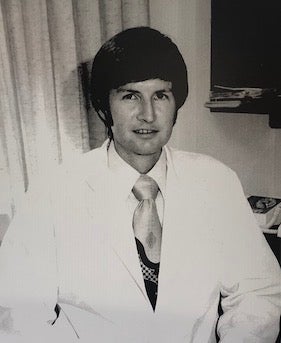 Jim was also a fantastic graduate student mentor, supervising or co-supervising 83 different Ph.D. students during his career. When we held his retirement celebration, almost every one of these Ph.D. graduates came to wish him well and honor him, and they got together and they donated money to create a graduate fellowship in his honor. 
Jim also gave back to the college. In fact, he, in collaboration with some other colleagues, created two graduate student fellowships for the pharmaceutics division. Jim was an outstanding scientist; he developed breakthrough technology in a couple of different areas that are particularly noteworthy. He developed technology that allowed poorly water soluble drugs to be better orally absorbed, and he also developed technology that led to the development of tamper-resistant medications in hope of decreasing the abuse rate with oral controlled substances. 
Jim was an outstanding inventor. He had a number of inventions during his career. Several companies were spun off using his technology. He was named a UT Austin Inventor of the Year and was elected a fellow of the National Academy of Inventors. Congratulations, Jim McGinity!
Our last award recipient is for the William J. Sheffield Outstanding Alumnus Award, named in honor of former Associate Dean for Academic Affairs William Sheffield. The Alumni Association Executive Council selects the finalists and past recipients choose the winner. This year's award recipient is Dr. Christopher Frei.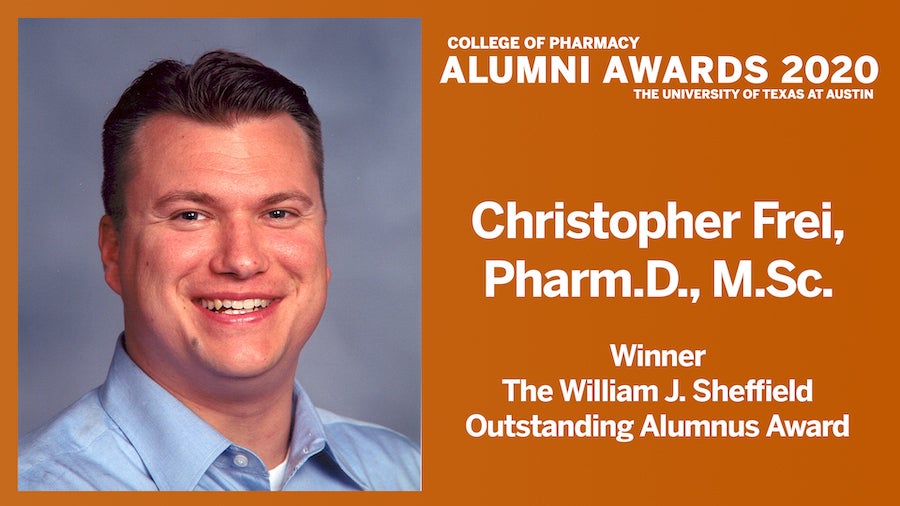 Dr. Frei is a professor and division head in pharmacotherapy division in the College of Pharmacy. Beginning in September of this year, he was named a professor of the William J. Sheffield Endowed Professorship. Chris earned both his Pharm.D. and his Master of Science from the college, and rose up through the academic ranks.
He's an outstanding teacher and faculty member. He's won every award that the college offers for faculty: our Outstanding Teacher Award for Pharm.D. Students, our Outstanding Graduate Student Teaching and Mentoring Award, and the Outstanding Faculty Mentoring Award. He's internationally known for his infectious disease research, particularly research looking at community acquired Staphylococcus aureus.
Chris is also a great citizen. He's been active as an adult leader in Cub Scouts and Boy Scouts, he helps coach competitive youth baseball, and he's been very active in his church. Congratulations, Chris Frei for your outstanding leadership in the College of Pharmacy!
I wish to especially thank Alma Gutierrez, president of the College of Pharmacy Alumni Association, as well as the entire Alumni Association board and past winners of the Sheffield Award, for screening the applications and choosing this year's award recipients.
I hope to see all of you in person soon, and most of all, Hook 'em Horns!

M. Lynn Crismon, Pharm.D.
Dean
James T. Doluisio Regents Chair and Behrens Centennial Professor