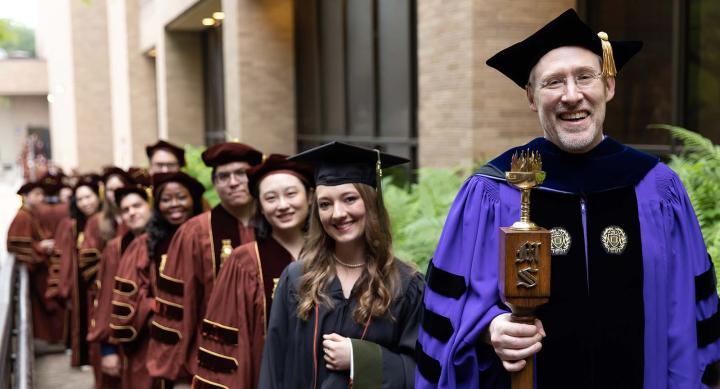 The Class of 2023 M.S., Ph.D. and Pharm.D. graduates walked across the stage in style to celebrate their accomplishments on May 5, 2023. The College of Pharmacy held its second ever combined convocation ceremony for all graduating students.
Graduates lined up to celebrate their big day during an exciting, austere and raucous event. From the podium, Dean Samuel M. Poloyac welcomed the crowd and introduced the ceremonies.
"There's nothing more special than this day. Today is the culmination of the hard work, resilience and, most importantly, the purpose that you all had in your academic careers. These three ingredients have been the key to the success of our graduates."

–Dean Samuel M. Poloyac
This year's commencement speaker was Dr. Sean D. Sullivan, a professor of pharmacy at the University of Washington School of Pharmacy. Sullivan earned a master's degree from The University of Texas at Austin, and told a story of meeting another UT Austin attendee in the 1980s while trying to buy a replacement computer part: Michael Dell. The speaker espoused, upon reflection, what that moment meant to him and what it might teach our recent graduates.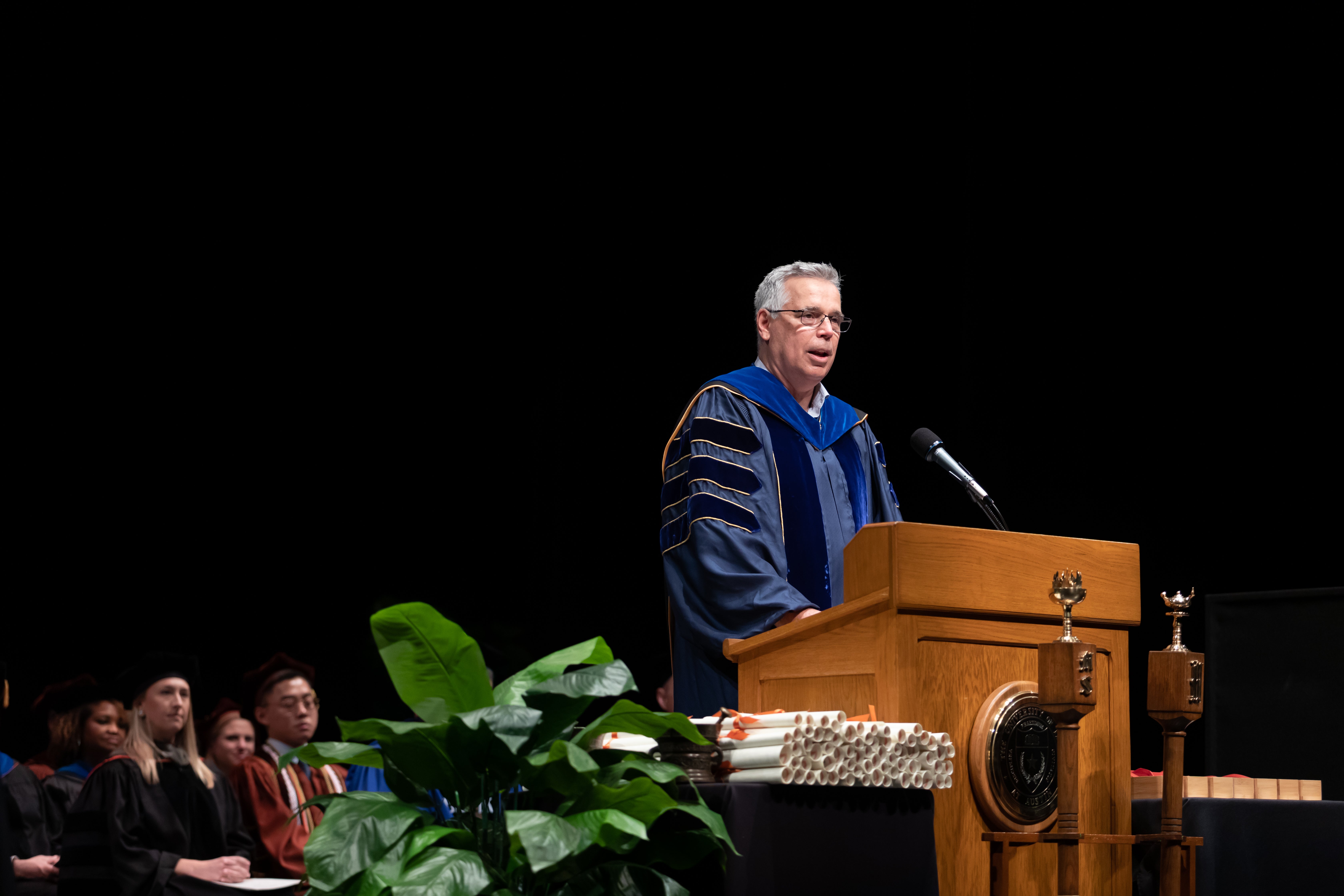 "I learned in that moment that passion matters. It mattered to Michael Dell. He left his dream of medical school to follow his heart and his passion. And he really got me thinking about listening to that inner voice that we all have. You should listen to your inner voice, no matter where it takes you. Even if it takes you from the journey that you're just about to complete."

–Dr. Sean D. Sullivan, Commencement Speaker
Masters and doctoral graduates were awarded their degrees by Dr. Karen Rascati, Dr. John Richburg and all of the graduates' respective degree supervisors. Dr. Cathleen McCormack, president of the College of Pharmacy Alumni Association, welcomed all graduates as newly-minted alumni.
After the announcement of all graduating students and their academic honors, Class of 2023 President Andrew Do gave some remarks and reflected on his time in the college.
"Each one of us has had a unique experience from our time here at UT Austin. Today we stand united as a class of individuals ready to make our mark on the world."

–Andrew Do, Class of 2023 President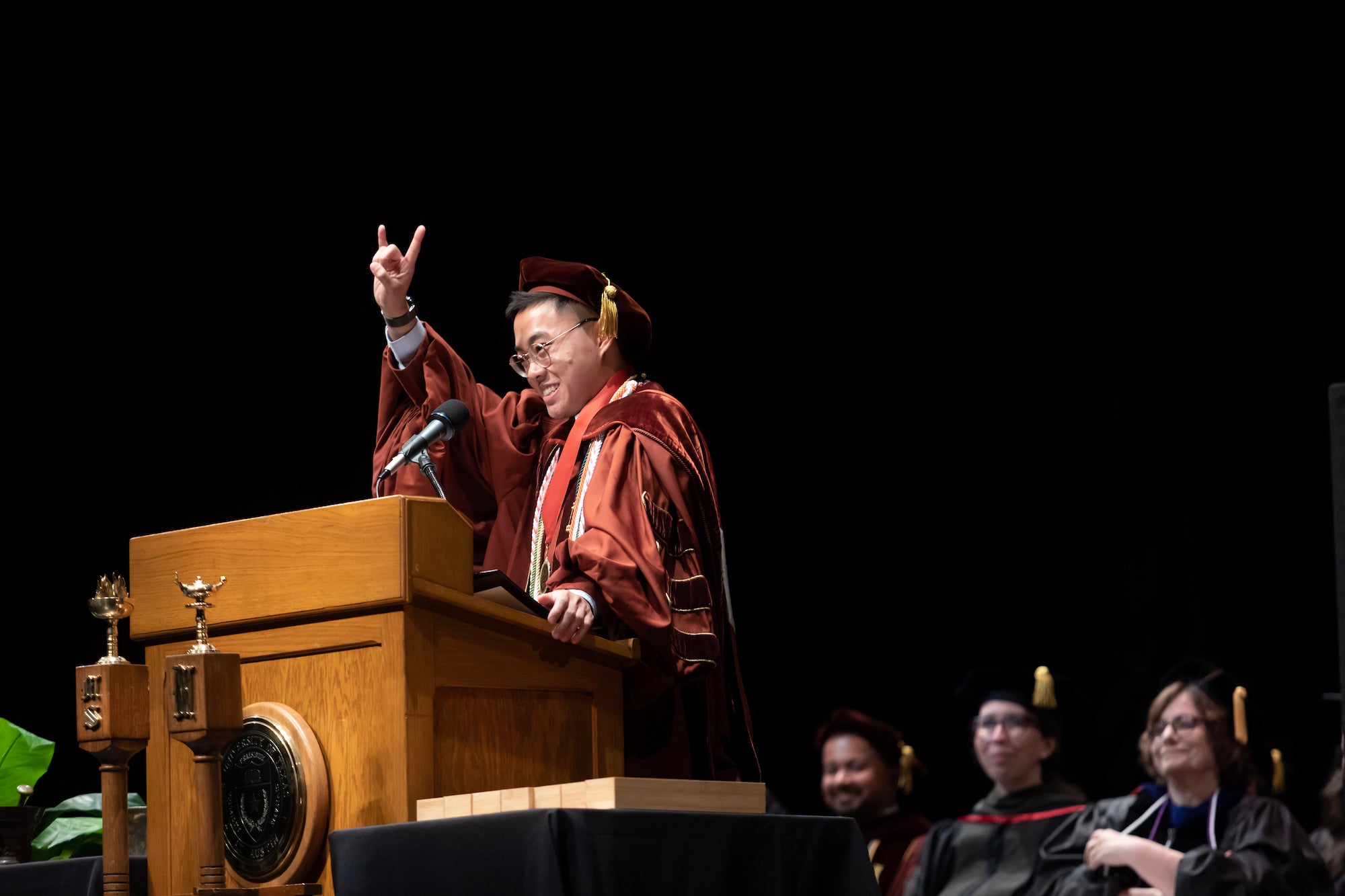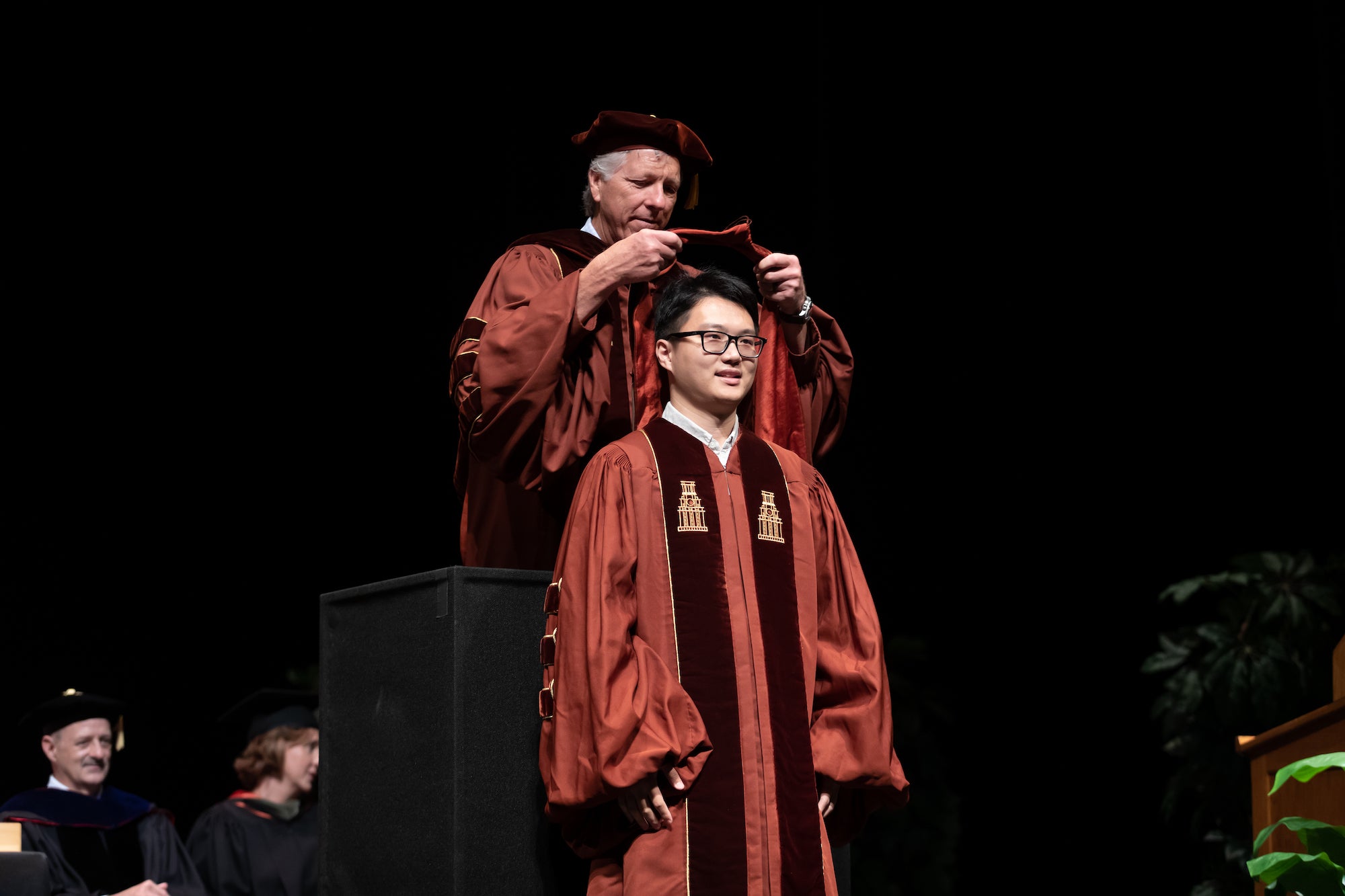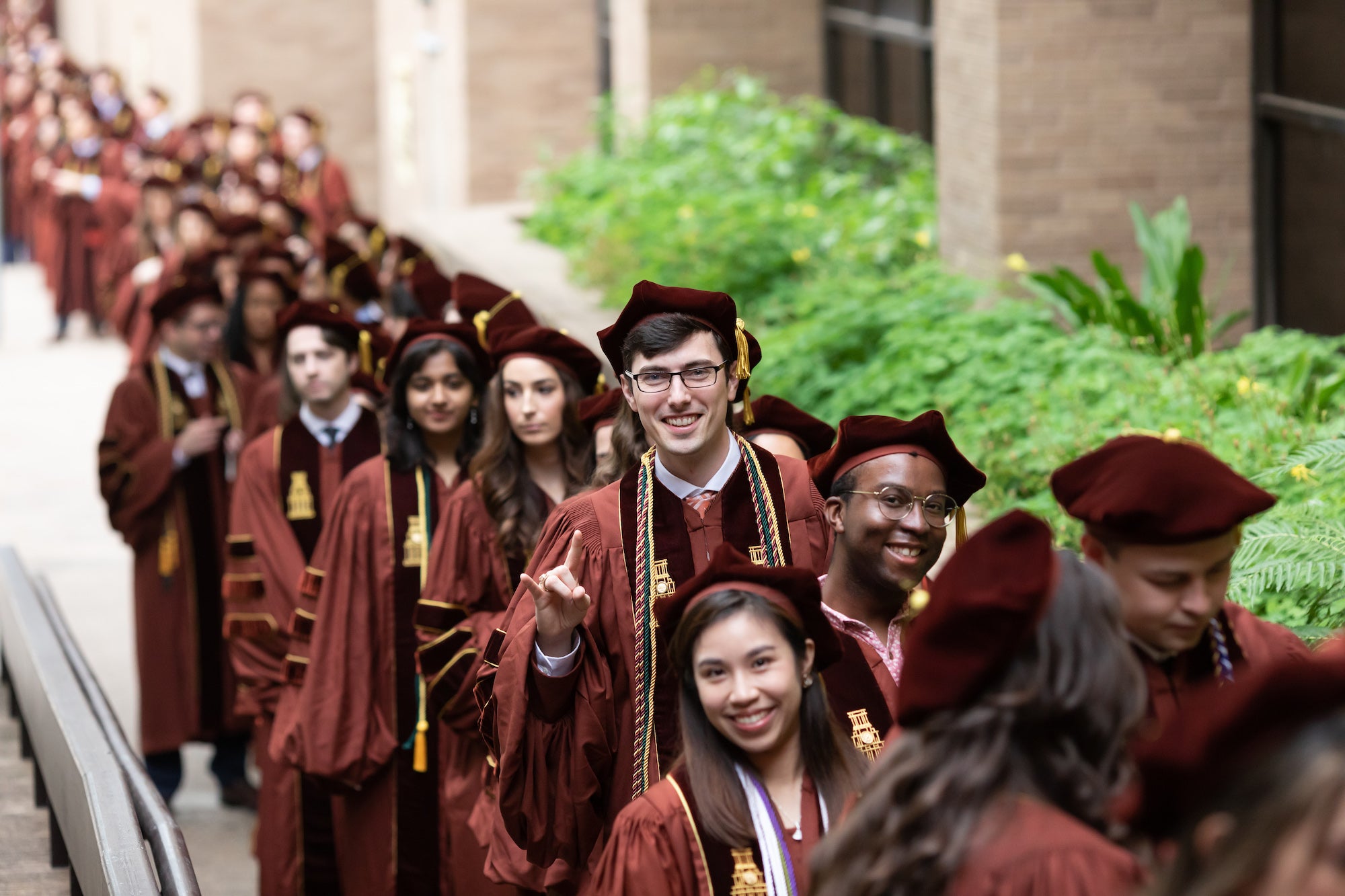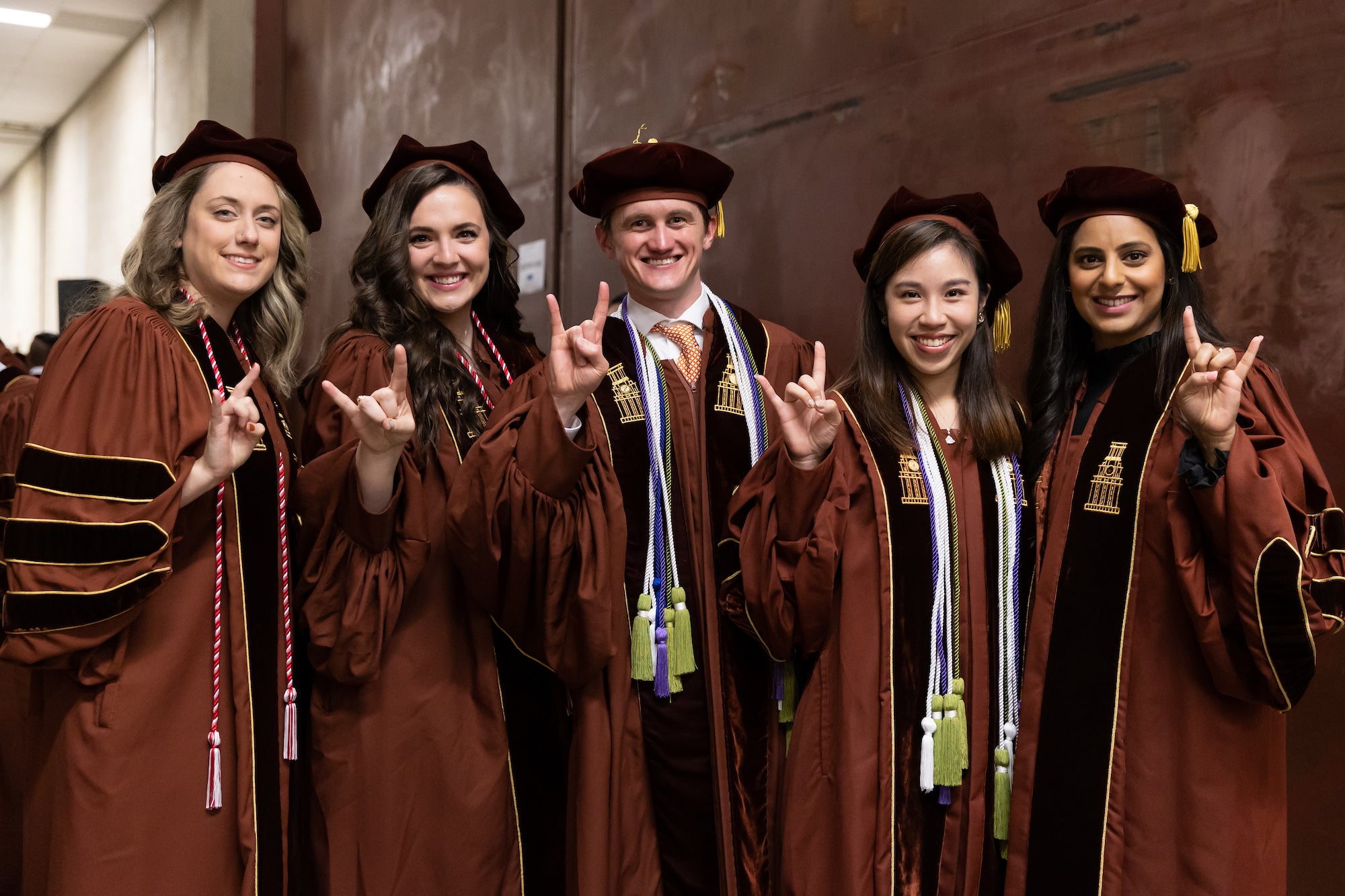 President
Andrew Do
Vice President
Peyton Brewster
Secretary/Treasurer
Emily Hegwood
Access the College of Pharmacy Class of 2023 commencement program.
Explore the highlights digital photo album from the College of Pharmacy Class of 2023 commencement ceremony.
Watch the full video of the ceremony.
Photos by Callie Richmond.