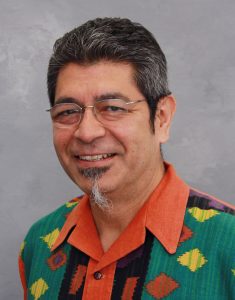 Professor Rueben Gonzales, Ph.D. was named a fellow of the American Association for the Advancement of Science (AAAS), the world's largest general scientific society. Dr. Gonzales, who teaches in the College of Pharmacy's Division of Pharmacology and Toxicology and Department of Psychology, received the fellowship for distinguished contributions to the field of alcohol research, particularly using neurochemical methods to elucidate mechanisms of action that underlie behavioral effects of ethanol.
Fellows of the AAAS are elected by peers in their areas of science in recognition of their scientifically or socially distinguished work to advance science or its applications. This year, 396 members have been awarded this honor by AAAS, an organization known for its publication of Science and other journals that reach nearly 10 million scientists worldwide.
Dr. Gonzales's current research interests include the effects of ethanol on basic dopaminergic neuronal activity in vivo, and the involvement of dopamine in ethanol self-administration behavior. Other interests include the physical characterization and theoretical description of diffusion behavior of solutes during in vivo microdialysis. Dr. Gonzales is an expert in the field of alcohol studies. His research concentrates on the effects of alcohol on the brain and other organ systems and drinking behavior in humans. He has published over seventy articles on his research. Among his other accomplishments is the MERIT grant from the National Institute on Alcohol Abuse and Alcoholism (2009).
Other faculty members of The University of Texas at Austin named AAAS fellows include Michael J. Krische in the Department of Chemistry, Philip M. "Uri" Treisman in the Department of Mathematics and Dana Center for Science and Mathematics Education, and Thomas M. Truskett in the Department of Chemical Engineering and Department of Physics.
This year's AAAS fellows will be formally announced in the AAAS News & Notes section of the journal Science on Nov. 24. New fellows will be inducted at a ceremony on Feb. 17, 2018, at the AAAS Annual Meeting in Austin, Texas.