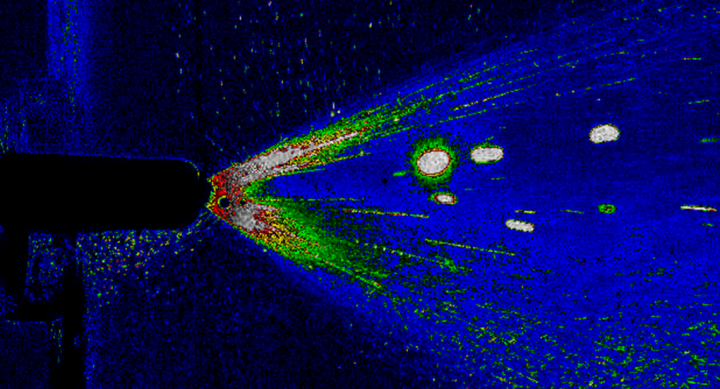 Researchers in The University of Texas at Austin College of Pharmacy have released promising results of a new method to treat SARS-CoV-2, the coronavirus that causes COVID-19. The antiviral niclosamide, when incorporated with human lysozyme as a carrier molecule, shows potential as an effective COVID-19 treatment when delivered directly to the airways.
The study, recently released by researchers in the lab of Dr. Hugh D. C. Smyth in the college's Division of Molecular Pharmaceutics and Drug Delivery, shows the novel niclosamide-lysozyme formulation exhibits potent in vitro and in vivo activity against MERS-CoV and SARS-CoV-2. In addition, the data show the treatment may protect against secondary infections like methicillin-resistance staphylococcus aureus pneumonia and may also limit inflammatory lung damage. These effects are key in limiting the spread and severity of a COVID-19 infection once it has made its way into the lungs.
"This composition of niclosamide showed potent antiviral effects after intranasal administration in challenging models of coronavirus infections," says Smyth. "These results were exciting for us because the therapy can be administered to the lungs and/or nasal cavity. The upper respiratory tract appears to be the primary site of infection for COVID-19."
One issue with using niclosamide to treat COVID-19 is its poor absorption when taken orally. This limitation of the drug's properties means that very little, if any, of the drug reaches the target site of the infection. Researchers developed novel drug delivery technologies to overcome these limitations. The team created niclosamide powder suitable for delivery via dry powder inhaler, nebulizer, and nasal spray. An inhaled delivery method could not only increase the drug's potency, but make it easier and more cost-effective to administer to a wide range of patients.
The research team, which includes Ashlee D. Brunaugh, Hyojong Seo, Zachary Warnken, and Li Ding, has collaborated with Sang Heui Seo at Chungnam National University in Dajeon, Korea. In vivo testing was approved by the Internal Animal Use Committee at Chungnam National University (CNU), and the results showed a stark difference in those mice treated with inhaled niclosamide and those who were not.
"We have demonstrated that administration of niclosamide-lysozyme particles to the airways of mice with established, lethal SARS-CoV-2 infection improves survival, greatly reduces lung tissue damage, and significantly reduces viral loads in the lungs, brain, and kidneys," says Dr. Ashlee Brunaugh, graduate research fellow in the Smyth Lab. "The formulation was designed in such a way that it can be administered to patients across the spectrum of COVID-19 severity, which may range from mild or asymptomatic disease to respiratory failure requiring mechanical ventilation. We believe that this will enable more widespread utilization and based upon our promising initial results, we are very excited to move onto additional studies that will propel our niclosamide formulation into the clinic."
Currently, there are limited treatment options for COVID-19. In August 2020, the FDA approved remdesivir for the treatment of all hospitalized adult and pediatric patients with COVID-19. However, remdesivir is currently not recommended for use in patients with acute or chronic kidney disease, which may limit its utility in severe COVID-19 infection. Niclosamide, already FDA approved for other treatments, may serve as a promising alternative or additional therapy option to remdesivir for the treatment of COVID-19.
"The international collaboration between UT Austin and Chungnam National University has enabled us to rapidly develop and test these novel compositions of an established drug to address the ongoing need for antiviral therapies against SARS-CoV-2," says Smyth. "We have established our formulation can be rapidly and cost-effectively manufactured for potential wide distribution."
The University of Texas at Austin's Office of Technology Commercialization (OTC) is currently working to secure licensing for this promising new COVID-19 treatment. The research results are available through a preprint in bioRxiv and are awaiting peer review publication.