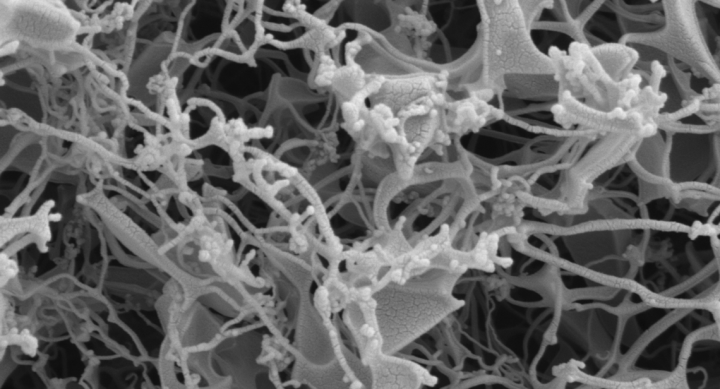 Results from a lab in The University of Texas at Austin College of Pharmacy show that dry powder inhalation could be a potent and effective delivery method of remdesivir, the only antiviral drug currently used to treat SARS-CoV-2, the coronavirus that causes COVID-19. Through the patented thin-film-freezing process developed in the lab of Robert O. (Bill) Williams III, remdesivir could be dispensed on an outpatient basis, allowing for easier and more accessible administration of antiviral COVID-19 treatment.
Williams, who serves as head of the UT College of Pharmacy's Division of Molecular Pharmaceutics and Drug Delivery, published his research group's initial findings in a July preprint. Recent live subject research corroborates the group's initial thoughts about the efficacy of remdesivir administration through dry powder inhalation. In compliance with the Institutional Animal Care and Use Committee guidelines at UT Austin, researchers administered remdesivir to rats through dry powder inhalation. The results show that remdesivir, when delivered through dry powder inhalation and after undergoing the thin-film-freezing process, reported antiviral efficacy against SARS-CoV-2.
"These are amazing findings," says Williams. "The live subject tests further show our initial thoughts: it is preferable to keep remdesivir in the lungs where it is converted from the prodrug to the active GS-441524 rather than through other comparable delivery methods. One of our dry powder formulations had very low plasma concentration of remdesivir following administration to the lung, meaning that remdesivir stayed in the lung where the infection is primarily located."
Remdesivir is authorized for emergency use in adult and pediatric patients hospitalized with severe disease. Originally developed to treat the Ebola virus disease, remdesivir has shown promising results treating COVID-19 in the human airway epithelial cells. However, limited effective delivery methods have hindered efforts to provide widespread treatment to a broad range of patients exhibiting life-threatening symptoms.
"Even with a vaccine, COVID-19 will be with us for a while," says Williams. "It's important now more than ever to find additional antiviral treatments for those exhibiting complications from the disease, and more effective means of administering those treatments. An easier and more widely available delivery method, such as a dry powder inhaler, could vastly improve outcomes and provide treatment well before life-threatening complications occur."
The research team, which includes Sawittree Sahakijpijarn, Chaeho Moon, John J. Koleng and Dale J. Christensen, has developed inhaled forms of remdesivir for protecting and treating the respiratory mode of infection, including an amorphous brittle matrix powder made by thin-film freezing. Not only would this delivery method allow for wider distribution of an essential antiviral in the fight against COVID-19, it could also make remdesivir more effective.
TFF Pharmaceuticals Inc. (Nasdaq: TFFP) has acquired the patents regarding thin-film freezing and inhalation. The UT researchers' live subject results were recently published as an updated preprint in bioRxiv. Now that live subject tests have completed, Williams and his team will submit their research for final peer review and publication.