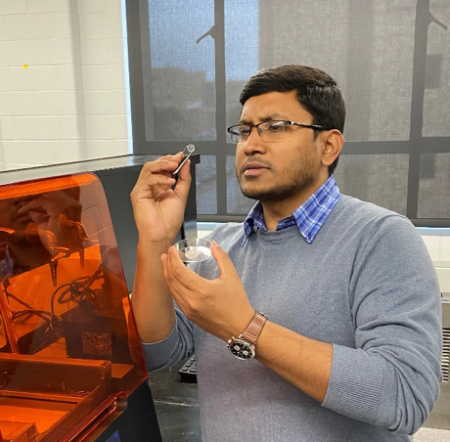 In an effort to address challenges with the reduction in quantity of new drugs coming to market, a team of pharmaceutical scientists, led by The University of Texas at Austin College of Pharmacy Assistant Professor Mo Maniruzzaman, seeks to find alternative ways to develop and manufacture medicines to more effectively deliver them into the hands of patients. Maniruzzaman heads the newly-developed Pharmaceutical Engineering and 3D printing (PharmE3D) labs in the Division of Molecular Pharmaceutics and Drug Delivery.
To meet the need to develop methods to make drugs more soluble and usable, Maniruzzaman teamed up with Advanced Material Development (AMD), a research and development organization based in Europe. This collaboration led to one sponsored project ($654,000) that began last year, followed by another one starting later in the fall ($520,000). The sponsored work projects also expand into more urgent areas of work in the current fight against viral pathogens like SARS-CoV-2 (also known as COVID-19).
The research collaboration between AMD and UT Austin, known as Continuous Manufacturing of Pharmaceuticals and 3D printing dosage forms (CoM3D), routs through a master sponsor research agreement developed and coordinated by UT's Office of Industry Engagement (OIE) and the Office of Technology Commercialization (OTC).
"CoM3D builds on the mission of creating innovations while helping people. Dealing with medicines and improving their physical properties for better efficiency and patient compliance ticks both boxes," says Maniruzzaman. "This wouldn't be possible without enormous support from AMD and the CoM3D team led by John Lee and Dr. Anthony Thompson, as well as my tireless research team. It becomes so rewarding when visions are co-shared between academia and industry to reach a milestone."
"Dr. Maniruzzaman's speed at developing industry partnerships and success at securing funding reflects his focus on big problems and overcoming technical barriers," says Erin Overstreet, director of licensing at UT's Office of Technology Commercialization." We are excited to work with someone with such large vision, especially considering the team's rapid progress and the massive potential for 3D printed medicines.
Ty Helpinstill, associate director of UT's Office of Industry Engagement, adds that "the research contract and negotiations had all of the elements for success: great problems to solve and great scientific synergy, trust built upon transparency and flexibility by both parties. The results provide for a very open research relationship enjoyed by the parties to-date."
Some of CoM3D's aims include continuous manufacturing to make drugs more soluble (such as through optimized drug complexes, solid-dispersions and particle engineering), quality by design, process analytical technology, and 3D printable dosage forms for patient-focused therapy. The packages in the upcoming phase will involve ultra-smart drug delivery systems for personalized medicines as well as integrated digital healthcare network for better patient adherence and therapeutic outcomes. CoM3D envisions a few potential IPs resulting in from its research activities at UT Austin in the near future.
"From our early engagement with Dr. Maniruzzaman at the University of Sussex, his commercial enthusiasm alongside his technical competency have been great drivers for the relationship CoM3D is building with its investors and followers," says John Lee, CEO of Advanced Materials Development. AMD's new Life Science subsidiary was incorporated in 2019 in order to support Maniruzzaman's work at CoM3D.
"Major trends influencing the future of healthcare include: patient-centricity, digital health, precision medicine, complexity, democratization and an ever-increasing focus on cost," says CoM3D CEO Dr. Anthony Thomson. "CoM3D is focused on developing platform technologies to address these trends in healthcare and building a team that can effectively commercialize these technologies with proven business models which will drive scale. This is an exciting time to be in the healthcare sector with renewed focus on infectious disease and the therapeutics and vaccines needed to control and protect our growing population having never been in greater need."
In 2014, the global medicines market surpassed a trillion dollars in revenue and is expected to double by 2025. The global pharmaceutical market currently undergoes a period of dramatic change where emerging-market expansion, accessibility and technology advances will increase the rate of sector growth. Many new drugs also have physicochemical and biopharmaceutical limitations such as poor solubility which constrains bioavailability and clinical performance.
In addition, healthcare systems around the world demand access to cost-effective and innovative medicines with improved patient compliance. These present unique manufacturing challenges that need to be tackled to effectively scale-up and deliver large numbers of medicines to the population. Approximately 40% of drugs with solubility problems increase the cost of and time for drug development.
Maniruzzaman's team is now in discussion to fund other projects related to COVID-19 research. It was recently in contact with the United States Department of Health and Human Services' Biomedical Advanced Research and Development Authority (BARDA). If approved, the PharmE3D Lab will be an awardee and sub-awardee of multiple sponsored research projects and undertake projects to advance effective therapeutics to treat SARS-CoV-2 type viruses as well as other pathogen related diseases.
"We are excited about Dr. Maniruzzaman's active collaborations with AMD, and potentially BARDA," says UT College of Pharmacy Dean M. Lynn Crismon, "to improve the clinical effects of medicines through pharmaceutical materials science engineering."
Read the news release regarding CoM3D and recent work in the Maniruzzaman Lab.