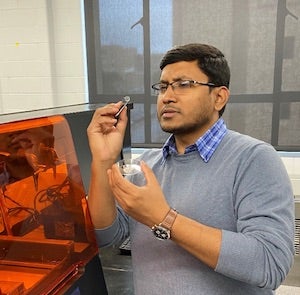 The University of Texas at Austin College of Pharmacy's Pharmaceutical Engineering and 3D Printing (PharmE3D) Lab earned a Texas Global Faculty Research Seed Grant for its work on patient-specific treatment of COVID-19. PharmE3D, led by Mo Maniruzzaman, Ph.D. shows its commitment to enhancing UT Austin's engagement with international partners to address global challenges.
The coronavirus that causes COVID-19 appears as a large single-stranded virus where positive RNA genome is encapsulated within a membrane envelope dotted with glycoprotein spikes. Some therapeutic candidates such as favipiravir, ritonavir and remdesivir have shown some early promise in COVID-19 treatment but unfortunately there's no approved single fixed-dose combination of two or more anti-viral drugs available with tailored therapeutic effects that could potentially combat COVID-19.
Interindividual variability of patients is an issue for efficient therapeutic outcomes. The concurrent use of multiple medications to treat COVID-19 is a significant concern due to the high pill burden and poor patient adherence and compliance, which may increase potential risk associated with medication errors.
In order to overcome some of these challenges, Maniruzzaman teamed up with the lab of Professor Jerry Heng from the Department of Chemical Engineering at Imperial College London to research novel 3D printed complex fixed-dose combination dosage forms. Those forms contain multiple anti-viral drugs based on a deeper understanding of patients' physiological and biological characteristics.
"I'm proud that Texas Global supports our research," says Maniruzzaman, an assistant professor in the Division of Molecular Pharmaceutics and Drug Delivery. "This institutional link with Heng Lab will facilitate a collaborative environment to create a greater impact through knowledge-transfer than that of a project run in isolation. I'm thankful to my PharmE3D team of visionary young scientists. Without their tireless efforts and innovative ideas this wouldn't be possible."
The advanced application of 3D printing technologies to produce effective therapy could accelerate the production and availability of emerging treatments, reducing the risk of pharmaceutical shortages in future global health crises.
"The ability to rapidly design, formulate and manufacture patient-specific pharmaceuticals will bring about major benefits in global healthcare," says Heng. "I am delighted to have this opportunity to collaborate with Dr. Maniruzzaman in establishing novel 3D printing-based manufacturing approaches."
The Texas Global Faculty Research Seed Grants support faculty with peer collaborators at institutions abroad to conduct research that addresses global challenges. The program is committed to supporting exposure to regional politics and histories, foreign languages, literature, global arts and culture and contrasting perspectives from different regions around the world to equip the UT community with the skills and intercultural understanding needed to make a positive impact and address the world's most pressing challenges.