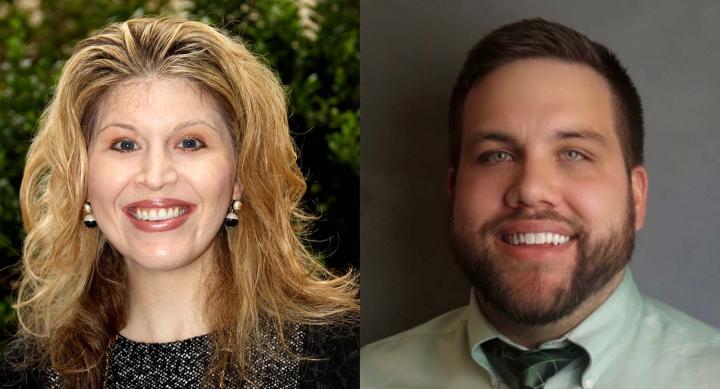 Leticia "Tish" Moczygemba, Pharm.D., Ph.D. and Andrew Wash, Pharm.D. were selected as the recipients of the 2022 grant award from the Arlyn Kloesel Endowment for Excellence in Pharmacy Practice.
The title of their proposal is "Using Self-Determination Theory to Evaluate Well-being and Burnout of Community Pharmacists." Moczygemba serves as the principal investigator for this project along with the co-investigator Wash, a Ph.D. candidate in the Division of Health Outcomes. Additional grant contributors include Andrea Brookhart, Pharm.D., BCACP, Kroger Health and Angelina Tucker, Pharm.D., PCGP, CDCES, Community Pharmacy Enhanced Services Network of Texas (CPESN).
This research project is focused on promoting clinician well-being and reducing burnout, which are increasingly recognized as critical to the success of the healthcare system. Fully engaging community pharmacists has implications on patient safety and the quality of patient care and health outcomes. This research project will employ and utilize the framework of Self-determination theory (SDT), which offers a structure for understanding what leads to well-being and engagement and may help prevent burnout.
SDT posits that it is through the fulfillment of the basic psychological needs for autonomy, competence and relatedness that a high-quality form of motivation (autonomous motivation) occurs, which leads to well-being and engagement. While SDT has been used in non-healthcare fields, using it to understand pharmacist well-being and burnout is a new concept. It is hypothesized that basic psychological need fulfillment will be associated with higher levels of autonomous motivation, and thereby higher levels of well-being and lower levels of burnout. 
The qualitative portion of this study will illuminate how these issues impact patient care and how they could be improved. It is anticipated that community pharmacies can use these findings to design interventions customized to their business that would improve basic psychological need fulfillment and thereby increase well-being and reduce burnout of their pharmacists. 
Recipients of the Arlyn Kloesel Award are selected by an external review committee selected by the Associate Dean for Research and Graduate Studies in consultation with the dean. This year the review committee consisted of one practitioner alumnus of the College of Pharmacy and three Ph.D. alumni of the Health Outcomes and Pharmacy Practice graduate programs. The proposals are evaluated for their relevance to the purpose of the endowment, appropriate methodology, innovation with respect to practice/business models and potential impact (including sustainability where appropriate), reasonableness of the budget and timeline and feasibility.
 
News category:
Research areas: