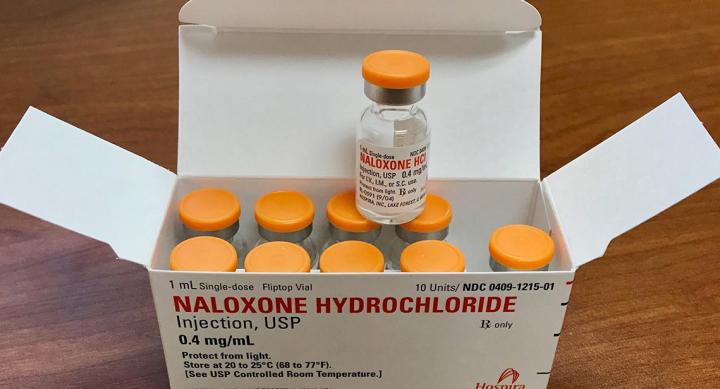 A paper from researchers at The University of Texas at Austin College of Pharmacy was awarded the 2021 Outstanding Paper of the Year from the American College of Clinical Pharmacy (ACCP) Ambulatory Care Practice Research Network.
The paper, "Availability of buprenorphine/naloxone films and naloxone nasal spray in community pharmacies in Texas, USA," was first authored by Clinical Associate Professor of Pharmacy Practice Lucas G. Hill, Pharm.D., BCPS, BCACP, documents an extensive telephone audit of pharmacies across Texas to investigate their availability of drugs to treat opioid use disorder, or counteract the effects of an overdose during an emergency situation.
Hill is the director of the college's Pharmacy Addictions Research and Medicine (PhARM) Program, which provides continuing education to a broad range of health professionals via the Texas Opioid Training Initiative, leads overdose prevention efforts across multiple campuses through Operation Naloxone and conducts innovative research to identify and address gaps in implementation of evidence-based interventions for substance use and addiction.
According to the paper's abstract:
"Patients with opioid use disorder (OUD) must be able to obtain prescribed buprenorphine/naloxone films (BUP/NX) and naloxone nasal spray (NNS) from a pharmacy promptly to reduce risk for a recurrence of use and subsequent morbidity and mortality. Telephone audits have identified concerning gaps in availability of NNS within US pharmacies, but the availability of BUP/NX has not been rigorously evaluated. This study estimated the availability of BUP/NX and NNS in the US state of Texas and compared availability by pharmacy type and metropolitan status."
Through the audit, the authors found that most pharmacies in Texas "do not appear to be willing and able to dispense prescribed buprenorphine/naloxone films and naloxone nasal spray to patients with opioid use disorder in a timely manner. Deficiencies in availability are markedly more pronounced in independent pharmacies compared with chain pharmacies."
The paper's other authors include:
Lindsey J. Loera, Pharm.D., R.Ph., postdoctoral PhARM fellow
Kirk Evoy, Pharm.D., BCACP, BC-ADM, CTTS, clinical assistant professor of pharmacotherapy
Mandy Jermain (née Renfro), Pharm.D., R.Ph., UT Pharmacy Pharm.D. Class of 2020
Sorina Torrez, UT Pharmacy Pharm.D. Class of 2022
Claire Zagorski, MSc, LP, PhARM program coordinator
Joshua C. Perez, UT Pharmacy Pharm.D. Class of 2022
Shaun M. Jones, MPH, research scientist at UT Health San Antonio
Kelly R. Reveles, Pharm.D., Ph.D., BCPS, assistant professor of pharmacotherapy
The American College of Clinical Pharmacy (ACCP) is a professional and scientific society that provides leadership, education, advocacy and resources enabling clinical pharmacists to achieve excellence in practice, research and education.
News category:
Faculty:
Research areas: