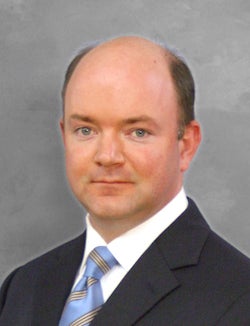 It is with great sadness that we announce the passing of Edward (Ted) Mills, Ph.D., associate professor in the Division of Pharmacology and Toxicology and Bergen Brunswig Corporation Centennial Fellow.
"We are deeply saddened by the sudden loss of Ted Mills," says Karen Vasquez, Ph.D., professor and head of the Division of Pharmacology and Toxicology. "Ted was a valuable member of our division, college, and university. He was also a great friend and colleague to many, and he will be greatly missed."
Dr. Mills taught at The University of Texas at Austin College of Pharmacy for more than 16 years after earning his Ph.D. in pharmacology and toxicology from Purdue University. "Dr. Mills is internationally regarded for his impactful research exploring metabolism and uncoupling proteins that have been associated with obesity and various diseases," says Associate Dean for Research and Graduate Studies John Richburg, Ph.D. "The importance of his research is indicated by the support awarded and the impact of his publications throughout his career."
He was also a devoted teacher and researcher who cherished working with students. "Ted was a great person who listened to and worked with his students," says Christopher L. Riley, Ph.D., a recent graduate student who worked closely with Dr. Mills. "And when he wasn't talking about science, he was always talking about where to get the best food in Austin. Everyone will miss him, especially those who were lucky enough to train with him during his long career in the college."
Ted's family asks that in lieu of flowers, please consider making a donation to the Juvenile Diabetes Research Foundation (JDRF) in his honor.
News category:
Faculty:
Research areas: