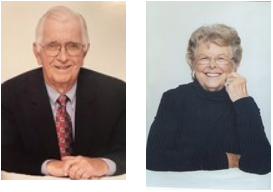 Tom and Beverly Gerding, longtime friends of Longhorn pharmacy, walked hand in hand through a life well spent and died 10 days apart this summer.
Beverly, 84, passed away peacefully on June 24 while Tom, 87, died 10-days later on July 4.   A memorial service honoring them both is scheduled for Saturday, July 8 at 2 p.m. at The Chapel of Ramey Funeral Home, Georgetown, Texas.  Graveside services for Tom and Beverly will be held at a later date in Ottawa, Illinois.
Beverly was born on January 25, 1933, in Dallas, Texas.  She attended Purdue University where she graduated with a B.S. in housing architecture and met her future husband, Tom.  They married in 1955.  Tom's work led them to make homes for themselves and their four children in Texas, Indiana, Connecticut, New York and New Jersey.  In each location, Beverly integrated herself in their community through memberships in numerous clubs, organization and activities.
Born February 11, 1930 in Evanston, Illinois, Tom grew up in Ottawa, Illinois. He earned three degrees from Purdue University including a B.S. in pharmacy (1952), a master's in industrial pharmacy (1954) and a doctorate in pharmaceutics (1960).   He served in the U.S. Army Medical Services Corps at Brooke Army Medical Center, Fort Sam Houston, Texas and on the faculty at Purdue's School of Pharmacy before accepting a research/development position at the Dow/Pitman-Moore Company in Indianapolis, Indiana.  His research career led him to positions at Sterling Drug, Sterling-Winthrop Research Institute, Calgon-Consumer Products, Beecham Products, and Merck and Company, before his last position in the pharmaceutical industry at Johnson & Johnson Domestic Operating Company.
In 1988, after 26 years in the industry, Tom retired with Beverly to Georgetown, Texas where they made their home for 29 years.  Soon after, he accepted a position on the faculty at the UT College of Pharmacy where he also served as director of the college's Drug Dynamics Institute.
Dr. Jim McGinity, who holds the Johnson & Johnson Centennial Chair Emeritus in Pharmacy, served on the college's pharmaceutics faculty with Gerding.
"During a visit to the Johnson & Johnson Corporation in the early 1980s, Tom Gerding introduced me to a number of senior managers in the company who later funded several research products in the UT College of Pharmacy," McGinity recalled.  "As director of the Drug Dynamics Institute, Tom was very supportive of junior faculty in the college.  He was well connected in the pharmaceutical industry and invited several of his industrial colleagues to visit and present seminars to college faculty and graduate students.
"I am most grateful to Dr. Gerding who, along with his colleagues at other J&J affiliated companies, provided funding for the Johnson & Johnson Centennial Chair.  Tom, along with his wife, Beverly, were tremendous supporters of college programs and provided significant funding to support both our graduate and undergraduate programs."
Both Tom and Beverly were longtime friends of The University of Texas at Austin College of Pharmacy.  Tom served on the Dean's Pharmacy Advisory Council.  Together they endowed student scholarships in pharmacy at both UT Austin and Purdue.
"Tom Gerding was an outstanding scientist and scholar, and he was a true gentleman," said Dean Lynn Crismon.  "Tom and former UT College of Pharmacy Dean Jim Doluisio studied together as graduate students at Purdue University under the mentorship of Al Martin.  Dr. Martin was later a UT College of Pharmacy faculty member as was Tom.  While at Johnson and Johnson, Tom served as a member of the UT College of Pharmacy Dean's Advisory Committee, and to quote Jim Doluisio, "He added class and prestige" to the Advisory Council."