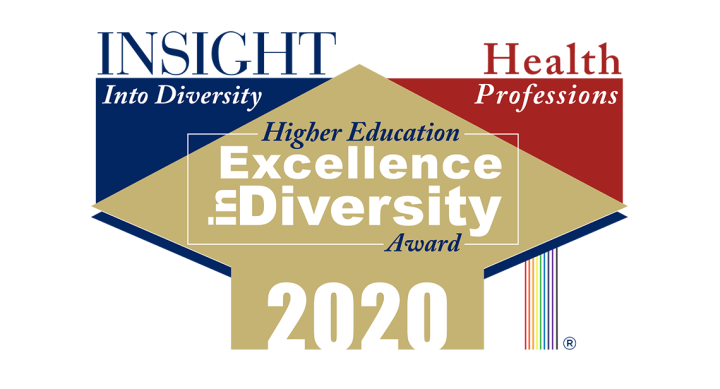 The University of Texas at Austin College of Pharmacy received the 2020 Health Professions Higher Education Excellence in Diversity (HEED) Award from INSIGHT Into Diversity magazine, the oldest and largest diversity-focused publication in higher education.
As a recipient of the annual Health Professions HEED Award—a national honor recognizing colleges and universities in the United States that demonstrate an outstanding commitment to diversity and inclusion—the UT College of Pharmacy will be featured, along with 45 other recipients, in the December 2020 issue of INSIGHT Into Diversity magazine.
"The diversity, equity, accessibility, and inclusion work that I lead in the College of Pharmacy is genuinely borne of my philosophical charge that educators in all disciplines across the expanse of the K20 spectrum work to transform every space into an intentionally inclusive one—for our learners, for our colleagues, for ourselves," says UT College of Pharmacy Assistant Dean of Diversity and Inclusion Skyller Walkes, Ph.D. "These efforts are incentivized by the belief that when we strive for inclusive excellence in our curricula, our pedagogy, and among our community members, we are actively transforming the environment for the better."
The UT College of Pharmacy has sought to advance its commitment and demonstration to diversity, equity, accessibility, and inclusion through the mediums of intentional engagement, open and authentic dialogue, and an integrated curriculum. Through these efforts, the college hopes to inspire, prepare, and empower our 21st century learners to be the innovative and culturally competent pharmacy leaders of tomorrow.
"The HEED Award process consists of a comprehensive and rigorous application that includes questions relating to the recruitment and retention of students and employees—and best practices for both—continued leadership support for diversity, and other aspects of campus diversity and inclusion," says Lenore Pearlstein, publisher of INSIGHT Into Diversity magazine. "We take a detailed approach to reviewing each application in deciding who will be named a HEED Award recipient. Our standards are high, and we look for institutions where diversity and inclusion are woven into the work being done every day across their campus."
For more information about the 2020 Health Professions HEED Award, visit Insight Into Diversity's website.