The College of Pharmacy developed the exciting new Building Our Own Talent (BOOT) program designed to provide mentoring and support for trainees associated with the college. The program and the college embrace the notion that innovation and discovery thrive in an inclusive culture that values diverse ideas. The main goal of the BOOT program is to increase the recruitment, retention and preparation of trainees from diverse backgrounds--including race, ethnicity, national origin, gender and gender identity, sexuality, socioeconomic class and religion--for an academic career in the pharmaceutical sciences.
This year, two fully funded graduate research assistant (GRA) positions were established to support recruitment of students into graduate programs in either pharmaceutical sciences or translational sciences. These GRA positions provide a stipend of $30,500 for the first academic year plus paid tuition.
This year's two inaugural recipients enter the pharmaceutical sciences graduate program: Charlene Mandimutsira joins the chemical biology and medicinal chemistry (CBMC) track and Kelsey Strey joins the pharmacotherapy (PT) track.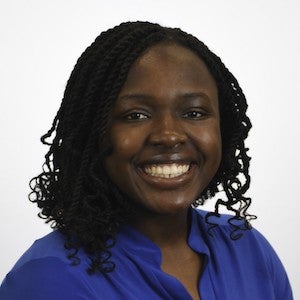 Charlene Mandimutsira recently completed her Bachelor of Science with honors in biochemistry at The University of Texas at Arlington and will begin research rotations in UT Pharmacy in the fall. While earning the prestigious Ronald E. McNair scholarship, she completed an independent undergraduate research project on the structure and function of an enzyme with an unusual F420 cofactor and presented her work at several conferences.
She served as vice president of the UT Arlington Chemistry and Biochemistry Society and has extensive experience tutoring undergraduate and high school students in chemistry and lab research protocols. Charlene will continue her interest and training in enzymes chemistry in the CBMC track of the pharmaceutical sciences graduate program.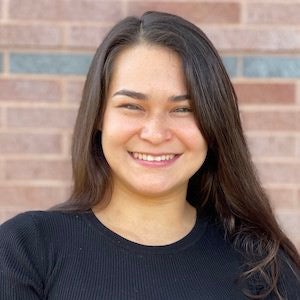 Kelsey Strey completed her biochemistry Bachelor of Science and Art degree and Doctor of Pharmacy degree at The University of Texas at Austin. In pharmacy school, Kelsey excelled academically and significantly contributed to professional service.
She was a member of the Rho Chi Pharmacy Honor Society and held leadership positions in the Student Pharmacist Recovery Network and Phi Delta Chi Pharmacy Fraternity. She was also heavily involved in curricular and extracurricular service activities and received numerous accolades including distinguished scholarships and the Texas Society of Health-System Pharmacists Research and Education Foundation Student Poster Award. She also worked on multiple research projects in infectious diseases clinical and translational sciences. She conducted pharmacoepidemiology, health outcomes, human clinical, and laboratory-based studies during this time.
She joins the PT track of the pharmaceutical sciences graduate program to pursue her Ph.D. under the direction of Dr. Kelly Reveles. Kelsey's long-term goal is to obtain an academic faculty position where she develops and maintains an independent research program focused on infectious diseases and contributes to professional education and service.
News category:
Research areas: