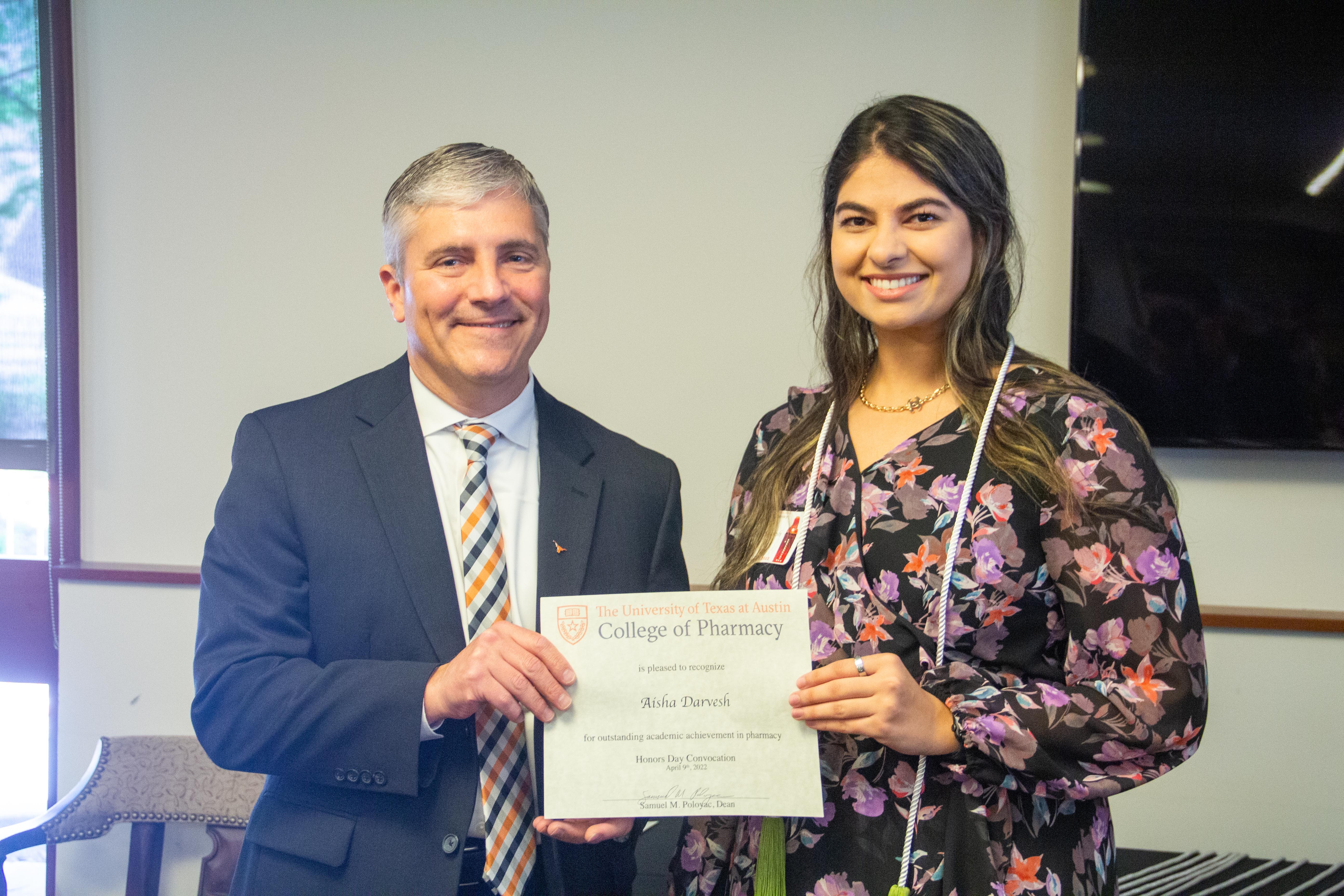 There are always sashes, often stoles, but this year's distinguished College of Pharmacy scholars received a set of white and green honor cords at the 74th Annual Honors Day celebrations to mark the very highest level of academic accomplishment.
After a two-year pause, Honors Day returned to the Forty Acres as an in-person, university-wide ceremony hosted by President Hartzell on Saturday, April 9 at the Frank Erwin Center on the UT Campus. Introduced in 1948 and celebrated every year since, Honors Day recognizes the accomplishments of the highest achieving students at The University of Texas at Austin — those who, by meeting competitive criteria, have earned their distinction as College Scholars or Distinguished College Scholars.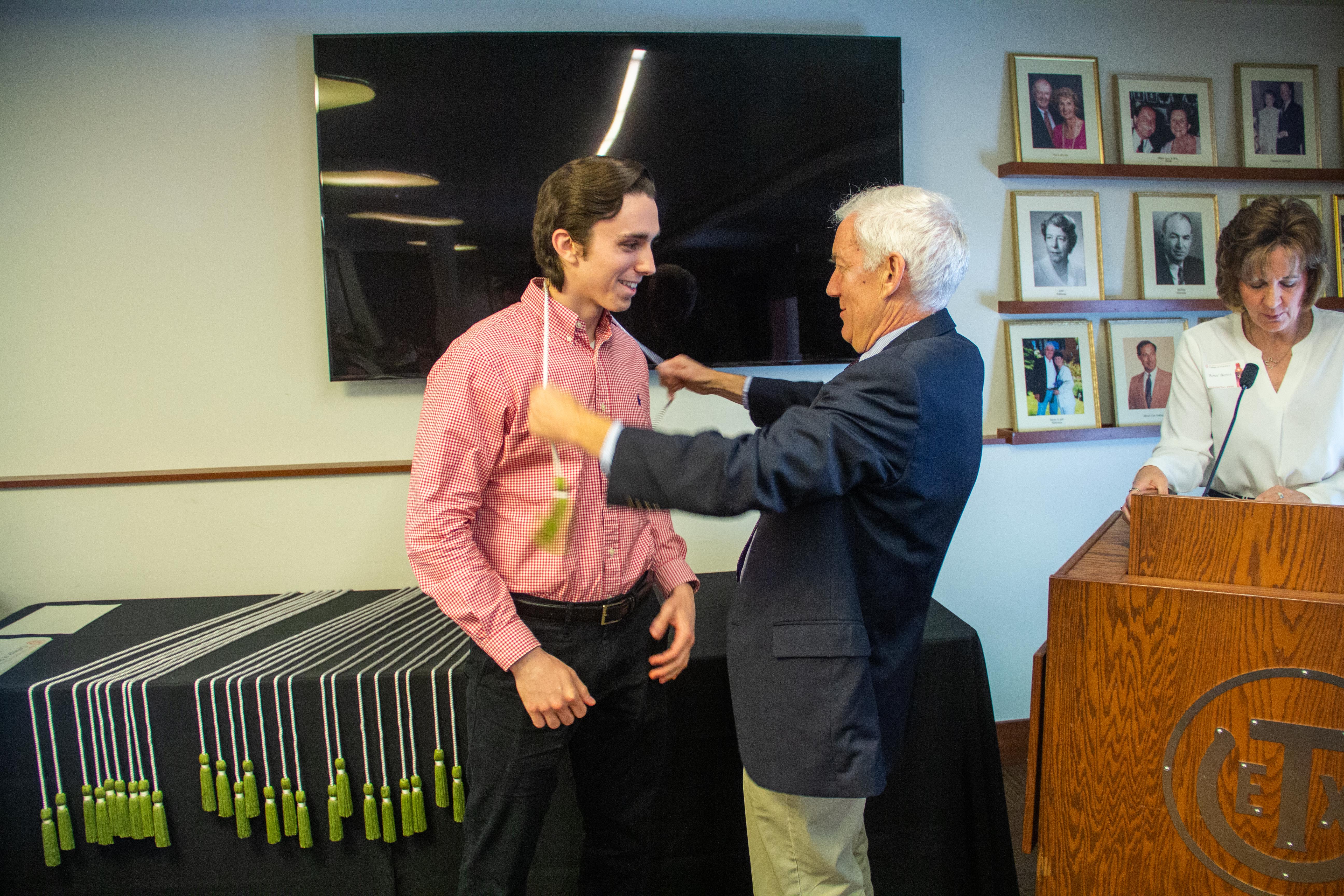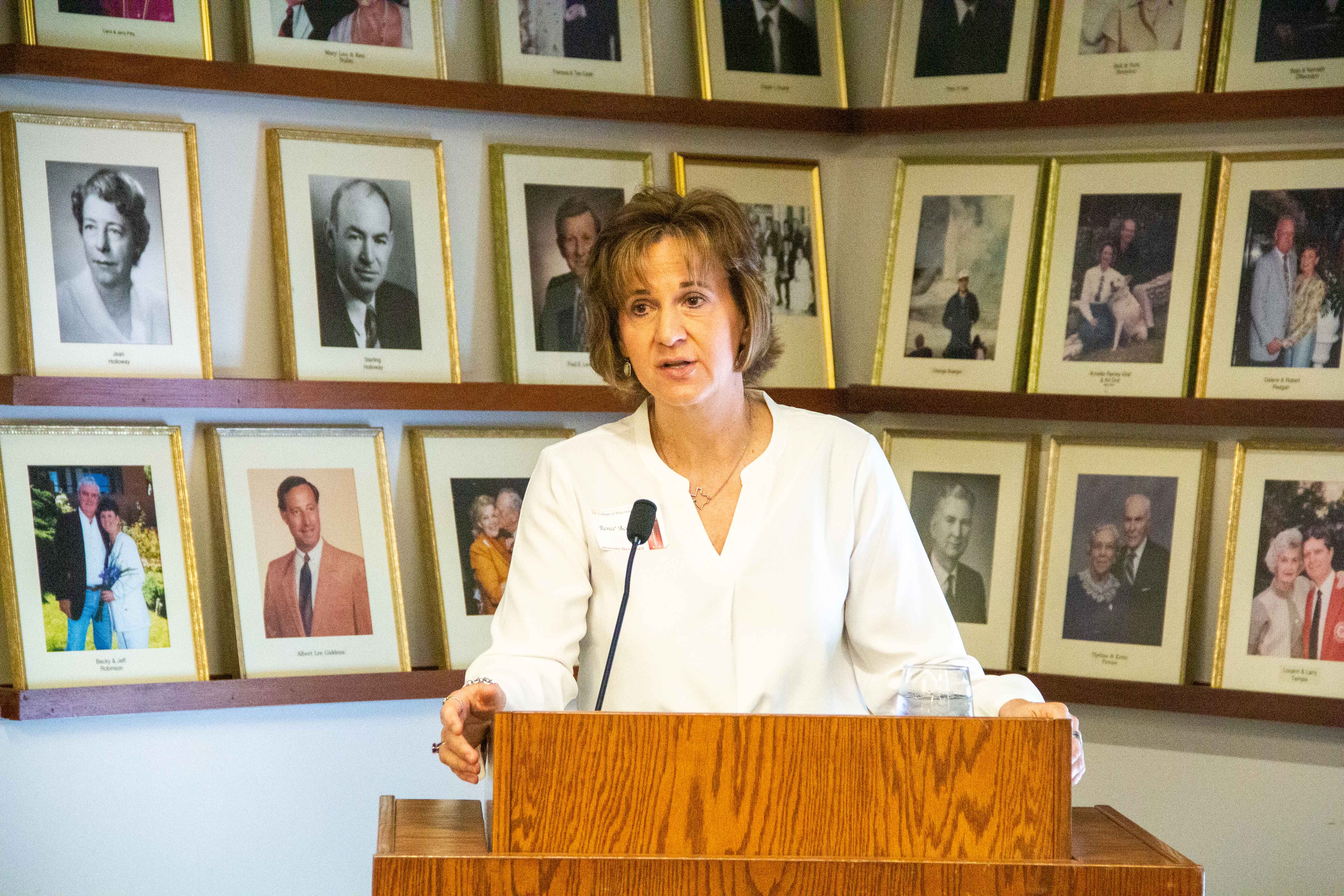 College of Pharmacy Honors Day 2022 Scholars

Sarina Acharya
Esther Albuquerque—College Scholar
Audrey Anderson
Justin Ashburn
Angela Augustino
Abby Barnett
Collin Blackwell—Distinguished College Scholar
Ryan Bloesser
Peyton Brewster—College Scholar
Brian Burpo
Cammilika Calibo
Dina Chibli—College Scholar
Evelyn Choi
Michaela Clague
Erin Colima
Emily Cox
Elena Dang
Aisha Darvesh
Tiffany Dinh—College Scholar
Chad Dittmar—Distinguished College Scholar
Andrew Do—College Scholar
Dalaina Dreymala
Amaka Epoh
Skyla Erb—Distinguished College Scholar
Gillian Gonzales
Javier Granados II
Elizabeth Graver
David Gutierrez
Emily Hegwood
Hailey Held
Sadaf Helforoosh—College Scholar
Jennifer Hoang—Distinguished College Scholar
Lisa Hsi
Deni Hui
Sydney Hunt—Distinguished College Scholar
Kami Johnston
Hejab Khan
Raquel Khanoyan
Michael Kolandjian
Berkin Kutluk
Eric Lin—College Scholar
Omar Luna
Sean McCrea
Devin McGovern—College Scholar
Quinn Mosgrove—College Scholar
Bryan Navarro
Christopher Nelsen
Cindy Nguyen
Kevin Nguyen—College Scholar
Samantha Pan—College Scholar
Caelia Park
Sarah Patrick
Lyndsey Price
Kevin Quidilla—Distinguished College Scholar
Katherine Rogers
Sally Anne Saint Jacques
Matthew Sandoval—College Scholar
John Schroeder
Zachary Taylor
Priyanka Thundiyath
Kari Tornes
Jennifer Tran—Distinguished College Scholar
Uyen Tran
Ashlyn Vielock
Dieu Uyen Vu
Kayla Walker
Joseph Webb II
Kelley White
Megan Yeung—College Scholar
Yufeng Zhai
Explore the full digital photo album from the 74th Annual Honors Day College of Pharmacy celebrations here. Congratulations and Hook 'Em Horns!