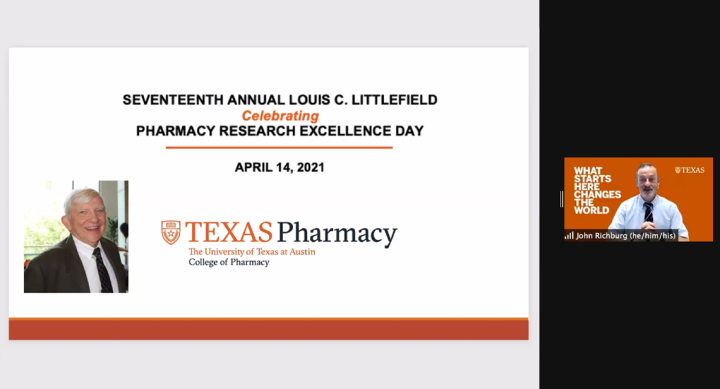 Associate Dean for Research and Graduate Studies John H. Richburg, Ph.D. introduces Yasmin Hurd, Ph.D. at the start of Pharmacy Research Day.
Researchers participated in a virtual version of the 17th Annual Louis C. Littlefield Celebrating Pharmacy Research Excellence Day on April 14, 2021. The event was held during The University of Texas at Austin's Research Week. Undergraduates, Pharm.D. students, graduate students, postdoctoral fellows and residents remotely presented their research in abstracts and poster presentations to see who would take the top prizes. The event was hosted by the College of Pharmacy's Office of the Associate Dean for Research and Graduate Studies.
The event included a keynote scientific lecture from Yasmin Hurd, Ph.D. Hurd is a professor in neuroscience, pharmacological sciences and psychiatry and is the Ward-Coleman Chair of Translational Neuroscience and the director of the Addiction Institute at Mount Sinai. Her lecture was titled "Neurobiological Pathways to Addiction Drive Novel Treatment Interventions."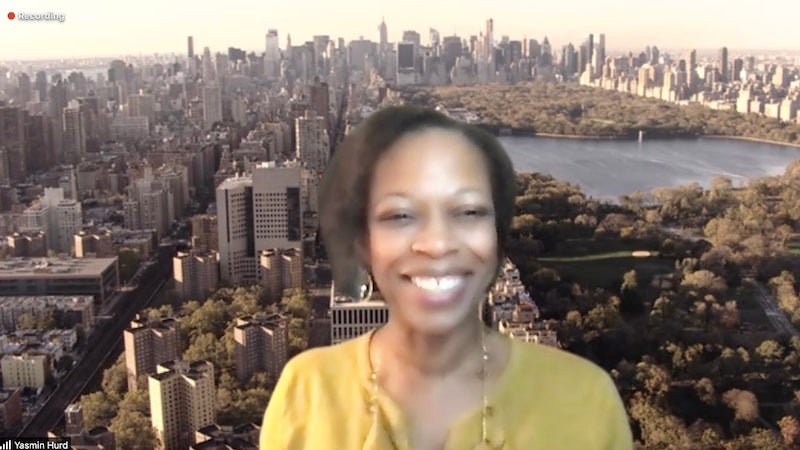 The event also included a distinguished faculty lecture from M. Lynn Crismon, Pharm.D., the Behrens Centennial Professor of Pharmacy in the College of Pharmacy and professor of psychiatry in the Dell Medical School. From 2007 until 2020 he served as dean of the college and James T. Doluisio Regents Chair. His presentation was titled "A Journey Through Psychiatric Pharmacy – From Clinician to Researcher to Dean."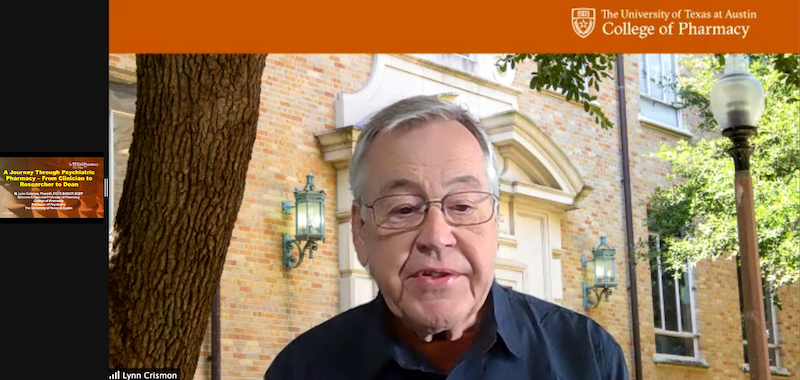 Congratulations to all the award recipients and thank you to everyone who participated. Pharmacy Research Day has looked a bit different in the last few years, but its goal to highlight important pharmacy research and recognize those amazing accomplishments remains intact and thriving.
Abstract Award Recipients
Undergraduate

Alexa L. Frei
Mentor: Kelly R. Reveles
"Clostridioides Difficile Infections Declined Initially After the Start of the COVID-19 Pandemic, but Exceeded Pre-Pandemic Levels Thereafter Due to a Rise in Community-Onset Cases"

Pharm.D.

Alyssa Castillo
Mentor: Christopher R. Frei
"Uptake of Novel Agents for Black and White Patients with Chronic Lymphocytic Leukemia in the Veterans Health Administration by Retrospective Cohort Study"

Graduate

Dann Diego Rivera
Mentor: Walter Fast       
"New Delhi Metallo-Beta-Lactamase: Covalent Inactivation and Visualization in Cells"      

Postdoctoral

Lindsey J. Loera, Pharm.D., RPh
Mentor: Lucas G. Hill
"Analysis of Student Pharmacists' Self-Reported Intention to Provide Harm Reduction Resources After Brief Education and a Simulated Patient Encounter"

Resident

Jason A. Arevalo, Pharm.D.
Mentors: Mary Vu, Arnaldo Figueroa and Denver Buchanan
"Weighing the Risks: Evaluation of DOACs in Extreme Body Weights"
Three Minute Video Award Recipients
Undergraduate

Reha Kakkar
Mentor: Laura Fonken
"Hippocampal Microglia are Vulnerable to Aging-Induced Pro-inflammatory Morphological Changes that are Partially Alleviated by M. Vaccae Immunization" 

Professional

Cara Rutledge
Mentor: Diane Ginsburg
"A Qualitative Study Investigating Barriers to Attendance and Prospective Effects on Student Academic Success"

Graduate

Kevin Sanchez
Mentor: Laura Fonken
"Estrogen Deficiency Exacerbates Neuroinflammation, Raising Vulnerability to Affective Disorders"    

Postdoctoral

Jeff Darling, Ph.D.
Mentor: Laura Fonken
"Age-related Sex Differences in Memory Response Following a Lipopolysaccharide induced Immune Challenge

Resident

Kelly Gamble, Pharm.D.
Mentors: Dusten Rose and Julia Sapozhnikov
"Intravenous to Oral Antibiotics Versus Intravenous Antibiotics: A Step-Up or a Step-down for Extended Spectrum Beta-Lactamase Producing Urinary Tract Infections?"