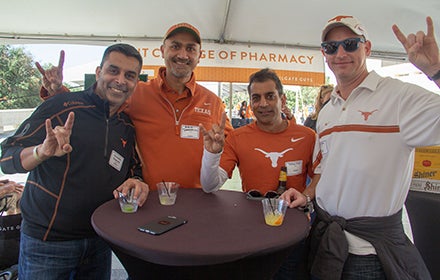 Looking for ways to get involved with the College of Pharmacy? 
Stay connected through a multitude of existing opportunities, or contact the Alumni Relations office with your own ideas.
Contact Alumni Relations
Join the College of Pharmacy Alumni Association

The College of Pharmacy Alumni Association works uniquely for and on behalf of pharmacy graduates.  Application for membership is open to all alumni of the College of Pharmacy.
Make a Gift

Gifts to the College of Pharmacy are tax-deductible, and there are many ways to make your contribution.
Update Your Information

Have you moved? Changed your email? Started an exciting new job? Updating your alumni record ensures you'll stay informed of the latest College of Pharmacy news and events.
Engage with LinkedIn

Follow our LinkedIn page to connect with members of the Texas Pharmacy community and learn more about employment opportunities within the college and outside organizations looking to hire Texas Pharmacy alumni.
Submit a Class Note

Catch up with your fellow College of Pharmacy alumni or submit your own exciting personal or professional update.
Plan a Class Reunion
We encourage alumni to organize class reunions, and we can provide communications and some logistical support for your event. We have created a College of Pharmacy Alumni Reunion Toolkit to help get you started!