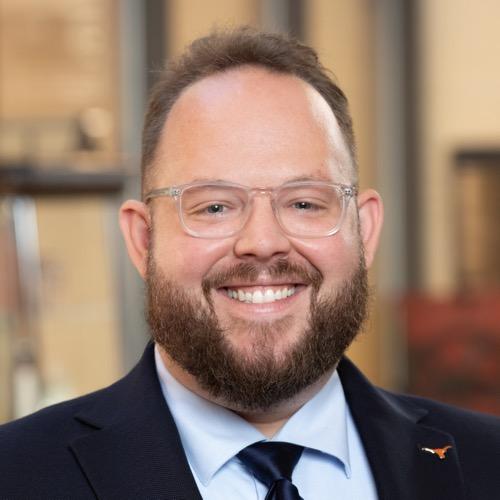 Clinical Assistant Professor of Pharmacotherapy
Dr. Travis J. Carlson is a Clinical Assistant Professor in the Pharmacotherapy Division of the College of Pharmacy at The University of Texas at Austin. In addition to his teaching, research, and service responsibilities within the College, he also cares for patients as an infectious diseases pharmacist at University Hospital in San Antonio. 
Dr. Carlson received his Doctor of Pharmacy from Drake University and completed his PGY-1 Residency at Aurora St. Luke's Medical Center in Milwaukee, Wisconsin, followed by a two-year Infectious Diseases Fellowship at Baylor St. Luke's Medical Center in Houston, Texas, in conjunction with the University of Houston College of Pharmacy. He is also a Board-Certified Infectious Diseases Pharmacist (BCIDP).
Dr. Carlson has a passion for teaching pharmacy students important and relevant information about infectious diseases pharmacotherapy that they will use on a daily basis throughout their careers. He also has a passion for conducting innovative research and serving the profession of pharmacy. Dr. Carlson has published over 20 peer-reviewed original research and review articles. His areas of interest and expertise include antimicrobial stewardship, Clostridioides difficile infection, antimicrobial resistance, and medication disposal. He also serves as the Chair of the Public Outreach Committee for the Society of Infectious Diseases Pharmacists (SIDP), and he regularly contributes continuing education materials to both the American Society of Health-System Pharmacists (ASHP) and the American College of Clinical Pharmacy (ACCP). In his free time, he enjoys traveling, attending live music/sporting events, and playing the drums.
Contact Information
Phone:
US Mailing Address:
Pharmacotherapy Education & Research Ctr.
University of Texas Health Science Center San Antonio
7703 Floyd Curl Drive – MC 6220
San Antonio, TX 78229-3900
USA