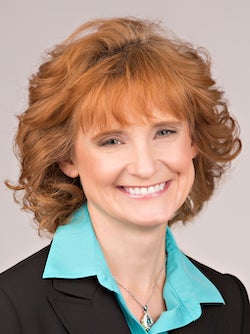 The Office of the Vice President for Research, Scholarship and Creative Endeavors and the University Co-operative Society announced the 2022 winners of the University Co-op Research Excellence Awards. Maria A. Croyle, Ph.D., professor in the College of Pharmacy's Division of Molecular Pharmaceutics and Drug Delivery, earned this year's Best Paper Award.
Her paper, "Novel technology for storage and distribution of live vaccines and other biological medicines at ambient temperature," presents a novel, thin-film platform that preserves live viruses, bacteria, antibodies and enzymes without refrigeration for extended period of time. This work introduces the possibility of improving global access to a variety of vaccines and medicines by offering a technology capable of reducing costs of production, distribution and supply chain maintenance.
Croyle's work earned the 2021 David Lehr Research Award from the American Society for Pharmacology and Experimental Therapeutics (ASPET) and received extensive coverage in Texas Monthly. The startup Jurata Thin Film is working to bring thin film technology to market.
The Best Research Paper Award recognizes extraordinary achievement by a faculty member or staff researcher who was the principal or sole author of a peer-reviewed scholarly paper reporting original research and published during January 1, 2020 – December 31, 2021. The winners were announced at the Co-op Awards ceremony on November 3, 2022.
News category:
Faculty:
Research areas: