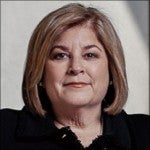 Dr. Diane Ginsburg, assistant dean for student affairs, is one of three finalists for a lifetime leadership award sponsored by Pharmacy Times magazine and Parata Systems, a company that develops automated technologies for pharmacies.
Ginsburg is among 30 finalists nationwide in ten categories for the Next-Generation Pharmacist Awards that recognize outstanding pharmacists, technicians, student pharmacists, and industry advocates.  Award winners will be announced in August at the 8th annual ceremony.  The year's event is scheduled for the San Diego Zoo.  All finalists are featured in the July 2017 issue of Pharmacy Times.
Other finalists in the lifetime leadership category include Dr. Jeffrey Goad of the Chapman University School of Pharmacy and Daniel Kus with the Henry Ford Health System and Pharmacy Advantage.
"I feel fortunate that I have had the opportunity to serve the pharmacy profession in so many ways.  I was taught by one of my faculty members at the University of Pittsburgh to be involved in professional organizations," Ginsburg said.  "He said, 'It is the rent we pay on the space we occupy in the profession.'  I feel honored that I have been able to 'pay my rent' in multiple ways and hopefully inspired others to do the same.  I am truly honored and humbled to receive this nomination."
The remaining categories for honors include civic leader, entrepreneur, future pharmacist, health-system pharmacist, patient care provider, rising star, specialty pharmacist, technician, and technology innovator.
"This year's Next-Generation Pharmacist finalists are setting new benchmarks within the pharmacy profession for clinical engagement, patient advocacy, and partnerships across the full health care spectrum," said DJ Dougherty, CEO of Parata.  "These men and women represent the top of the pharmacy field in professionalism, leadership, and passion.  With them at the helm, the future of the pharmacy industry is bright.  It's an honor to highlight their contributions and celebrate their achievements."