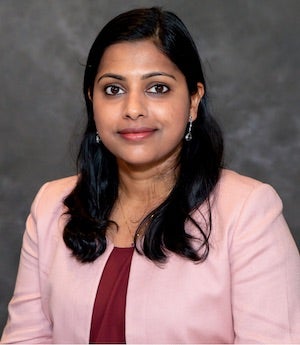 The U.S. Department of State and the J. William Fulbright Foreign Scholarship Board announced that Pallavi Kompella, Ph.D. received a Fulbright U.S. Scholar Program award to Spain. She will research at the Biomedical Research Institute of Málaga as part of a project to study the role of obesity-mediated epigenetic modification of DNA damage repair genes in the early-onset of colorectal cancer. Currently, Kompella is a researcher in the lab of Karen Vasquez, Ph.D. in the Division of Pharmacology and Toxicology at The University of Texas at Austin College of Pharmacy. Her Fulbright fellowship begins in October of this year.
The Fulbright Program is the flagship international educational exchange program sponsored by the U.S. government and is designed to forge lasting connections between the people of the United States and the people of other countries, counter misunderstandings and help people and nations work together toward common goals. Since its establishment in 1946, the Fulbright Program has enabled more than 390,000 dedicated and accomplished students, scholars, artists, teachers and professionals of all backgrounds to study, teach and conduct research, exchange ideas and find solutions to shared international concerns. The Fulbright Program is funded through an annual appropriation made by the U.S. Congress to the U.S. Department of State. Participating governments and host institutions, corporations and foundations around the world also provide direct and indirect support to the program, which operates in more than 160 countries worldwide.
Learn more about the Fulbright Program.
News category:
Faculty:
Research areas: