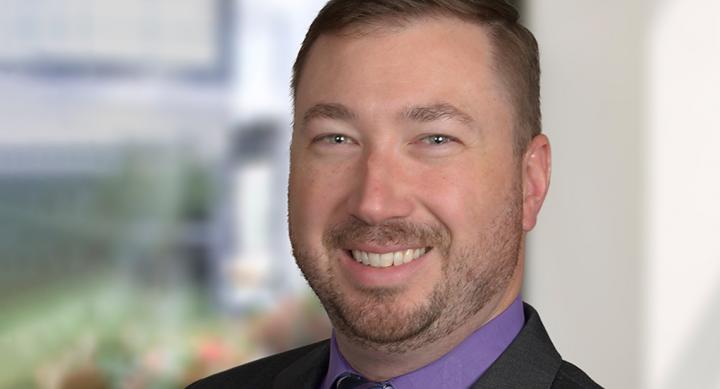 Nathan Pope, Pharm.D., BCACP, FACA has been named The University of Texas at Austin College of Pharmacy's new assistant dean of experiential education and will succeed Jennifer Ridings-Myhra, M.Ed., R.Ph., who plans to work with Dr. Pope through July and August to assist in the transition. The start date for this new role is effective July 1, 2021.
Dr. Pope has been with the college since 2008 and currently serves as a clinical associate professor in the Division of Pharmacy Practice. He received his bachelor of science in pharmacy and doctor of pharmacy degrees from the Ernest Mario School of Pharmacy at Rutgers, The State University of New Jersey. He then completed a post-graduate (PGY1) community-based pharmacy residency with Walgreens at the University of Houston College of Pharmacy. After residency, he worked in various community pharmacy-based settings ranging from a large national chain, a small regional chain and independent pharmacy in California and Texas.
Since joining UT Pharmacy, Dr. Pope served as assistant division head of pharmacy practice and co-director of the Lester Entrepreneurial Scholars Program. He has acted as residency program director of the H-E-B/UT PGY1 Community-based Pharmacy Residency Program providing leadership and guidance to those who have successfully completed residency. He also serves on the university's Council for LGBTQ+ Access, Equity, and Inclusion (Q+AEI) to address issues of access, equity and inclusion among faculty based on gender identity and/or sexual orientation.
Dr. Pope earned the prestigious Bowl of Hygeia award from the Texas Pharmacy Association, the American Pharmacists Association (APhA), the National Alliance of State Pharmacy Associations (NASPA) and the APhA Foundation. In addition, he earned Member of the Year from the American College of Apothecaries (ACA) and the Professor of the Semester award from UT Austin's Senate of College Councils.
Dr. Pope's involvement in the pharmacy profession includes membership on the board of the Texas Pharmacy Association, lead contract surveyor for community-based PGY1 residency programs seeking accreditation by American Society of Health-System Pharmacists (ASHP) in collaboration with APhA, and instructor for the ASHP Residency Program Design and Conduct (RPDC) workshop.
As assistant dean of experiential education, Dr. Pope will provide leadership, coordination and oversight of all of the college's Introductory Pharmacy Practice Experiences (IPPEs) and Advanced Pharmacy Practice Experiences (APPEs), work with regional internship personnel in five Texas internship regions and supervise staff team members in the Office of Experiential Education.
News category:
Faculty:
Research areas: