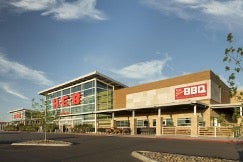 For inquiries and questions, please contact :
Kelsey Bailey at bailey.kelsey@heb.com
Co-Assistant Residency Program Director San Antonio-based
or
Amanda Stallings (Austin) at s0245m@heb.com
Co-Assistant Residency Program Director Austin-based
 
Now with Sites in Austin and San Antonio, TX!
Starting July 2020, the H-E-B Pharmacy/University of Texas PGY-1 Community Pharmacy Residency Program will have 4 positions available in Austin and 2 positions available in San Antonio. The residency remains as 1 program. There will be 1 application and 1 interview process. We have 2 Match numbers (see below), therefore, resident candidates can rank each location independently depending on location choice.
Purpose
To build upon the doctor of pharmacy (PharmD) education and outcomes to develop community-based pharmacist practitioners with diverse patient care, leadership, and education skills who are eligible to pursue advanced training opportunities including postgraduate year two (PGY2) residencies and professional certifications.
The H-E-B Pharmacy/University of Texas PGY-1 Community Pharmacy Residency Program is dedicated to developing compassionate, confident, clinical providers of advanced patient care services in a community pharmacy setting.
About

The H-E-B/University of Texas at Austin College of Pharmacy Community Pharmacy Residency Program was established in 2008 and is accredited by the American Society of Health-System Pharmacists, in partnership with the American Pharmacists Association (re-accredited for a full 6-year term in 2016).
The residency program is designed and conducted in a manner that supports residents in achieving the program purpose and the required educational competency areas, goals, and objectives described in the remainder of the standards.
Residency Details
Positions Available
4 positions in Austin, Texas
2 positions in San Antonio, Texas
Residency Match Program
Match Codes: 157115 (Austin) / 157121 (San Antonio)
Stipend and Benefits
The University of Texas provides a competitive benefits package, including insurance, retirement benefits, as well as many other programs and services for employees. More information available at: www.utexas.edu/hr
Residents will also be employed as a relief pharmacist with H-E-B Pharmacy with opportunities to work extra on personal time (i.e. moonlighting)
Application Process
Please apply using PhORCAS (Pharmacy Online Residency Centralized Application) at www.ashp.org/phorcas. All references and transcripts are handled through PhORCAS. Do not send any by mail.
Requirements: All candidates must meet the following qualifications
Bachelor of Pharmacy or PharmD from an ACPE accredited school or college of pharmacy
Texas Pharmacist licensure by August 1st is preferred and by September 1st is required
Self directed, motivated, and committed to advancing the profession of pharmacy
Commitment to pharmaceutical care in the community chain pharmacy setting
Excellent written and verbal communication skills
Membership and record of activity in professional organizations
Demonstrate leadership abilities
Good organizational skills
Precision oriented and attention to detail
Proficient in Microsoft Office products
Strong problem solving and analytical skills
Ability to manage multiple tasks
Must complete required H-E-B orientation and training courses
Learning Experiences
Medication Therapy Management Services
Residents provide telephonic and in-person Comprehensive Medication Reviews (CMRs) and Targeted Intervention Program (TIPs) patient care services utilizing various platforms.
Clinic
Residents will participate in an interprofessional clinic setting providing patient-centered, high quality health care to a wide variety of patients with a wide variety of disease states.
Professionalism, Leadership, & Management
Residents will gain the skills necessary to manage a community pharmacy in addition to managing the professional services offered by H-E-B. Residents will interact with regional management and the Professional Services team at the H-E-B home office. The Arsenal is the H-E-B's home office. Learn more about this unique facility at: http://www.mysanantonio.com/business/slideshow/H-E-B-Arsenal-Headquarte…
Patient-Centered Dispensing
Giving you the skill and knowledge to be a efficient, effective, and safe professional pharmacist. All residents will provide this service at their primary pharmacy site at least 1 day per week and rotate through the other residency sites 1 day per week.
Project Management
Residents will advance community-based practice and patient care by completing multiple projects during their residency year including:
A quality improvement project;
The development, implementation, and evaluation of a new pharmacy service or to the enhancement of an existing service;
A practice innovation or research project.
Teaching, Education, and Dissemination of Knowledge
Residents participate in College of Pharmacy's Teaching and Leadership Fellows Program (TLFP). Residents who complete this program receive a certificate of completion. In addition to interacting with APPE and IPPE students, residents will facilitate labs in various courses. There are also various opportunities for various educational experience including presentations to pharmacists, nurses, physicians assistants, physicians, other healthcare providers, patients, and the public.
Elective Learning Experiences
Compounding
Specialty Pharmacy
Regional Pharmacy Management
Pharmacy Professional Services Administration (Corporate Management)
Local Organizational Involvement and National Conferences
Involvement with the local Capital Area Pharmacy Association (CAPA) monthly meetings where members can network with fellow pharmacists and hear informative presentations about innovations in pharmacy practice.
The residency team travels to the American Pharmacist Association (APhA) Annual Meeting and the Texas Pharmacy Association(TPA) Annual Meeting. Some team members travel to the ASHP Midyear meeting for recruitment.
Outcomes: The program will equip the resident to:
Provide direct patient care to diverse populations
Engage in collaborations with physicians and other health care providers
Serve as a role model and be able to educate pharmacy students and providers
Manage and develop viable new advanced patient care programs that are economically feasible
Provide leadership for advancing the practice of community pharmacy and the profession
Serve as an educator for health/wellness and disease prevention for the community
Lead and manage a successful community chain pharmacy that provides dispensing and clinical services