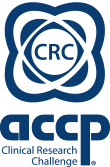 A team of three UT student pharmacists placed among the elite programs in a national Clinical Research Challenge (CRC).
The event, sponsored by the American College of Clinical Pharmacy (ACCP), attracted more than 80 teams from colleges across the country.  The UT team was one of the eight CRC finalists.
Participating on the UT team were student pharmacists Austin Green, Laura Roccograndi, and Elwyn Welch.   Dr. Tyler Gums, assistant professor of health outcomes and pharmacy practice, served as clinical research challenge advisor for the UT team.  Dr. Chris Frei, associate professor of pharmacotherapy, and Dr. Lucas Hill, clinical assistant professor of health outcomes and pharmacy practice, serve as co-advisors of the college's Student College of Clinical Pharmacy (SCCP) organization.
The team project was titled, "Pharmacy-led multidisciplinary approach to decrease 30-day readmission in congestive heart failure (CHF) patients."
"Austin, Elwyn, and Laura demonstrated superb clinical research competence," said Gums.  "Grant writing usually carries a vast learning curve, but these students were able to place competivitely right out of the gate. They're naturals."
The Clinical Research Challenge is a competition for first and second year pharmacy students designed to test their skills in critical literature analysis and research proposal development.
The recognized team advanced from the local competition by earning the top score on a journal club exam that tested their ability to analyze primary literature.  In the National Round 1, the team competed in another journal club exam and moved forward by placing in the top 40 of the competing teams.  The UT team competed in National Round 2 by submitting a letter of intent outlining their research.  They successfully advanced from this round by placing in the top 20 of the competing teams.
In the final National Round 3, student teams submitted a full research proposal demonstrating the value of a transitions of care program.  The UT team were selected as finalists ranking among the top 8 research proposals.
"These students proved themselves to be remarkably skilled in critical literature analysis," said Dr. Hill, adding that they "further demonstrated impressive stamina by navigating the letter of intent and research proposal rounds."
Hill added that this year's team built upon the success of the UT team that competed in last year's inaugural CRC competition including Jaynish Amin, Beatriz Cajade, and Baneen Noorali.