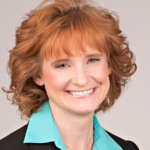 Dr. Maria Croyle, professor of molecular pharmaceutics and drug delivery, is one of three researchers selected to receive funding from the Texas Health Catalyst, a program of The University of Texas at Austin's Dell Medical School in collaboration with UT's Cockrell School of Engineering, College of Natural Sciences, College of Pharmacy, and Office of Technology Commercialization.
Croyle and her team were cited for the project "Dissolvable Film for Storage, Transport, and Delivery of Thermolabile Therapeutics," a study that led to technology to stabilize biological medications and vaccines in a dissolvable film.
The Texas Catalyst program originated two years ago as a means to assist faculty who have developed novel, health-related technology.  Funding awards from the program are designed to help move projects from technology in the research lab to products on the market.
At the final step in the three-step application process, applicants were provided a panel of three local advisors consisting of small business owners, representatives from biotech, and a M.B.A. student.  A variety of activities were presented to assist team leaders in developing a 15-minute talk to pitch their technology to a 20-30 member advisory panel.  Members of the panel included representatives of local law firms, small biotech companies, and UT faculty.
"While winning the award was great," Croyle said, "I really enjoyed participating in the program as it made my team and me think a little differently about our film stabilization technology.  This helped us consider and apply for funding from sources different than those we had previously contacted.  It really helped us with developing a winning pitch presentation."