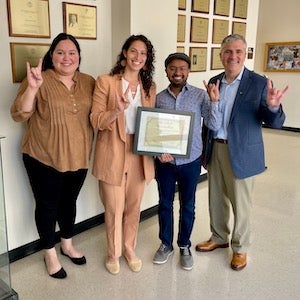 The National Association of Chain Drug Stores (NACDS) Foundation awarded The University of Texas at Austin College of Pharmacy Office of Opportunity and Belonging with a $15,000 Diversity Scholarship Award to expand the college's Project Engage Pharmacy Program (PEPP).
This is a highly competitive grant awarded to two colleges and schools of pharmacy per year. Special thanks goes to Assistant Dean of Diversity and Inclusion Tonia Guida, Ph.D., Senior Diversity and Inclusion Coordinator Cristina Tejeda and Assistant Dean for Student Affairs Justin Samuel, Ph.D. for their efforts to secure the grant.
The college will hold its fourth Project Engage Pharmacy Program (PEPP) camp this summer and host 13 students who come from a variety of minority serving institutions across the state of Texas. Students from historically underrepresented or undersupported communities and first-generation students with an interest in the health professions or biomedical sciences are invited to apply to explore the diverse field of pharmacy and all that the college has to offer. This includes visits to different types of pharmacy practice environments, getting hands-on and behind-the-scenes tours of college facilities and learning from practicing pharmacists and current student pharmacists.