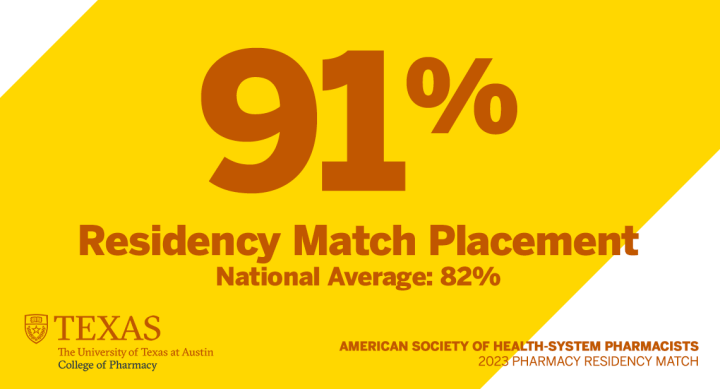 Pharmacy schools across the country completed their 2023 Phase I and Phase II residency matches for new or upcoming graduates of their Doctor of Pharmacy (Pharm.D.) programs. The University of Texas at Austin College of Pharmacy placed in the top ten of all pharmacy schools in the nation and exceeded last year's placement rate by a significant margin.
"Texas Pharmacy Pharm.D. graduates have surpassed our expectations this year," said Dr. Diane Ginsburg, Associate Dean for Healthcare Partnerships. "The college's high residency match rate shows how sought-after our graduates are at top hospitals, health systems and medical centers across the country."
The University of Texas at Austin College of Pharmacy placed in the top ten in the entire country in the percentage of match placements with 91%, compared to the national match placement average of 82%.
Placements include postgraduate residencies in institutions such as the Dell Seton Medical Center, John H. Stroger, Jr. Hospital of Cook County, NewYork-Presbyterian Hospital, Parkland Health and Maimonides Medical Center in Brooklyn, New York.
"Once again the College of Pharmacy continues to place high on the nation's list for residency match placements," said Dr. Sam Poloyac, dean of the UT College of Pharmacy and James T. Doluisio Regents Chair. "Dr. Ginsburg and the college have spent years cultivating partnerships across the country. Not only does the college maintain a high overall placement rate, but those placements are at a wide array of prestigious health institutions nationwide."
The UT College of Pharmacy, in conjunction with facilities throughout Texas and beyond, provides a variety of outstanding Postgraduate Year One (PGY1) and Postgraduate Year Two (PGY2) Practice Residencies in Pharmacy Practice, Community-based Practice, Ambulatory Care, Internal Medicine and many more. The residency process is essential to providing additional education and experience in the pharmacy profession and assures good career footing for UT Pharmacy graduates at the start of their careers.