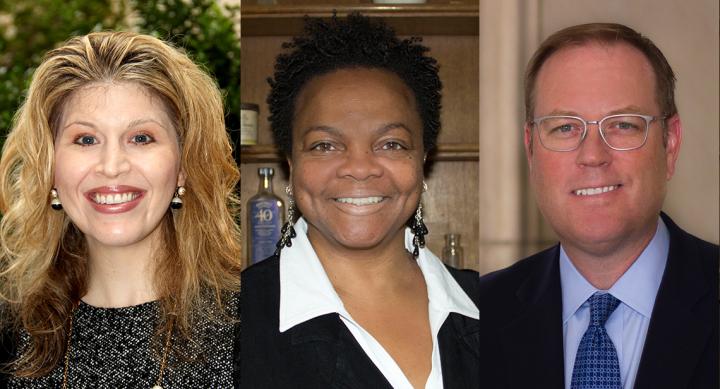 Three researchers from The University of Texas College of Pharmacy won a Valuing Diversity: Addressing Health Disparities Challenge Award from the Pharmaceutical Research and Manufacturers of America (PhRMA) Foundation. Leticia R. Moczygemba, Pharm.D., Ph.D., Carolyn M. Brown, Ph.D. and Michael Johnsrud, Ph.D., R.Ph. were awarded $5,000 from the PhRMA Foundation for their proposal to advance racial and ethnic representation in value assessments. All three are part of the Texas Center for Health Outcomes Research and Education (TxCORE), associated with the college's Division of Health Outcomes.
The research proposal, titled "It's Time to Represent: Shifting the paradigm to improve the quality of inputs into value assessment frameworks," seeks to better understand the importance of equity in value framework and advance the racial and ethnic representation inputs in value assessment.
In the work, the researchers propose to launch a comprehensive national campaign using a community-engaged approach to inform, create buy-in and generate excitement for participation in research and enhance information used in value assessment frameworks by expediting current methodological initiatives to require a minimum set of patient-reported social determinants of health elements to be collected and reported in research, including clinical trials and observational (real world) studies. Through this work, scalable efforts to increase representation of diverse racial and ethnic groups and social determinants of health in value assessment can be attained.
The PhRMA Foundation's new Challenge Award aims to support bold and vital research into how value assessment methods and processes can better consider population diversity and drivers of health disparities. The PhRMA Foundation works to improve public health by proactively investing in innovative research, education and value-driven health care.
TxCORE's mission is to be a leader in addressing population and individual patient health through innovative, high-quality research and education and to serve the community by responding to critical health care issues that impact patients' daily lives.
News category:
Faculty:
Research areas: